Hello dear supporters! Valentine's Day is just around the corner, and in honor of it, here is the story of two very sweet kitties who lived happily ever after! At San Diego Cat Adoption Service, many of our rescued cats come from area animal shelters, where they are running out of time to live.
Several months ago, we received a request to rescue Fred from an area shelter. While planning his rescue, we discovered that he had a brother and made the decision to take both. Fred and Barney were pulled from the shelter on their last day to live. We soon discovered that the 8 month old pair were very bonded. Barney (short hair) is an outgoing and bossy explorer, while Fred is a laid-back lap kitty. They sleep together, follow each other everywhere and both seem to be lost if they get too far away from each other. We insisted this pair of brothers go home together, and after 4 months in rescue, they found a wonderful home in Carlsbad! These two sweeties deserve the wonderful life they will now have. Their new parents are thrilled to have them in their lives.
Hope this story warmed your heart for Valentine's Day! We want to thank you for all you do to show your love for the homeless and helpless cats of the San Diego area. Without your generous support and donations, we could not do what we love to do- save cats from suffering and misery and offer them love, care and a happy, safe life!
Links:
Its the time of year for good food, warm homes, and time with loved ones! Here at San Diego Cat Adoption Service, we hope to make it that way for many more abandoned cats and kittens too! This adorable kitty family was found in a trash heap in Imperial Beach. It took our team of dedicated volunteers 3 days of trapping to catch all 6 babies and mom. After they were all socialized in a caring foster home, vetted and spayed/neutered, they have all found happy homes!
Some people might ask why our volunteers and supporters are so generous with their time, efforts, and donations. We are all inspired by the generosity and kindness of cats themselves! A good example is mama cat Dawn, whose story is below:
SDCATS pulled Dawn and her babies were from a high-kill shelter. All the cats battled horrible upper respiratory infections, however after constant supportive care, they are healthy and just went up on our website for pre-adoption! While in foster care, another batch of underaged rescued kittens was brought in from a shelter; when mom Dawn discovered them waiting in the hallway, she was insistent that they come out. She went to their crate and cried putting her paw through the bars. They all came to the crate door reaching out and crying. She has now adopted them as her own. It was not our plan but sometimes the heart wants what the heart wants.
Thank you for all your generosity and support of our ongoing efforts to find loving, caring homes for abandoned cats in the San Diego area. We cannot continue our life-saving work without your support!
From all of us to all of you, happy holidays and thank you!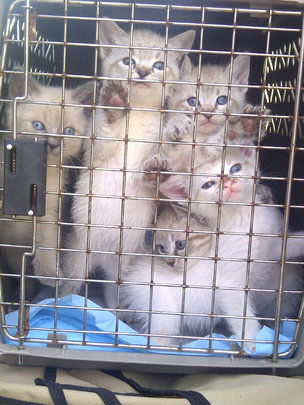 Links: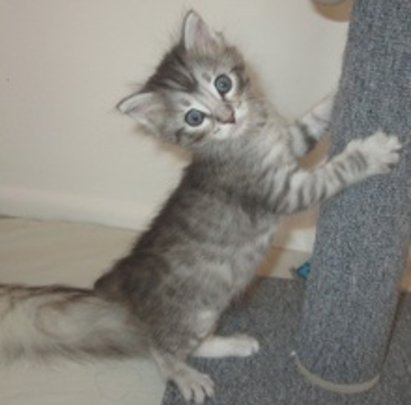 As summer winds up, San Diego Cat Adoption Service has many adorable cats and kittens ready for adoption and waiting to join their forever families. Many of these kittens come to us through the efforts of various kind and concerned people who see a stray cat mother in their neighborhood and take the responsibility to make a phone call.
In the case of stray mothers who are truly feral, or wild, we wait until the kittens are weaned and then spay the mother and return her to the area she was found, or sometimes relocate them to a safer area, such as a colony that is managed and fed. The practice of trap, spay/neuter, release (TNR) is essential to the humane management of feral cat populations. In San Diego county the practice of TNR by groups such as the Feral Cat Coalition (FCC) lowered the rate of cats being impounded and euthanized by 50% over a five year period.
At Cat Adoption Service we provide loving homes for new kittens and occasionally for docile, sweet cats who are found mixing in feral colonies. All cats and kittens in our care live in foster homes until they are adopted, which ensures the best care and also socializes them. Unfortunately the cost of medical expenses, food, litter, and miscellaneous supplies are almost never entirely covered by the cost of adopting a cat, and the longer a cat stays with us, the greater this discrepancy. That is why we depend so much on the generosity of supporters like you. Your donations are indispensable in rescuing multitudes of homeless cats from a slow and painful death by disease, predators, cars, starvation and cruelty. Thank you for all you do to improve the lives of homeless cats in San Diego County. We appreciate it so much, and words cannot describe how much they appreciate it!
Links:
WARNING: Javascript is currently disabled or is not available in your browser. GlobalGiving makes extensive use of Javascript and will not function properly with Javascript disabled.
Please enable Javascript
and refresh this page.