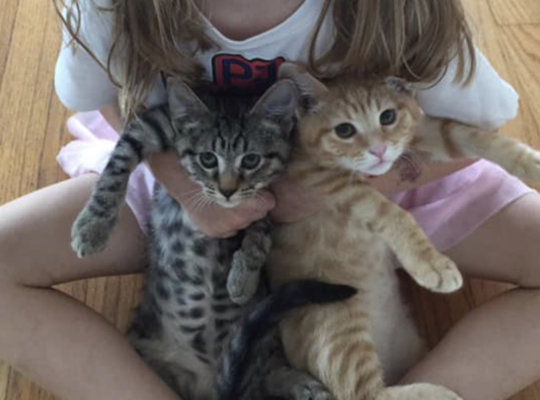 Dear CATS Supporters,
It has been a difficult few months for CATS rescue. We have been hit with several cases of Feline panleukopenia, also refered to as panleuk. Panleuk is a highly contagious viral disease of cats caused by the feline parvovirus. Kittens are most severely affected by the virus Because the FP virus is everywhere in the environment, virtually all kittens and cats are exposed to the virus at some point in their lives. While cats of any age may be infected with the feline parvovirus that causes FP, young kittens, sick cats, and unvaccinated cats are most susceptible.
We have had 3 rescued families this year affected by Panleuk. The most recent family, a mom and her four kittens, were pulled from a high-kill shelter in San Bernadino at the end of May. A short time after arriving in San Diego the first kitten was diagnosed with Panleuk. We unfortunatly lost two of the kittens. However, the mom and the remaining two kittens fought to survive in the hospital for weeks. Three weeks and some massive medical bills to the tune of $8,800 later, we are happy to report that they have survived! Not only have they survived but they were adopted into wonderful loving homes, the two kittens by their foster family and mom by another family. All are thriving.
CATS rescue prides themselves on never turning away a cat in need of help. Many rescues would never have taken on cases such as these as the expenses are too great. We put everything we possibly can into each cat or kitten we rescue and often times we are rewarded with little miracles which makes it all worthwhile.
Thank you for your continued support. We could not do what we do without every one of you who continues to donate.
With Gratitude,
CATS Adopt Service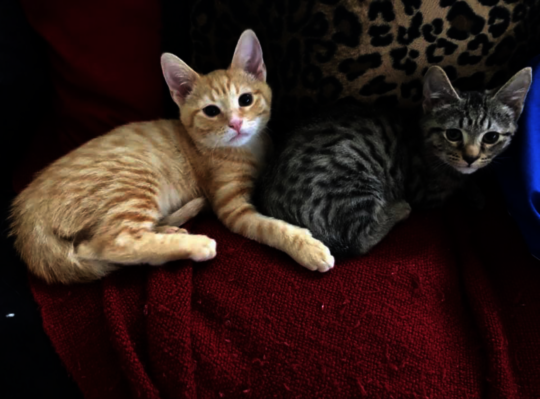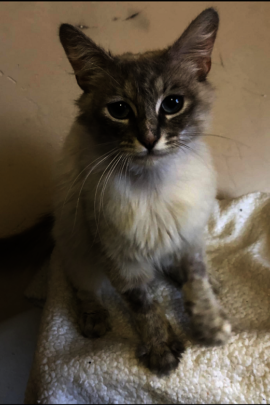 Links: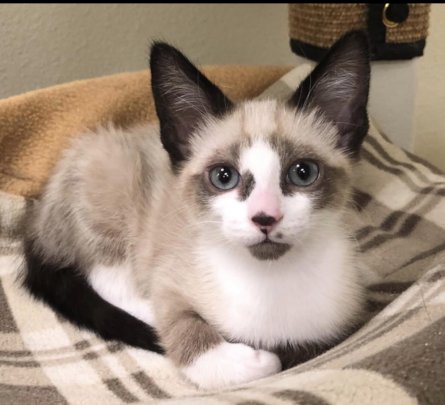 To Our Wonderful CATS Supporters,
Hello Summer! The first 6 months of the year have flown by and it can certainly be attributed to the fact that we have been extremely busy over here at Cat AdopTion Service (CATS). We have taken in over 300 cats and kittens already this year! For a small independent rescue that is pretty incredible and certainly no easy feat. It is the wonderful people like you, who donate to our cause, that allow us to be able to provide assistance to all of these beautiful creatures who would have most likely suffered a different fate had we not stepped in.
One kitten we were able to provide assistance to since the last time you heard from us was a little grey persian kitten named Wilamina. A good samaritan brought Wilamina to us after she rescued her off the streets from some kids who were picking on her. Once in our care, she was brought to a local vet in San Diego for a check up and her spay. It was discovered during that routine spay that her belly had nails through it. One can only imagine how these nails got into this tiny girl's body. However, the good news is our vet was able to get them all out and repair the damage. Wilamina recovered from her surgery in one of our wonderfull foster homes while we searched for the perfect home for her. We soon found the perfect home for Wilamina and I am happy to report she is now safe and loved (shown below in the arms of her forever mom) and will never have to deal with being mistreated again.
It is kittens like Wilamina who depend on the generosity of people like you that make it possible for us to do what we do, so let us extend our gratitude to you once again.
Sincerely,
CATS Adoption Service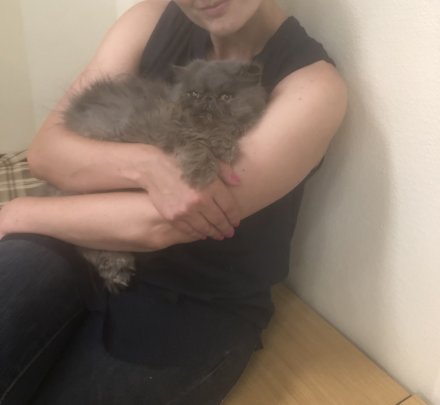 Links: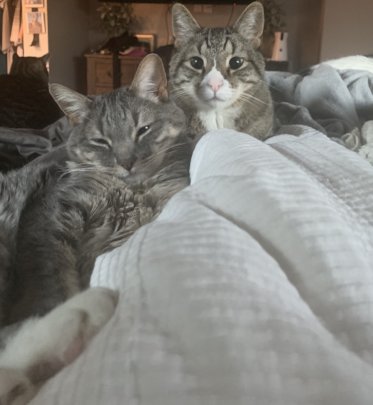 Happy Spring to all of our Wonderful Cat Supporters!
I wanted to introduce myself as I will be taking over as Project Leader for the wonderful Rachel who has done such a great job at it for the last several years. My name is Lauren and I have been a volunteer with CATS Adoption Service for many years now. I am a "foster fail" with a household of 5 resident kitties and one long term hospice kitty. My husband and I often joke that we are the retirement home for cats as we find ourselves taking in the older kitties whose owners have passed and have therefore been returned to rescue. The reason I love working with CATS adoption service so much is that they never shy away from taking in the less "desirable" cats who would have certainly suffered a much different fate had CATS not stepped in. It's hard to find an adopter for a pair of 12 year old brothers (picture above), one of whom is blind. But, CATS took them into foster after their human passed, I fostered these brothers and fell in love knowing they are perfect just the way they are. It makes me sad to think of what their fate would have been if it weren't for CATS.
Despite the incredible cost that comes with taking in some of these cats I have never seen them turned away by our organization. In February, CATS rescued the incredibly sweet 11 month old, Moira (pictured below), from a high kill shelter in San Bernadino. She was diagnosed with Cerebellar Hypoplasia (CH). It is a non-progressive, non-contagious neurological condition that she was born with which results in walking and balance issues. Due to her condition, she would have surely not made it out of the shelter, but CATS saw that she was perfect just the way she was. We are happy to report that she has been adopted into a wonderful home and is thriving!
In January, we received a call from the Imperial Valley Humane society in El Centro that had just acquired a kitten with an unknown neurological disorder and did not have the resources to help him. We took Spooky (black kitten pictured below) to several vets and finally a neurologist in an effort to help him. It was determined that his head shaking and instabillity was a result of either being dropped as a baby, creating neurological damage, or he was born with a disability. Either way, we knew he was perfect just the way he was and his new adopters thought so too! They fell in love with Spooky and even took him home with a friend he made in rescue.
I am proud to work with an organization that believes all cats, young and old, are "desirable" and are deserving of a loving home. It is wonderful donors like all of you who allow us to continue this very important work. We thank you from the bottom of our hearts and most of all our kitties thank you!

With appreciaton,
Lauren Landini Click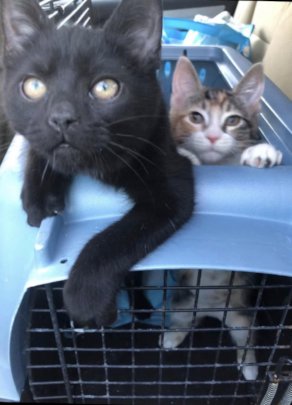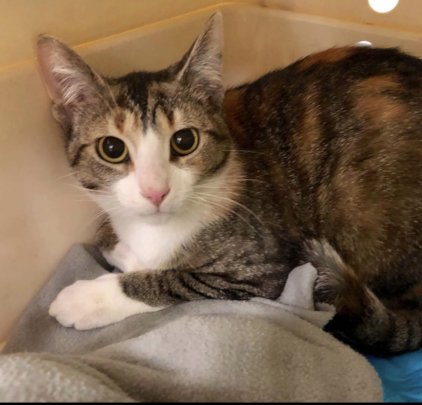 WARNING: Javascript is currently disabled or is not available in your browser. GlobalGiving makes extensive use of Javascript and will not function properly with Javascript disabled.
Please enable Javascript
and refresh this page.