Next to George's Forest Garden, his land is ripe with oranges streaming from trees, many fallen to the ground, unable to be picked or gathered, as that manpower would be costlier than his profits from selling the oranges locally at market. While his family and neighbors enjoy the sweet juicy fruits of this small orchard, George no longer is singularly focused on this one crop. In fact, in his second year with the Forest Garden Approach, his family has never eaten so well.
In addition to oranges, George and his wife Janet also grow cassava, maize, millet, sesame, and pigeon peas. In the past few months, they have also added sukuma wiki, boyo, amaranth, and pumpkin, all of which are cultivated for their green leaves. Additionally, the seeds of the amaranth are also eaten, as well as the vegetables from the pumpkin. George and his four grandchildren he cares for had never had leafy greens as part of their diet. Now, they are eaten daily.
Their Forest Gardens helps them ensure a more diverse diet and continued profits throughout the year and the diversification of their field has protected his family against crop failure. When the rains were shorter than usual this past year, George's soybean plants died off. In the past this would have devastated his family. This year, they still had millet and cassava to eat and sell.
Through the introduction of new plant species and tools, George is very thankful for the gifts Trees for the Future provided him. However, he is most thankful for the trainings and knowledge he has absorbed through his trainings. Previously, he used to haphazardly cast seeds across his lands, hoping some would survive. Now he grows his vegetables and timber in nurseries with significantly improved germination and survival rates. This has been critical when the rains have not arrived as expected- or for the duration anticipated. He can water his seedlings in the nursery, and out-plant once the rains have started. George explains his soil is also richer and healthier now that he is composting. Through a handful of trainings and tools, George has transformed his life, his land, and his future for himself and his family.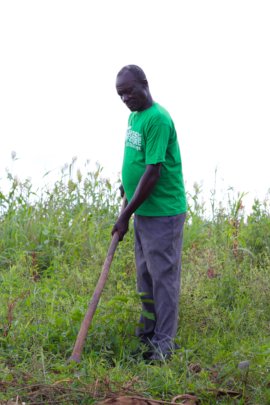 Links: