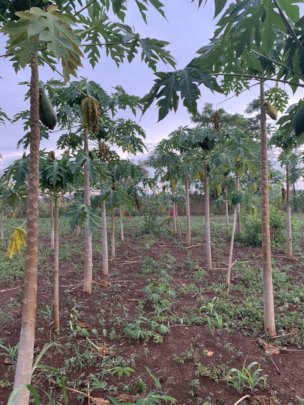 Farmers in Uganda have been bust preparing their nurseries and planting their trees. In this most recent rainy season in March, farmers were taking great care of their nurseries to ensure the best survival rate for their young trees. During this time, farmers had nurseries of fruit and timber trees. Each tree in their nurseries has a purpose that will serve the family at home, or be able to be sold at market. Fruit trees provide delicious and nutritious food for families. The fruit tree varieties, such as citrus, mango, papaya, and avocado, are consumed at home, made into value-added products such as dried fruits, and also sold at market. The timber trees, such as albizia species, provide wood for home building, poles, and furniture crafting. Timber trees they are growing now will help them meet their household timber needs into the future and be a valuable financial asset as time goes on.
When it comes time to out plant their young trees, farmers take great care to optimize the spacing of their trees on their land and make sure they have filled in any gaps on their farms that could otherwise be more smartly utilized. Trees for the Future technicians provide training and on-going guidance during this process so that farmers can make the most of their space and understand why planting trees in certain ways can be beneficial. For example, farmers consider the contour of their lands, so that when they plant, trees that need more water, such as citrus, are situated at the down slope of the land. That way, when water runs across the farm, the trees at the bottom of the slope can receive the most water. This helps certain trees get more water, but it also helps control erosion across the field. As farmers are now in the third year of the project, these techniques are increasingly important to ensure the sustainability of the land into the future.
Thank you for your support!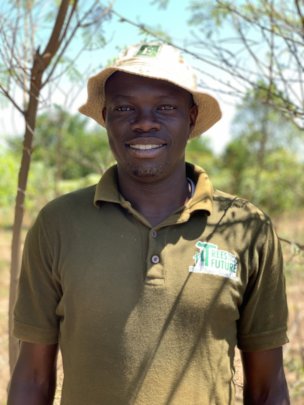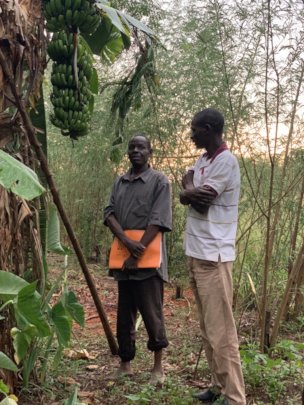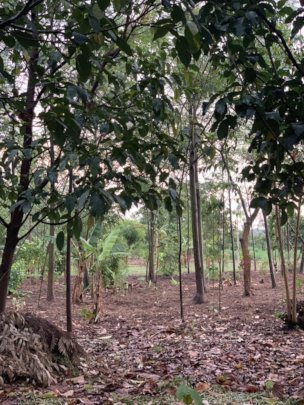 Links: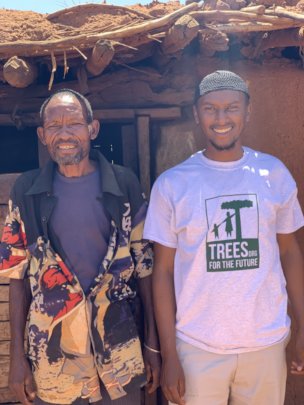 Farmers in Tanzania are planning their upcoming farming season. Recently, farmers in Trees for the Future's program in Iguguno have attended the Forest Garden field optimization training. This training focuses on ways to help conserve water and space on their small farms, using techniques such as companion planting which helps nurture plants and conserve water, as well as using permaculture techniques such as creating berms and swales, which are places for water to flow when it rains too much or capture water on the farm where its needed most. These techniques will help farmers into the future as they will use these not only in this planting season, but for many years to come.
As water is such a critical resource for our farmers, Trees for the Future is dedicated to helping farmers save water on their farms as much as possible. In addition to water tanks provided to farmers, these on-farm techniques help to economize their rainwater use through smart (and natural!) farm design.


In addition, our staff is working hard to get the farmers the tools and seeds they need to succeed in planting their Forest Gardens. Our Tanzania country staff has recently purchased tools and seeds for distribution to farmers, which will help them when they are optimizing their farms as well.
Links:
Beginning in December, our Iguguno Forest Garden project participants planted their trees during outplanting season. Access to water was vitally important to prepare these young seedlings for their outplanting. Hardwood trees were planted for each Forest Garden. Currently, we are conducting sample surveys as part of our annual monitoring and evaluation system. A sample size is selected for a 95% (+/-5%) confidence level. Using ArcGIS, families are randomly selected from each project for an in-depth survey (in four areas):
1) General demographics: family size, age, education levels, gender
2) Food and Agriculture Organization (FAO) Household Dietary Diversity Score (HDDS) with helps us determine how forest gardens are impacting the dietary and nutritional improvements of each family.
3) FAO Household Food Insecurity Access Scale Survey (HFIAS) which helps us gauge each families access to food.
4) Household resilience reflecting a family's increased economic resilience
Two team members will be traveling in the next few days for a monitoring visit of our work in Tanzania. Additional photos of our work will be available in April. Also coming before the end of the month is the release of our NEW Forest Garden Training Center (training.trees.org) App. With this App, TREES team members and farmers will have access to vast resource of information at their fingertips including all Forest Garden Training Center Materials and an interactive map of all TREES Forest Garden activities.
In March we will begin farmer evaluations with our staff. TREES team will work alongside these farmer families to evaluate what's working, what's not and how we can help. Findings help to guide future training. In Mid-march the rains begin again, this will support growth of the newly planted living fence and farmers will be outplanting additional trees within their gardens.
Additional photos and data will be available in April, please let our team know if you have any questions about this project or our overall work.
Thank you for your investment in this work. As we look towards a new season, please consider making an additional gift to support our work in Tanzania.
Links:
WARNING: Javascript is currently disabled or is not available in your browser. GlobalGiving makes extensive use of Javascript and will not function properly with Javascript disabled.
Please enable Javascript
and refresh this page.