Dear friends and supporters,
We have a wonderful New Year surprise for you!!!
Anudip has launched its first livelihood program for high-needs communities in Delhi. Our partner, United Nations High Commission for Refugees (UNHCR) has shown faith in our ability to provide support and address these beneficiaries' livelihood needs in India. The aim is to assist the unemployed political refugee youth in bringing about a change in their lives as well as pose as agents of change for their society.
This has not only marked Anudip's program expansion and presence in Northern State of India but has also given us an opportunity to make a difference in the lives of communities in desperate need to be economically independent and who seek holistic development.
Last year at this time, Anudip has brought significant change in the lives of over 100,000 families by providing their children (ages 18 and above) a means to support their families and have a future with dignity through our market aligned skills training and job placements services. Today that number has been increased to over 150,000 individuals.
We cannot thank you enough for your support and for having in our ability. Your donations helped in providing skills development training to close to a large number of rural students.
Thank you for helping in our fight against economic inequality!!
The Anudip Team
Neeharika Tummala is an in-the-field traveler for GlobalGiving for the India and Bangladesh region.
India is one of the largest producers of engineers in the world. But many of them don't use those degrees and instead have to retrain to find industry relevant jobs. So you can imagine that the need for industry relevant job training is even more relevant at the grass-roots, where thousands of youth are searching for employment. Anudip is working to bridge that gap by bringing in training and relevant courses to these small towns. I had the opportunity to travel to a small town a few hours away from bustling Kolkatta. Here I found eager students who were working on their English, learning computers and interacting with software developed in-house with video based learning. The batch that I met were newbies so it was interesting to hear their thoughts on the future and where they think they will go after these courses. One thing is for sure – it looked like a hardworking group of students and I loved seeing the eagerness on their faces.
The trip didn't end there through. An Anudip staff member and I travelled another few hours to get to a much smaller town that is considered the gateway of the Sundarban, a famous tiger sanctuary. There I met a small business owner, who owes his start to the Anudip Foundation and their grant. It's a modest internet, phone and copy store, but it does good business as it's the only one of its kind in that town. I had a great time there as we toured around the village, went to the lake on a bullock cart, and met his brother. We talked about his business, entrepreneurship, new technology and continuous learning, which is the spirit of Anudip. I loved seeing this success story in person and I'm so happy that I could bring his story to you!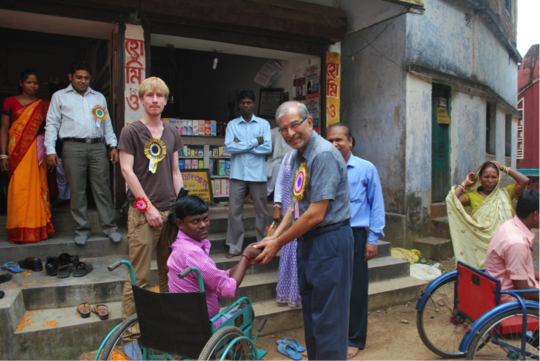 Dear Friends and supporters, we finally did it! As already announced in our last update, we have started an IT enabled skills training center for persons with disability (PwD).
On the path of providing sustainable livelihood solutions to impoverished and disadvantaged groups of our society, Anudip has, with the help of our generous donors, opened two community based new MAST centers in remote areas of South 24 Parganas and Paschim Medinipur. The training will support and promote PwD students over a period of three months where they will be trained in basic IT, workplace readiness and English.
West Bengal alone has more than 20 lakh PwDs; according to the census 2011. Due to a variety of societal barriers, persons with disabilities are over represented among the poor, are more likely than non-disabled persons to be excluded from education, productive employment and decent work, health services, economic and financial resources, infrastructure and participation in all aspects of society. Persons with disability in India face many challenges when looking to develop employable skills and in gaining meaningful employment in conditions of decent work.
Anudip's plan towards promoting inclusive growth for persons with disability is its step towards scaling up activity. Anudip has opened two centers in two villages in Canning and Balichouk of South 24 Parganas and West Midnapor district respectively. This will be a first initiative towards developing this exclusive program, in which Anudip hopes to reach more and more people to help them in changing their lives for better.
Thank you for your ongoing support
Jyoti Singh Chauhan
Business Development Executive
WARNING: Javascript is currently disabled or is not available in your browser. GlobalGiving makes extensive use of Javascript and will not function properly with Javascript disabled.
Please enable Javascript
and refresh this page.