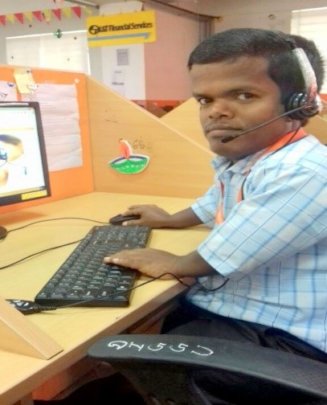 Dear Friends,
It's that time of the year when we proudly share our progress with you and how your contribution and support is helping Anudip unlock potential among youth who lack guidance, knowledge and resources.
Anudip has established skills development centers in over 90 villages and urban slums to provide digital livelihood skills to unemployed young people for new economy jobs and entrepreneurship opportunities. With the help of our current and new partnerships Anudip has trained over 75,000 marginalized youth with 70% placement success.
Based on employers and students needs, Anudip's customized training courses are proving to have a positive and sustainable effect among students in areas such as financial, confidence, self-belief, determination, developing the ability to interact and work effectively with others.
One such student is Digbijoy, a 26 year old who belongs to a rural poverty stricken family in Bhagwanpur village of Purba Medinipur district of West Bengal state, and has faced many challenges every day due to his dwarfism. He completed his higher secondary education struggling against all odds. He was bullied and humiliated due to his restricted growth disorder most of his life. The situation worsened after the death of his parents and even his elder brother abandoned him owing to his physical appearance, pushing him deeper into isolation. He was left to fend for himself.
However Digbijoy did not get demotivated, he started working in a local sweet shop; cleaning dishes to earn his living. Nevertheless, opportunities always find those who are resilient. During a door to door mobilization drive conducted by Anudip, Digbijoy came across the Specially-Abled Vocational Education (SAVE) program and its benefits. He immediately enrolled in the training program with high hopes at Anudip digital skills training centre and began to attend the lectures regularly.
With his strong will-power and determination and constant guidance and motivation from Anudip trainers, Digbijoy successfully completed the training in certificate in office automation and digital education. Soon enough he was equipped with a better personality, good communication skills and technical knowledge. Through DISHA– a multi company recruitment drive hosted by Anudip, Digbijoy was hired by Vindhya E-Infomedia Private Limited a reputed business processing outsourcing (BPO) based in Bangalore. He has joined at Bangalore branch as customer support executive and is earning INR 11,000 per month. He is also keen on completing his graduation through open learning.
Digbijoy is a perfect example of someone who has successfully converted a disability into an opportunity. We have only one word for him – Respect!
We hope to achieve new milestones and keep sharing those with you regularly. We cannot thank you enough for supporting us and believing in our mission.
Best Wishes,
Anudip Team