Dear Friends and Supporters,
Earlier this month, Dipak Basu, co-founder and a change agent, announced his departure after 12 years of exemplary leadership, to support and grow the work of Jhumki Basu Foundation in the United States. Though he will be actively involved as the Board Chairman of Anudip, his guidance and unwavering support will be missed.
Monisha Banerjee, an Alumna of the Haas Business School, brings with her close to 25 years of broad-based business and programmatic experience with leading educational and skill development entities. During her tenure with Labournet, one of India's leading skilling organisations, she accelerated the growth in funding for the organisation with her flexible designs to CSR needs. She has an excellent track record in developing innovative solutions to complex problems and driving growth in young organisations. Monisha is a member of the Advisory Council of the Center for Education Growth and Research (CEGR), and has co-authored a book on Employability Skills on behalf of CEGR.
On the occasion of Monisha's elevation to CEO, Dipak Basu said "Our work would not have been possible without the trust and encouragement of our sponsors, our employers, and the efforts of our dedicated staff. I am delighted that the Company is in good hands going forward. Monisha has already made an impact at Anudip as Executive Director. Her decades-long multi-faceted experience, social commitment, and strategic mind-set will be invaluable assets as she assumes Company leadership."
Anudip is excited that Monisha will be leading our team with Anudip's vision in mind and continue to serve our marginalised beneficiaries around the world.
At Risk Youth Jobs AND How We Succeed
Each year, Anudip sets itself a target to impact the lives of young people from marginalized communities. During 2018-19 Anudip carefully planned and executed changes in program delivery such as introduction of marketing executives as opposed to basic level mobilization, blended learning, better and user friendly information management systems etc. These initiatives allowed the team achieve the highest number of students trained and placed in Anudip's history in one year –21,791 students. This healthy growth trajectory will keep Anudip on track to growing its annual capacity to of training 100,000+ students in next 3 to 4 years.
Excerpts from my interview with Subhra Bandyopadhyay, VP Operations, who has led the drive to meet Anudip's expanding targets year after year.
How have you achieved the training numbers?
Understanding organizational need, planning ahead, and execution of the plan on time are the three pillars on which our achievements stand. Meeting the number was a team game which not only included student mobilization but also the entire training life cycle of a student, especially alumni students who are our brand ambassadors. A group of enthusiastic and passionate employees with great zeal for creating social impact; alumni with immense happiness after receiving best in class training and successful livelihood jobs with well-known employer partners; has helped us achieve the training and placement numbers
What kind of innovative ideas on the field have succeeded?
Implementing objectives other than traditional ones was the only innovative ideas that helped succeed in the field. The primary innovations are interactive learning through a blended training curriculum, and a compelling learning management system accessible 24x7 online and offline. Connecting with the community, the one where our beneficiaries come from, was one of our primary practices which included rallies such as collecting funds during the Kerala tragedy, participation in traffic safety and, education weeks, and campaigns such as Clean India - Green India.
Summer and winter camps along with mass career counselling sessions were major hits together with seminars and roadshows.
Plans for the future?
Creating brand ambassadors from alumni network, engaging alumni, providing up-skilling courses based on new economy job roles and dynamic market demands, focusing on references by present and graduated students based on their experience, introducing more global certification aligned courses such as Microsoft Certified Solution Associate, Programming in HTML5 with JavaScript and high in demand Cisco Certified courses; industry exposure for aspirants are among plans for future.
Thank you for your support and encouragement to impact as many lives as possible.
Until next time!
Anudip Team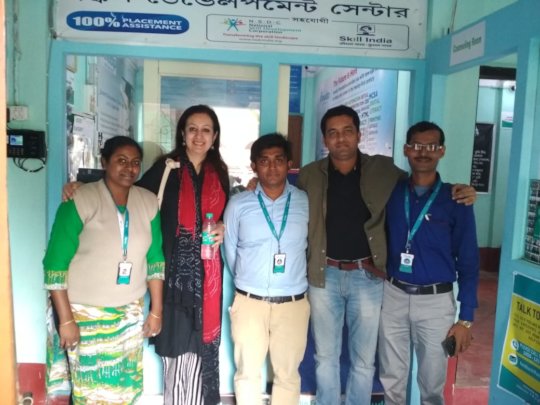 Links: