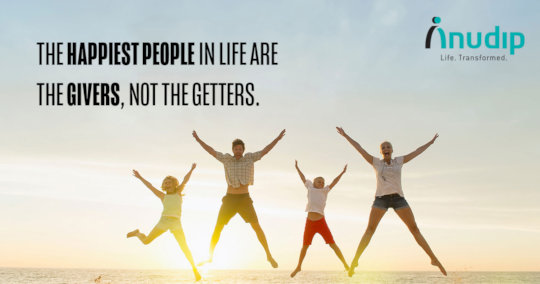 Dear Friends and Supporters of Anudip Foundation,
As we begin 2021, millions of vulnerable youth in India are still grappling with everything from the COVID-19 pandemic leading from loss of livelihoods, lack of health care to extreme poverty – all in addition to any unknown hardships that lie ahead. With support from generous donors like you, we provided essentials and livelihoods to income-less families in this crisis. While doing that we engaged our donors to witness themselves the life-changing contributions they are making from around the world through LIVE video calls during distributions. Thanks to Digital!
Hear what our donors experienced: https://www.youtube.com/watch?v=h6t86gytEqA&amp%3Bfeature=youtu.be
Here's what we have done:
60,000+ income-less individuals impacted with dry ration and food


400+ small businesses digitized to e-commerce platforms scaling a 35% increase in their income since physical spaces and shops were non-functional in lockdown


900+ 3D printed face-shields distributed to frontline healthcare givers


20,000+ youth aspirants from needy communities and income-less families trained with a 70% employment success-rate

Stories of livelihoods in crisis: https://www.youtube.com/watch?v=gfqXqF6cfYE&feature=youtu.be
Reality Check
Making matters even worse, the ILO warned that around 1.6 billion workers in the informal economy – that is nearly half of the global workforce – stand in immediate danger of having their livelihoods destroyed. It means so much to know that you'll be by our side in 2021, helping us create lifelong change for the neediest sections of the society

Here's what needs to be done:
We are raising funds to up-skill at least one member of an income-less household to acquire a fresh skill and get a job to rebuild livelihoods using financial assistance, skill training, market linkages and by partnering with local businesses, large corporations, and local government. They're counting on you to helping them build a livelihood today.
Here's how we witness the change you are making:
Update you on their latest development and face-to-face interaction with the beneficiary/beneficiaries you are supporting
Detailing on the trajectory of training, employment, and livelihood creation of the beneficiary you have supported
Your generous support would make this work possible. With your help, we can ensure that 2021 is filled with hope and opportunity for the world's most vulnerable.
With Gratitude,
Anudip Foundation Family