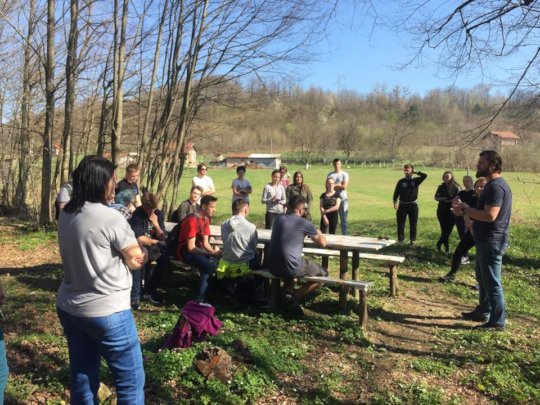 Spring has passed in a very working mood with many activities.We had guests from a youth organization from Gradiška, we had a meeting with them and we presented one to another activities and the work of the organizations. After the meeting we had socializing at the farm where we also showed the work and concept of the farm. Our volunteers were happy to meet young people from another town and also show their work and also give advice on how to develop their ideas.
On March, a group of Polish high school students from Torun visited CIM's "Garden of Opportunities." This visit had a tourist-cultural character with the aim of introducing Bosnian youth, non-governmental organizations and their work. During the visit of the "Garden of Oppurtunities" students from Poland and our Volunteers club had the opportunity to participate in a workshop and lecture on the importance of dialogue, respect and respect for the other and the different, and work on peacebuilding, both in Bosnia and Herzegovina and wider.
In Sarajevo we organized a training Dialogue Fascilitation which we are implementing as part of a project called STaR (Societal Transformation and Reconciliation). Participants were young people from all around Bosnia and learned interactively about what dialogue is, what are it's advantages, and the differences between debates and dialogues.
Summer is slowly coming and our big events are approaching. Our Peace camps and Peace caravans are sheduled in june and july. Applications are slowly arriving from all parts of Bosnia and Herzegovina. We are very much looking forward to our events. Peace Camps 2019 is looking great, and the entire CIM team is very excited.
We want to thank everyone who helps us educate young people in Bosnia and Herzegovina about the importance of preserving peace and coexistence.

Peace and Love

CIM Team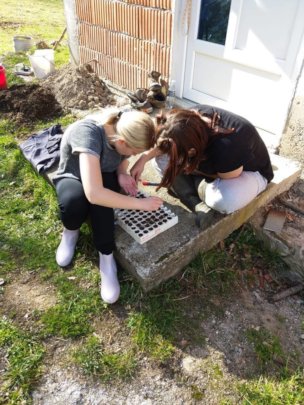 We are now in the spring preparations for our garden. It's getting nice wetter, so our garden has to be prepared for planting. We even managed to plant some sorts such as onions, peas, mangold and others. At the farm we have now chickens, geese and ducks, they are in the spring mood, more fresh and organic eggs are coming so our selling is getting bigger and bigger.
We also have volunteers which help us to prepare for further activities, even at the beginning of this month we were joined by a volunteer from Russia, who takes care of our animals.
A lot of things we will have going on this year. In may there will be a lake made in the area of our farm. Also this summer there are planned three peace camps, that's why we are most focused on preparing the farm for these events and getting all the materials we need.
We sincerely thank everyone who contributed that our idea of the Peace Farm, the place of harmony of people and nature, lives and develops every day.
Peace and Love
The CIM team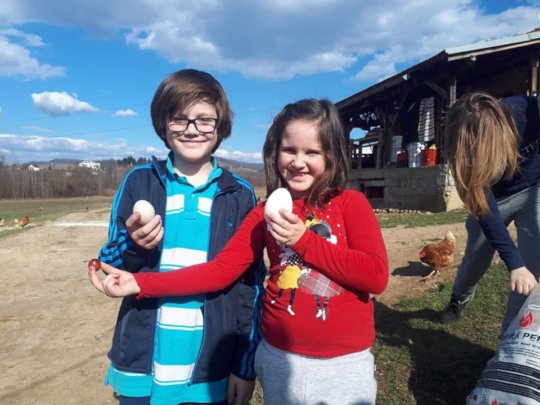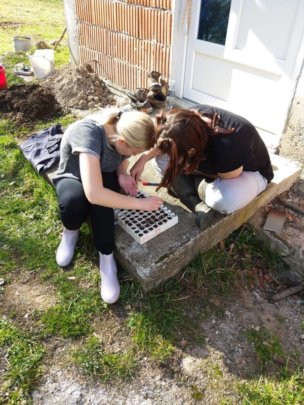 This years Interreligious dialogue days wereo rganized from 17th December to 20th December, we had a lot of workshop on varoius topics for example 'Volunteerism and activism' which was held at the Gymnasium, and the students of all high schools in Sanski Most had the oppurtunity to participate.
Our volunteer club has gained new members and they have participated in many activities in the recent time. We participated in the project Una Sana connect, which was implemented by als oanother 3 cities, there were workshops related to web design, and also our volunteers had the oppurtunity to make an independent activity, where they gave presents for New year and Christmas to children with special needs. Volunteers showed big heart and humanity with this activity.
Since it's getting nice wetter our volunteers have worked hard at our farm and helped us with the garden an danimals, througout the work they got a lot of knowledge about permaculture.
We are now focusing on the organization for our Peace Camps and Peace Caravans, three camps and tw ocaravans are planned for this year.
We want to thank everyone who helps us educate young people in Bosnia and Herzegovina about the importance of preserving peace and coexistence.
Peace and Love
CIM Team
WARNING: Javascript is currently disabled or is not available in your browser. GlobalGiving makes extensive use of Javascript and will not function properly with Javascript disabled.
Please enable Javascript
and refresh this page.