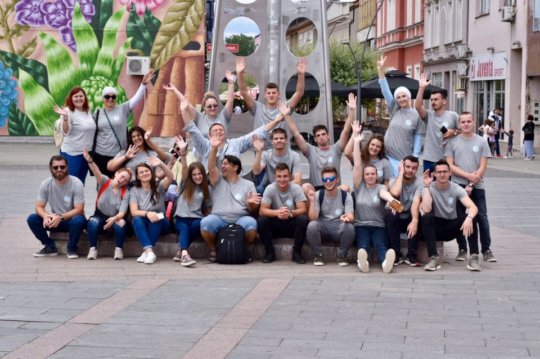 Our summer was pretty busy, but we are glad of how many young people have gone through our education this summer and where we have developed a real activist spirit in them.
In the period from June 21st to June 27th, the youth from Bihac, Cazin, Velika Kladusa, Buzim and Bosanska Krupa took part in the Peace. Peace training for youth is one of the activities of the project "Building local capacities for peace in the Krajina", which is being implemented within the BHRI program. The Peace training was held at the CIM's "Garden of Opportunities", and young people, besides socializing and getting acquainted, had the opportunity to learn about identity, conflict resolution, peace building and reconciliation. Some of the things they learned, which, in the continuation of this project, will be able and practical to apply after returning to their local communities are: youth activism, changes that they want to see in their community, concrete steps towards change. Upon completing the Peace Training, in July and August the participants had a budget to organize initiatives in their local communities. They organized camps, workshops for young people from all around Krajina, history lessons and much more.
Center for Peacebuildung has organized from 8th to 13th of July a Peace Camp. 24 young people from 10 municipalities/cities of Bosnia and Herzegovina were participants of the camp we held on CIM's Peace Farm (Garden of Opportunities) in Sanski Most.
For our educational part of the Peace camp which were workshops who were based on identities, prejudices, stereotypes as well as peacebuilding and resources in our local communities that we need for our future peace activities. The workshops were held by CIM's directors with the help of our external associates. They talked and learned in an experiential way about the differences between debate and dialogue. The participants became aware of the advantages of leading a dialogue and the importance of its use in conflicting, but also in everyday situations.
For the working part at the Peace camp the participants had the opportunity to clean around the farm, work in the garden and forest, and building a park in the forest.
The camp has encouraged many new ideas for future peace activities and we can proudly say that it was more than successful.
CIM Peace Camp and Caravan completed on July 19th in Jajce. After a seven-day Peace Camp, they traveled together for 5 days through the cities of Bosnia and Herzegovina. During this trip, they visited historical and cultural sites, became acquainted with the problems faced by young people in particular communities, and ways to address them by local activists, peacekeepers and drivers of change.
It was a busy summer, but it is still not the end. In september we are organizing a Peace fest for people all around Bosnia and Herzegovina. And in October the participants of the Peace camp and Caravan are doing their initiatives in their local communities.

We want to thank everyone who helps us educate young people in Bosnia and Herzegovina about the importance of preserving peace and coexistence.

Peace and Love

CIM Team