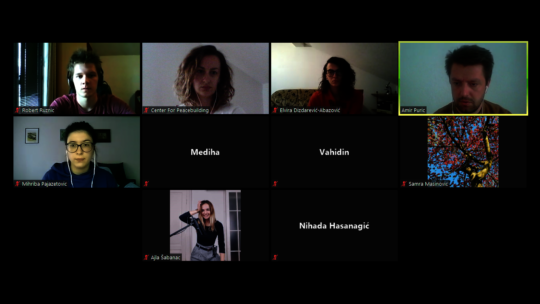 We hope that you are all okay, healthy and safe at your homes.
Before the start of the pandemic COVID-19, CIM's Peace Camp and Caravan participants which was held in December last year have implemented their local initiatives in February and March. The local initiatives were held in Doboj, Banja Luka, Sarajevo, Olovo and Sokolac and the youth from these communities had the opportunity to attend workshop on the subject peace and reconciliation.
After canceling all local youth initiatives planned in March and April because of the state of emergency caused by the COVID-19 pandemic, CIM staff has worked on a strategy to organize them online. We have held several online meetings with the team members to find a solution and adjust their working agenda to online workshops.
The first online workshop was held by the participants from Jajce, the two-day local youth initiative of Jajce "Peace activism in period of social distance" was organized on April 16th and 17th. During the first day the former Peace camp and caravan participants held a workshop about prejudices and stereotypes. On the second day, youth workers held an interactive workshop about youth activism.
The next was the two-day local initiative of Velika Kladuša "With knowledge to peace" which was organized on April 18th and 19th via Zoom platform. During these two days 10 youth from Velika Kladuša had the opportunity to learn from the journalist and activist Amir who is the recipient of a special plaque awarded in the frame of the Journalist Award "Sran Aleksic" for professional reporting in year 2019. The main topic of these workshops was media literacy. The youth defined media literacy as ability and skills to filter a great amount of information and extract the true ones.
On the April 25th and 27th the local initiative of Bijeljina named "Art and peace are not slogans but life" was organized via Zoom platform. In total 20 youth from Bijeljina and Sarajevo attended this activity. On the first day volunteers of PRONI club in Sarajevo, held an interactive workshop about teambuilding. On the second day, a psychology student and volunteers of PRONI youth club from Bijeljina Irena held an interactive workshop about stereotypes and prejudices. Through a survey she explained the definition of stereotypes and prejudice, the differences between them and the examples of them
The local initiative of Stolac called "With art to peace" was held on May 4th via Zoom. First, Davor who is a former Peace camp and caravan participant and an aspiring actor shared his experience and ways of using art in peacebuilding. Dalila is a lover of fine arts. She showed her art work created during isolation. She emphasized the calming effect art has for her and the importance of finding an activity that makes us relaxed and satisfied. Amar and Adel are independent amateur musicians. They played various songs on a guitar and showed the magical effect of music by connecting people across the country and even region.
Local initiative of Mostar – "Shock seminar" was organized on May 4th via Zoom. The coordinator of PRONI youth club in Mostar held an interactive presentation about I-speech which is way of assertive communication. After this short but useful and concrete topic, a member of a theater group from Mostar spoke about his work and experience by working on peacebuilding in his community. He organized a theater performance which focused on the present division between Croats and Bosniaks living in Mostar. Through his work he wants to emphasize the absurdity of two sites of the city and the on going division, hate and distrust. And the third short presentation was about meditation and yoga, and the benefits she noticed practicing it.
On April 21st the initiative #letstalk from the former Peace camp and caravan participants and the Volunteers club from Sanski Most has officially started. #letstalk is conceived as a platform where youth can talk, discuss and exchange about various topics interesting to them and host guests like activists, athletes, psychologists, actors, musicians. After a survey started on Facebook, the youth choose to talk about books at the first meeting. Milena, a former Peace camp and caravan participant moderated this meeting.
The second meeting of youth – Art in Peacebuilding was held on April 25th. The guest and moderator of this meeting was Davor, a former Peace camp and caravan participant and amateur actor. He spoke about the role of art in peacebuilding. The participants discussed what art means for them and tried to find a definition of art.
For this next meeting the youth invited the director of the association Forgotten children of War Ajna. Although, her name and story are well known for citizens of Bosnia and Herzegovina, she shared her life experience with the participants. Ajna is a child of a women who was a victim of sexual violence – rape during war 1992-1995. She started to talk about the stigmatization her mother and she as her child were experiencing living in a small community. Her childhood was marked with bullying and rejection of the peers, community and, in her words "whole country". After she waited over twenty-three years, she decided with other children of sexual violence during conflict to establish the association Forgotten children of War. The mission of this association is to change the mindset of society towards victims of sexual violence, reduce stigmatization and give psychological, social and legally support.
After Ajna, Larisa was the guest on the #letstalk platform. Larisa is a 29 year- old Bosnian judoka, and most successful Bosnian athlete ever. On the 30th of April, 12 young people talked to Larisa about the position of sports in Bosnia and Herzegovina, and the role of sports in society in general. During the 60-minute conversation, young people asked questions such as: "How to motivate young people to do professional sports?", "What does a professional athlete's day look like?", "How does sport help to overcome problems in society?" etc.
Let's talk with Amel was held on May 7th via Zoom. Amel is a Bosnian athlete. He is currently the most trophy athlete in Bosnia and Herzegovina. His disciplines are short and medium track, and in these disciplines, he has set two national records and numerous European records. Looking at his successful career he emphasized the importance of one thing – dedication.
On May 12th, we organized another #letstalk meeting and on this occasion talked with youth about tourism in Bosnia and Herzegovina. Milena, a former Peace camp and caravan participant moderated this meeting. First the participants talked about their willingness to travel around Bosnia and Herzegovina. Many of the youth haven't visited or explored their home country.
#letstalk about movies and serials was held on 29th of May. Fatima who was a participant of Dialogue facilitation seminar moderated this meeting. Ten participants decided to spend their time by sharing their favourite movies and serials. Fatima prepared a presentation of the best movies and serials of 21st century based on the reviews of BBC and the Guardian.
On the fifth of June the former Peace camp and caravan participants hosted Uroš, an actor and youth activist from Novi Sad, Serbia. Davor moderated this meeting. Uroš introduced himself and his work from the beginning in the area of acting. Uroš presented the work of a theater group "Teatarnova" a project which enables youth to express themselves through theater. In the second part of the meeting he asked the participants to actively participate in reading and acting in a dialogue.
After the decision of separating Peace camp and caravan, CIM has published the call for participants for the Peace camp which will be organized in the period of June 26th till July 3rd. The call was officially published on CIM's Facebook page on 8th of June.
We want to thank everyone who has been helping and following our work during the pandemic. We wish you all who is reading this health and safety during this time, and don't get unmotivated because our youth showed us that they you can do a lot of great work online too.