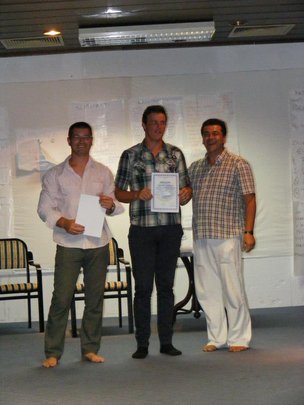 After months of preparation and a year of fundraising it all came together- thanks to you! From August 24-30, The Center for Peacebuilding held Peace Camp with 30 incredible youth from around the country.
When you read the news about the Balkans, it's hard to believe that we have any hope for the future. Everything is about ethnic divides and denying the wounds that all citizens of the country hold. Yet, for one week on the river Una, in Northwestern Bosnia, an amazing group of young Bosnians of all ethnicities, gathered to share their inner feelings, traumas, and wishes for their country. In these individuals we found young peacebuilders who want to work together and share their country with everyone-Serbs, Croats, Bosniaks, Roma, Jews, and others.
After a challenging year with many changes, both good, and bad, Peace Camp restored me and my fellow director, Mevludin. The participants too, found energy, inspiration, and many things to learn from this week.
" I learnt that you cannot take the fact for granted that spirituality and peacebuilding are connected, and I have a lot more to work on to get to the point where spirituality and being a peacebuilder are connected inside of me". Peace Camp participant
As we continue this year, we will keep in touch with participants, and help them on their own journey to be peacebuilders with their families and communities.
This would not have happened without each and every one of you. Your support has helped us and strengthened our resolve to continue this uphill battle in so many ways. So again, thank you for your donations, and your positive thoughts, prayers, and energy.
As Always, In Peace