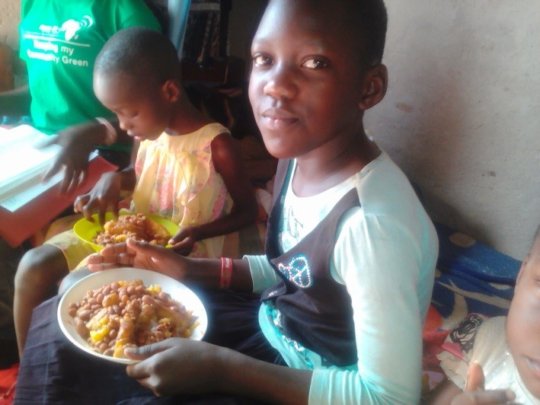 Mama Africa is thriving and progressing!
Mama Africa graduates from one step to the other
Greetings from Mama Africa the Voice Uganda. We have lots of new things to show you. Brace yourself! I'll spread this over a couple of updates.
But before all that in our heartfelt message to US friends and families Christians and none Christians we say we are "deeply saddened" by the loss of life caused by Powerful Harvey storm that has claimed at least 44 lives and displaced more than a million people on the Gulf Coast we are deeply saddened to learn of the loss of life and the devastation following the recent terrible floods caused. And we send our sincere condolences to the victims of this disaster, to those who have lost loved ones, and to those who have seen their homes and property destroyed. "Our thoughts and prayers are with those affected."
Our children are doing extremely well. In fact, they just got their second term school holidays, one of our students got first place in his 1st term and second exam results. Although we are extremely proud at how much they have accomplished against all odds, we are working with the partner schools and teachers to help our girls through extra coaching. We are also working with our guardians to make sure our girl students get the time they need to study. Attached are some of the pictures of our students in their secondary school uniforms and during activities at home. Very sharp!
In addition, Mama Africa the voice Uganda attended GlobalGiving workshop a few months ago. They were traveling around Eastern Africa visiting the most successful projects that you support in each country. Our staff benefited allot
Construction of a community orphanage primary school and a place to call home is well on its way we need more of your financial and moral support to achieve this. It's beautiful.
If you have Facebook you can follow us there by becoming a fan of the page! A link to the page is below.
Thank you so much for your continuing support. As you can see, it's making a world of a difference in the lives that mean the most to us all. The future is bright!
All the best,
Mama Africa the voice Uganda.