"success isn't about how much money you make, it's about the difference you make in people's Lives". (Michelle Obama)
Christmas is a season of celebration but also reflection.
as mama Africa, we have made numerous strides this year that I will enumerate in our annual report.
as you embark on festival's, on behalf of Mama Africa the voice Uganda, am saying thank you for the monthly support through pay pal. it would be more difficult without you.
A few highlights from 2019. Seeking a more just future
This year we have focused so much on building and finishing up the slum offices
Having emphasis on enhancing education as well as supporting your children into carriers that will put them in influential positions to support the least vulnerable still in Uganda.

Four more years
I'm beyond thrilled to highlight that in 2019 we are extending our partnership with friends around the world by four more years to ensure the initiative we co-founded, Unreasonable Impact, lives up to its name and founding intention. And we hope you received our 2018 annual report.
In 2020 our major focus is going to be constructing the Empowerment center (a community primary school and a place to call home. We are excited about it. for the first three years of this flagship partnership and stay tuned for updates in the months and years to come.

Driving capital
We are now working with you, Facebook family friends, private proposal writing, and foundations to share the vision of investing in growth-stage as well as profitably positioned to solve some of our toughest societal and environmental challenges. Like quality education and school in our rural areas of Uganda We've laid the groundwork to launch fundraisers in 2020 and I'm beyond thrilled to see these come to life in the months ahead. I'm confident that together we will help move hundreds of dollars to invest in some of the most impactful construction projects at Mama Africa. I look forward to sharing some of this long-time dream in the coming year.
This kindness has a meal because you gave thank you for 2019 support.
You may not realize the different your donation will make to families that have lost everything. please, let me share Katie's story with you.
KATE'S PICTURE AND OTHER ELDERS WITH TOUCHING EMMOTIONS YOU WILL GET THEN NOW THRIUGH WHATS UP
"It was the day when I sat infront of my house seeing every one busy running to shop for Christmas and I went in the grave yard where I buried all my children and now I did not expect no one to shop for me .Thankfully Mama Africa came and I was among the lucky elders who got a Christ-mass meal I cried!!! "
Katie made me cry more and my eyes sobbed in tears imagining how wounds and scars inside keep opening and tearing as well as bleeding inside her.
Thanks to you!!
You gently Nurse the inner wounds of such mothers or elderly who have no hope that anyone can bring them a meal.
Christmas Ugandan Orphans in the slums of Kosovo and the elderly project are going to enjoy your gift
we respect your loyalty to mama Africa the voice Uganda
thank you and thank you again
thank you. help us change more lives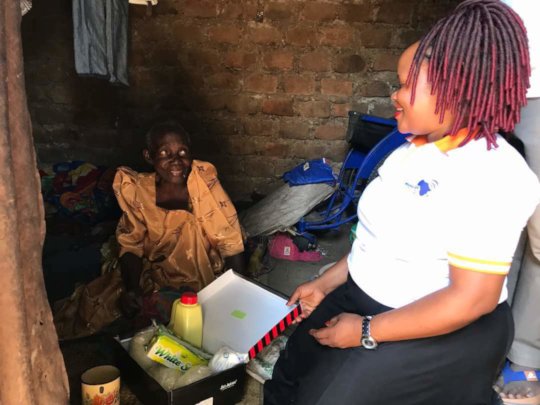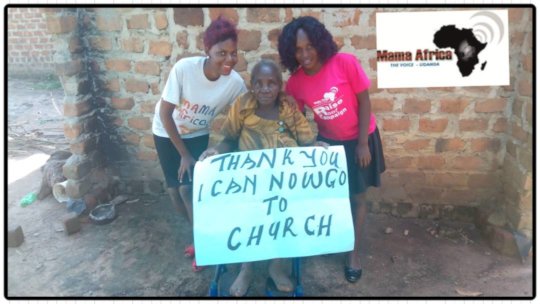 Links: