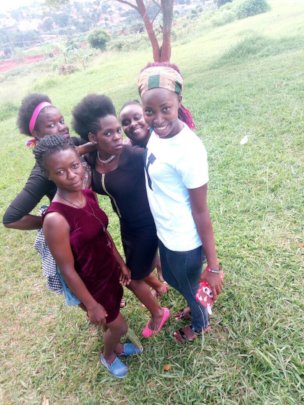 Phiona just before beginning her exam (2016)
One year ago, we shared this photo with you, our friends on GlobalGiving.
We told you that our children were candidate and among them is Phiona in this photo, phiona, had just begun her national exams. We let you know that the exam could determine their future, and yet, she was ready to face this challenge unafraid.
One year later, that future has arrived for Phiona!
August 2017, Phiona enrolled at Kyambogo University where she is pursuing a bachelor's degree in Social work and social administration. After years of hard work and losing a parent to HIV disease, Phiona earned a school placement in recognition of her stellar exam scores.
Mama Africa has helped Phiona feel empowered and Phiona used her power to become a success story.
What Phiona has done is inspiring – she has come from a community with nearly no history of female success and she's overcome the odds. She is healthy, successful, and driven. Perhaps, most importantly, she is an example.
Today marks the start of the 2018 exam period and another class of Semester two girl will be walking into their exam halls. They, too, face the challenge unafraid.
Why? Because they are Mama Africa girls. Because they have been given the tools they need to thrive. They know that they can do great things. They have a world of supporters at their backs.
And they've seen girls like Phiona blaze a path before them.
This is the story that you make possible by supporting Mama Africa The Voice Uganda. You help create success stories, like Phiona's, that are inspiring not only to us, but to Mama Africa girls themselves and boys. You build a world where children look around them and see evidence that we all can do incredible things. Through Christ who strengthens us and Mama Africa the voice Uganda,
Your donation gives such Vulnerable children from straggling backgrounds the opportunities, tools, and resources they need to create successful futures.
For every child like Phiona, there are hundreds of them that will follow in her footsteps. That's what you help Mama Africa the voice Uganda do – you build a future where all Vulnerable children are healthy, educated, and ready to inspire.