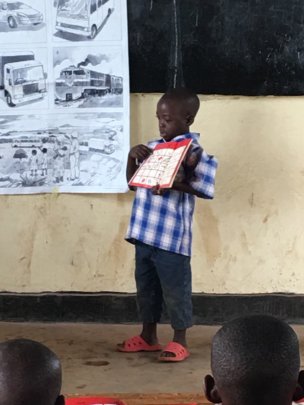 Education East Africa Quarterly Report

UPDATE FROM KIGALI
1st May 2017
Firstly, an apology for the awful typo in my last report. I was horrified, but when I noticed it the report had already 'gone live'. I don't want to draw attention to it if you hadn't noticed, but it was the use of 'affect' instead of 'effect'. Mortifying, but I have lived to see the days and weeks since.
The schools recently opened again after the mid-term holidays.
The teachers are really relishing using our books and materials. They are also gaining confidence in their own use of English. With the activities set out in the books, the pupils often come to the front to use what they have learned. It has been wonderful to see pupils standing with, for instance, one of the wall charts and the task of putting the English they know to use with the items shown on the wall chart. One boy stood there, started to say his sentence, realised he was going astray, stopped – and in those seconds you could almost see him working out the patterns in his head – and then came out with the completely correct sentence structure. That was proof of utter understanding and ability to use the language. The teachers are hugely encouraged by their pupils, and success breeds success. Both teachers and pupils are on the upward spiral of learning and speaking English.
We are still focusing on teachers teaching the very first year, P1, but we observe and help all teachers teaching English in lower primary (P1 to P3) and in upper primary too (P4 to P6). It is more difficult to help the teachers who are not experiencing using our books and materials. The books provided by the government do not give detailed guidance, and what guidance that is given is in English, which is the very language the teachers are struggling with! We help those teachers more with teaching methods and some demonstration lessons.
In our sessions when all the teachers come together, the teachers have told us that they want to speak English, and so we now cover an item of grammar or a sentence structure, and then encourage the teachers to use that in conversation. There is progress. Within this we can touch on techniques of how and when to correct pupils, the use and meaning of tenses, contrasting tenses, and we can highlight pitfalls to be avoided.
The head teacher of Gasabo primary school was transferred recently to another school within the same district. He has sent an email requesting that we include his new school in our work! We will see what we can do.
Alongside our work in the schools, we are continuing to see officials so that our work is known.
We now have a Memorandum of Understanding with the Mayor of Gasabo that our English programme should cover all of his district when funds permit. We have a Memorandum of Understanding with the Rwanda Education Board (REB) that the NOEC books are being used to help to deliver the new curriculum.
We have met the District Education Director for Gasabo District who has agreed that we can write examinations for P1 in both our project schools and other schools. This will also help to monitor and evidence the improvements in English from our project.
We have met the Deputy Chair of The Board of REB who has given very positive feedback on the NOEC books and has suggested we submit them to the Textbook Approval Committee, of which he is Chair. He has also told us that there is a policy proposal that English becomes the medium of instruction in secondary school, and not in P4 which is the present situation. He is interested in discussing this further with us.
We have met two Senators, one of whom has committed to visit the schools this term to see our work. We have met the Head of the Parliamentary Committee on Education, Youth, Sports and Culture, who is sharing our materials with her colleagues and will visit to see our work.
We have met the Minister of State for Primary and Secondary Education who was very interested in our materials and our ideas. As a first step in continuing our discussion on the improvement of teaching English, he will visit our schools and talk to the teachers this term.
We have to date had two meetings with Dr. Papias, the Minister for Education, and later this month or in June we hope to have a meeting with him and his Minister of State for Primary and Secondary Education.
So, we are busy and look forward to keeping busy.
All of this work is possible because of the donations we receive.

Your donations are invaluable, and I thank you all again and again for your generosity and support.
Many thanks indeed.
Katy Allen
Director

Education is the Passport to a Self-Sustaining Life
www.EducationEastAfrica.org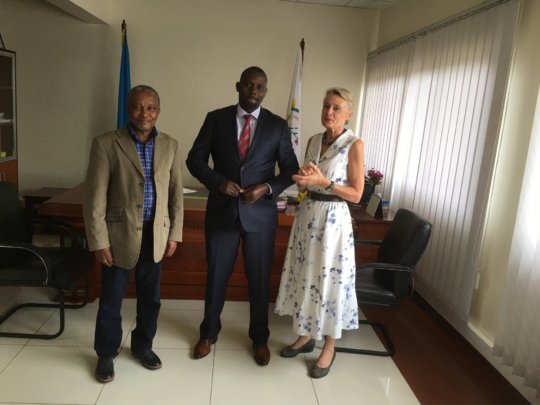 Links: