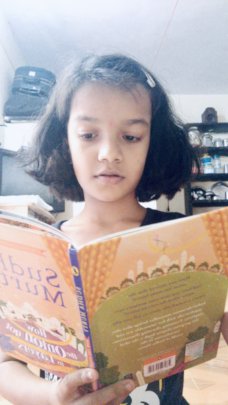 Ashraya has continued to mitigate the effects of COVID19 across its community families since March. For the Ashraya families it began with the children restricted from coming to school, stringent lockdowns, subsequent scarcity of nutrition and loss of livelihoods. Ashraya had been supporting the communities with COVID response measures, food ration and health and hygiene kits. A food ration kit consisting of rice, pulses, wheat flour, sugar and oil is distributed to the community families every fortnight and that is often supported with masks, hand washes and sanitary napkins.
In the last nine months, Ashraya has conducted an orientation with parents and kicked of the new academic year 2020-21 remotely. The focus is on improving the access to quality online education to all our children and ensuring there is academic lag when schools physically reopen. Through rigorous teacher training, curriculum development, innovating teaching and learning aids Ashraya has managed to create a robust schedule for online classes and has been constantly ensuring to increase online attendance of children through distributing phones and tablets. For the occasion of International Literacy Day 2020, we brainstormed on a participative process of celebrating through a virtual platform. The request we received from children was that they were keen on building their own personal libraries at home and if there was some way for them to receive books to read. The Ashraya team discussed and curated a list of 490 books based on the children's grade levels, learning levels and interest areas. This list contained fictional story books (Sudha Murthy, Ruskin Bond etc), encyclopedias, non-fictional books (The Diary of Anne-Frank) and many others that the children desired to read. This list was then updated on Ashraya's amazon wishlist and the book campaign, Build A Library, was launched on our social media, a week prior to International Literacy Day. The response received was overwhelming and we collected a total of 730 books that were sent to us by our wonderful supporters and well-wishers. The children have also been gifted all their books post the campaign and are excited about moving forward with this initiative of building their personal libraries. Post this successful initiative, we have decided that to conduct this activity annually, so as to give the gift of reading to our bookworms, from the comfort of their homes! For Ashraya's children, who have been braving the harsh effects of this pandemic, this is a small but poignant step in paving their way to a more bright future.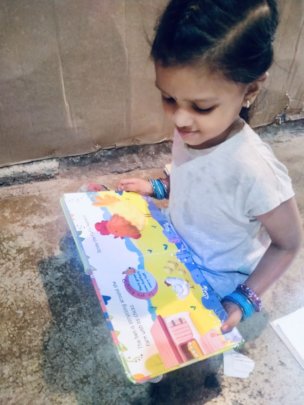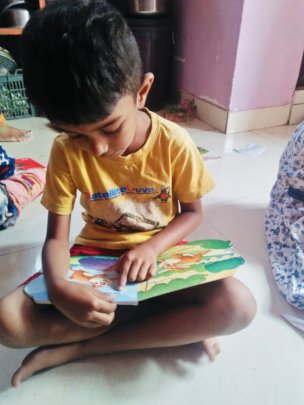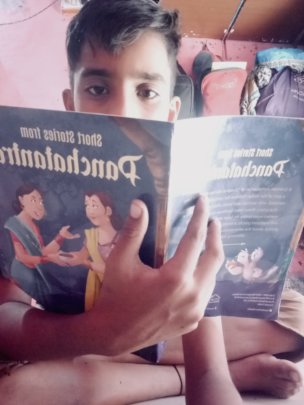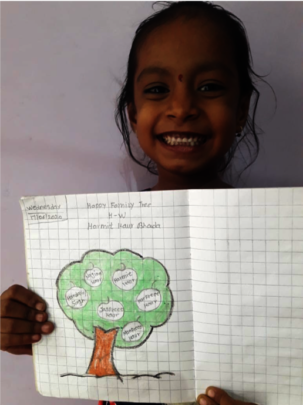 As the world is battling the effects of the COVID19 pandemic, Ashraya continues to undertake mitigation response within our communities, to alleviate the impact of the virus which is still rapidly spreading. The high density of population and sharing community utilities like public toilets and water has made it harder to control transmission within local households. As a safety measure, Ashraya continues to conduct all education activities remotely and simultaneously support the community through on ground health and nutrition initiatives. The Ashraya families have been receiving food ration supplies and health-hygiene kits every fortnight on need basis through the assistance of staff, with necessary precautions and permissions. This included a sanitary napkin distribution for all the girls and women in the Ashraya communities in June. We will continue to support the families with food ration and medical facilities till this health crisis persists.
In the past three months, the Ashraya team has brainstormed and worked towards grasping the technicalities of remote education and concurrently improving learning outcomes of children. Since by now, schools have virtually reopened and are also delving into online classes, the teaching staff have segregated children into groups for Mathematics and English and have been giving all the students at least 3 hours' worth of worksheets for constructive engagement. Since the academic year at Ashraya has commenced in June, we have organized a session with the community parents on highlights of the previous academic year and to elaborate on the standard guidelines for the impending academic year. We will be continuing with remote education indefinitely till the pandemic blows over and have shared an e-learning timetable for the students which were drawn out carefully considering sibling timetables, teacher availability timings and school online classes timings. One of our major challenges in this process was a lack of access of digital devices within the community due to the dire financial straits of some of the families. Ashraya conducted a donation campaign for the same for old and/or unused phones or tablets and managed to acquire devices for seven families in the process. We also conducted a rigorous and comprehensive teacher training for Ashraya staff in the month of June which included experts from various fields taking online sessions and webinars on creative learning methods to incorporate during lesson plan conception. This included a focus on curriculum, goal setting, inclusive education and innovative teaching aids for students to make learning effectual in online classrooms. A highlight during this is was a peer learning session by our in house counselling team on topics like Understanding ADHD (Attention Deficit Hyperactivity Disorder), classroom strategies and graphic organizers.
One of our exciting new endeavours are weekly spoken word poetry sessions conducted for 31 children of various ages, by Bullock Cart Poetry, an organization we have partnered with. The children have been embracing their artistic capabilities and are coming up with some captivating lines! One of our favourite poems which has been penned by one of our budding poets is attached within. Needless to say the children are thoroughly enjoying these weekly sessions as it gives them an outlet to creatively express their emotions and thoughts. We hope to see a lot more verses from our talented children in the coming weeks!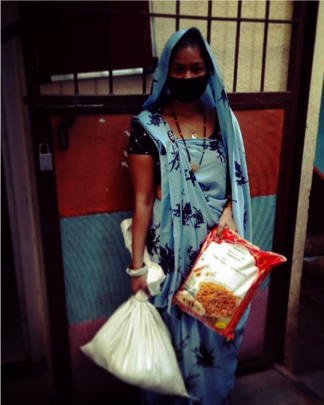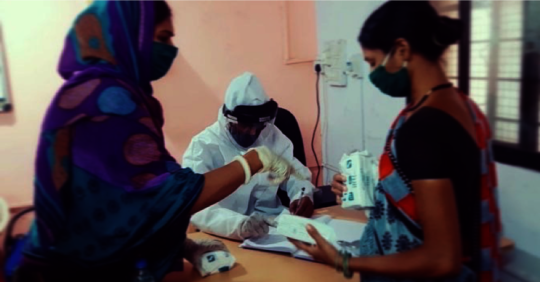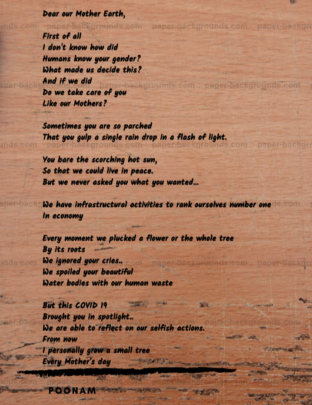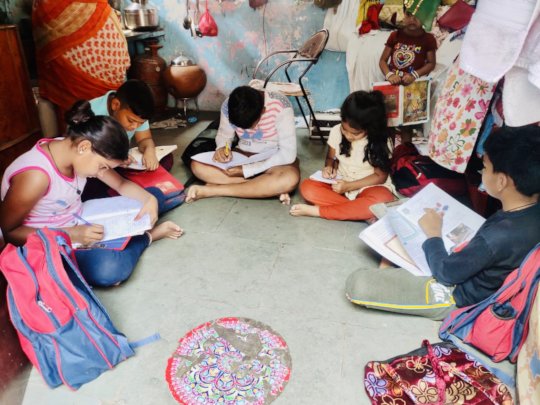 The Covid-19 (Coronavirus) outbreak has impacted some more than others. With the global pandemic hitting India, our community people have been affected in more than innumerable ways. The government has advised the people to observe social distancing which means most of the crowded areas like markets and other business areas have had to shut operations. Since most of the Waghri and Sikhligars community livelihoods depend on selling clothes and selling utensils or vegetables within these markets, their financial status has taken a severe hit. Schools of children have shut down indefinitely to avoid the spread of infection among the children. As this measure has been implemented just before the exam term of the year, this has put a sudden halt to the children's education. To follow safety measures, Ashraya has also temporarily suspended classes at the education center. The health center however, remains open to tackle any suspected cases and distributing medicines. Subsequently, this had put the teachers in a dilemma as to how to make sure there is no gap in learning outcomes till this situation passes. Hence, Ashraya decided that the teachers will come up with a plan to ensure that the children do not get a lag from their studies.
To effectively tackle this, the teachers have made English and Math worksheets or downloaded online resources and distributed them to their class children. Additionally, they gave them daily targets and instructions on how to work on those sheets. Teach a Class, a non-profit organization, who is partnering with Ashraya, has also provided online learning tools and a platform where all the teachers have uploaded resources to share them with the others and avoid repetition of work. To follow up with this the teachers called all the parents and asked them to ensure that the children are studying every day. Amazingly the parents have also been sharing updates regarding the children along with photos of them attempting the worksheets. The older student interns in the community have volunteered to coach the children who are staying near their homes and also check up on them time to time. In some cases the children themselves are sending verbal updates with the teachers every day on their academic progress. Needless to say the teachers and the community are both working hard to uphold the children's education in a seamless process. Some of the parents are trying their best to engage the children in extra curriculars like cooking and art.
Apart from this Ashraya has been taking care of the communities health and nutrition needs to the best of its capabilities. Breakfast and lunch is being delivered to the in-need houses whose livelihoods have been adversely affected due to social distancing. We are trying to monitor the health situation by the community to its best effect. In the near future we are attempting to do teacher trainings virtually and make video lessons to engage the children. We are trying to engage volunteers who can work from home for this reason by the coming week. In these trying times Ashraya focusses on reaching out to the most vulnerable amongst us and providing them with the best resources available, to ensure normalcy.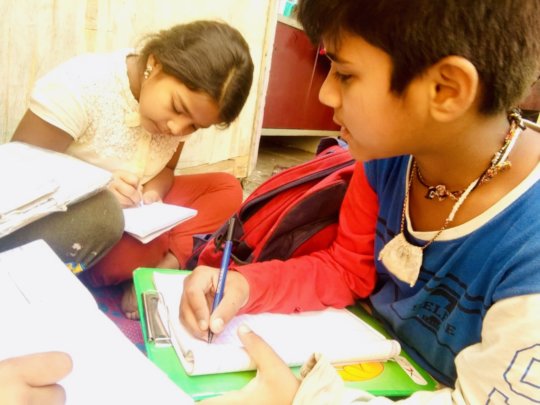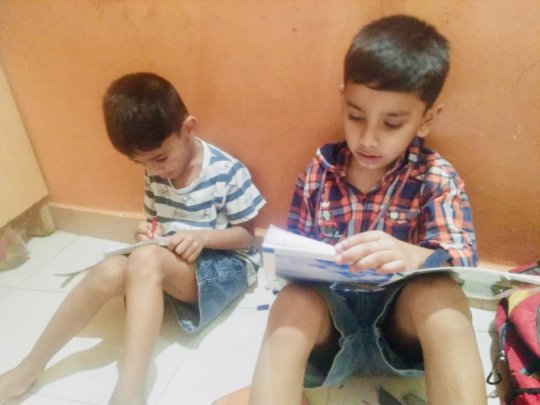 WARNING: Javascript is currently disabled or is not available in your browser. GlobalGiving makes extensive use of Javascript and will not function properly with Javascript disabled.
Please enable Javascript
and refresh this page.