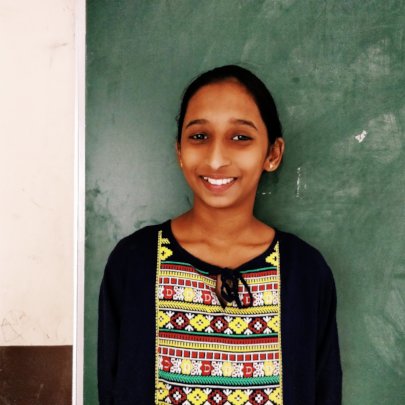 Two of AIC's accomplished 9th standard girls recently applied to the competitive Aspen Junior Fellows summer leadership school, which focuses on developing leadership skills through theater, adventure sports, and experiential education. This summer, Saniya and Aditi will spend 10 days during their summer vacation on the other side of the country in Dehradun, living and learning with other high school students from diverse backgrounds and communities around India.
Saniya, one of the first 12 girls to join AIC's Education Outreach Program in 2006, is personally motivated to learn more about women's empowerment, which she defines as "giving them the skills to be independent." Too often she has seen women being told to stay at home and rely on their husbands, and she wants to change this.
Saniya hopes to open an all-women software company in the future. This was an idea sparked by a school field trip to Tata Consultancy Service, where she spoke to Indian women working in Saudi Arabia on Skype, and was amazed that if Indian women are doing great things abroad, why can't they in the Yerwada community? She even dreams of taking her future software company global one day.
Saniya attends an all-girls leadership school, Avasara Academy, and her principal is her role model. She has received many opportunities through her school, and now she's a member of the student council and leader of the theater group. She says that she used to be shy and kept to herself, but these activities gave her confidence and developed her leadership skills. She hopes to learn more about what it takes to be a leader at this summer program.
We asked her, "What qualities make a good leader?"
She said, "Leaders need to be collaborative. They need to know how to work with different ideas for one project, and they also need to be creative, so that they can solve one problem in many ways."
And then we asked her if she thinks she has these two qualities, to which she smiled, adjusted her glasses, and gave one quick, yet firm, nod.
Aditi, also in 9th standard, is fiercely inspired and motivated to do as much as she possibly can in her future. Not only does she want to be an engineer because of her love for math and science, but she is also passionate about effecting positive change in her community. One idea that she has is to open an NGO for orphan children, because she has seen that they are often sent to work by their extended families instead of to school.
This passion is also fueled by Aditi's school activities. One of her proudest accomplishments was her involvement in the Kids Education Revolution program, which focuses on motivating children and adolescents not already in school to attend. Through this program, she and her peers were able to convince 5 girls with unsupportive parents to begin attending school regularly.
Aditi sees this summer leadership school as an opportunity to augment the leadership skills that she obtained from the Kids Education Revolution program. We asked her, "Why is it important for you to be a leader?"
"Being a leader gives you more potential to bring change. Then we can achieve anything. We can gain respect, which is very difficult to earn, and easy to lose, but it is important because my family has faced many problems and I want the community to stand up and face their problems too. For that, they need to look up to a good leader, and I want to be that for them."
We are very excited to hear about Aditi and Saniya's adventures in Dehradun this summer, as they grow and learn and represent AIC!