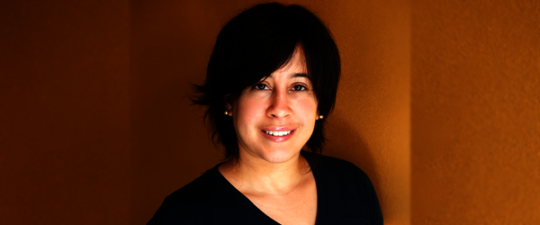 Dear Friend,
Latin American Youth Center (LAYC) is proud of our program alumni, many of whom are committed to giving back to the organization and our community. Here is Nancy's story:
Nancy jokingly says that she is an LAYC youth "from back in the day," when LAYC was located on 15th Street NW and youth affectionately called LAYC's Teen Center "La Peña." She notes that while LAYC was not as structured and diverse in programs as it is today, the impact LAYC and its staff had on her life is something she will never forget.
Nancy found LAYC in 1989 under challenging circumstances. She had been in trouble with law enforcement and appeared in court before then judge, Eric Holder. At that hearing, Judge Holder put Nancy on probation, placed her in a teen shelter, and had her report to an LAYC staff member. That staff member, Director of Social Services Carla Branch, and so many other LAYC staff became an integral part of Nancy's teenage years. Nancy notes that she had no family support, and when she became pregnant with her first child, it was LAYC staff who supported her, even being with her in the delivery room. And when living with family failed after she had her daughter, it was LAYC who stepped in and paid the deposit and first month's rent on a studio apartment furnished with supplies to care of her newborn. Nancy's journey includes many highs and lows and through it all, Nancy recounts many other instances where LAYC and its staff stepped in and provided guidance and support. And while she notes that the staff's names and faces may have faded from her memory, their actions have stayed with her and guided her on her path.
Today, Nancy is a successful realtor in Washington, DC. She takes pride in finding people their homes and finds gratification in knowing that she has helped someone find a safe and welcoming space of their own.
Nancy has been a consistent supporter of LAYC, generously donating to LAYC's annual Gala for numerous years. When asked why she gives back to LAYC, Nancy says, "As alumni it pays to give back. When I give back it's rewarding to know that someone else will benefit from LAYC's resources. As the saying goes, one hand washes the other, and the other the entire city."
Thank you so much for your support of LAYC's homeless youth programs. As the new president & CEO of LAYC, I am honored to continue this vital work that's integral to our mission. Please consider donating to help more young people like Nancy become vital forces in their community.
Gracias,
Lupi Quinteros-Grady
President & CEO