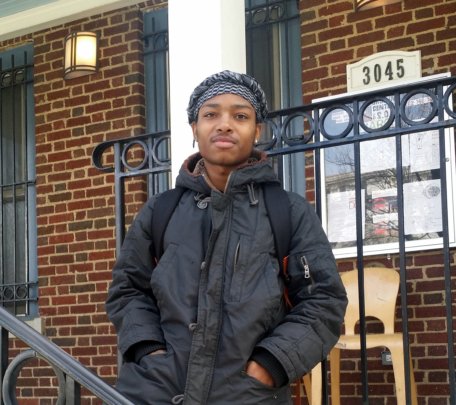 Dear Friend,
It's a snowy day here in DC, and homeless youth know that more than anyone. Thank you for your continued support of LAYC's Street Outreach Program and Drop-In Center that give these youth a safe haven. Please enjoy this story written by a young person named David who found refuge at LAYC:
"I'd like to take this opportunity to thank LAYC as a whole for providing a place for me to stay out of trouble and get my priorities on the right track. I was born in St. Louis, MO, and moved to DC to live with my cousin at a young age due to my mother being financially incapable of looking after me. Throughout my time here in DC, I have had a constant feeling of insecurity and loneliness, which didn't help with my depression. Although I'm still young, I have matured enough to know that if I had continued on that dark path, it would have led to my destruction.

I originally found out about the LAYC Drop-In Center through a friend who was homeless. She would come to eat and take care of personal hygiene, up until the staff here were able to help her get into a safe housing program. I've been coming to the Drop-In Center to complete job applications, check my emails, and grab a bite to eat when I don't have enough to buy food. Being able to come here has kept me from a lot of the negative activities I used to take part in. I am especially grateful to the staff here, who have managed to try to help me in any way that they can.

My case manager has definitely become a mentor to me. Being bilingual, the only thing he hasn't helped me do is learn Spanish (ha ha). Seriously though, I appreciate his attentiveness to my issues and concern for my wellbeing. Being that I was born in St. Louis and not in Washington DC, I found it difficult to deal with my hardships all by myself. My case manager has made it more of a team effort, so now I feel more capable of becoming successful. I currently have four interviews lined up and ready, as well as two program offers for long term trades in both entrepreneurial studies and flooring. I will eventually have to choose one of the programs and one job obviously; however, I am so grateful to have reached this turning point in my life. Though I am one of a few who have written my thank you, I am sure the others who benefit from the Drop-In Center here at LAYC are grateful, too."
Thank you for supporting youth like David. Please consider telling a friend or family member about our programs and encouraging them to donate alongside you.
Gracias,
Lori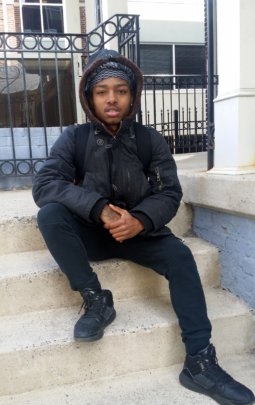 Happy Holidays! Please see a message from Teen Health Promoters (THP) staff member Nicole Connor:
"On behalf of the Latin American Youth Center Teen Health Promoters, we would like to thank you so much for your generous gifts this year. Your charitable donation will now allow us to purchase much-needed supplies that will directly benefit THP youth. We'd like you to know that your thoughtfulness and appreciation is truly making a difference in the lives of so many which will help them prosper and fulfill their dreams.
With your support, we empower youth to pursue health careers, thereby addressing three prominent issues in the community:
1) A lack of access to health information;
2) The high percentage of youth engaging in risky health behaviors; and
3) The lack of minorities in the health profession.
Again, thank you so much for helping these youth succeed in changing their community!
Best wishes during this holiday season,
Nicole"
Dear Friend,
The holidays can be a joyous time to share with family and friends, but it can also be the most devastating time for a homeless youth. Without services like Latin American Youth Center's (LAYC) Street Outreach Program and Drop-In Center, youth can be left in the cold with few options. Max, one of these youth, has written a letter about his experiences:
"My name is Max. I am now 23 years of age. I grew up without a mother and it was really hard and stressful as a kid. I have two sisters and my grandma, who was the one that raised us three. School was really hard for me. I had to get diagnosed three times. I dropped out in the 11th grade in the beginning of the school year due to having nobody to turn to. My grandma had a stroke on the left side of her body so she needed 24-hour care. Me and my sisters had to split up and I have been on my own since. I've been through two programs that didn't work out for me. I just got put out of them so it left me back at square one, back on the streets. I've slept in empty trucks on Fifth and Florida Ave in DC, abandoned houses, apartments, and metro stations. Now I'm getting better and looking better all because of the help from LAYC. I come every day to LAYC and know that I have people who actually care about me and it's just a safe environment for me. I eat, shower, and sleep there. I come to LAYC every day since I left my job because I have nowhere else to go during the day. At LAYC I have a chance to look for jobs and get help from staff. They give me hope."
Max continues to come to LAYC every day, receiving all of the services we offer. LAYC staff are working to connect Max with stable housing and employment so that he can make a successful transition to adulthood.
Thank you for your support during this holiday season. A donation to this program means that homeless youth can be kept safe during the cold winter months--just $10 provides a winter survival kit for a young person like Max.
Gracias,
Lori
WARNING: Javascript is currently disabled or is not available in your browser. GlobalGiving makes extensive use of Javascript and will not function properly with Javascript disabled.
Please enable Javascript
and refresh this page.