"I didn't have anyone in my corner," recalls Reggie, 21, of his life after his mother died when he was 10 years old. After years of "couch surfing" with relatives and friends, Reggie found his way to LAYC's extended housing program. The nine-month transitional living program helps youth who are homeless or unstably housed. Through this program, Reggie lives in a studio apartment, meets weekly with a case manager, and receives wrap-around services. In his time, Reggie has explored going into the Army and is contemplating a career in computer science.
For many homeless youth like Reggie, LAYC provides the caring adults and supportive environment to concentrate on educational and career goals rather than shelter, food, and safety.
As we approach the cooler months of the year, we need your renewed commitment to ending youth homelessness in the District of Columbia. Will you help us keep homeless youth safe and warm through the fall and into winter?
With your support, LAYC is able to help youth like Reggie get the services they need to make a successful transition to young adulthood. Please consider making a generous donation to our project, and tell your friends. Together, we can make a difference in the lives of homeless and runaway youth who need our services.
P.S. Stay in touch by subscribing to our monthly newsletter.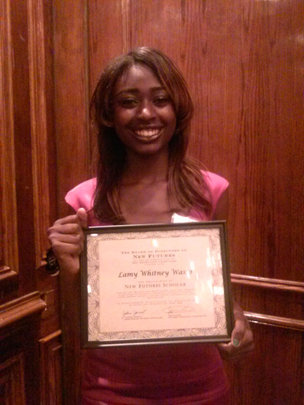 Dear Future Health Professional Supporter,
Thank you for your continued support of the Teen Health Promoters program at the Latin American Youth Center. With your support in 2013-2014, we helped 14 low-income high school students explore a health career and become healthy living advocates for their peers. We are excited to share that one of our 2014 graduates, Whitney, started classes last week at Northern Virginia Community College where she plans to major in Biology. Whitney dreams of becoming a biomedical engineer. Through the Teen Health Promoters, Whitney completed a clinical internship at The George Washington University Hospital where she explored healthcare in the emergency room, physical therapy clinic, and practiced CPR and phlebotomy in the hospital's skills lab. Her participation in the program helped her win a New Futures scholarship for college. You helped make Whitney a success story. Thank you!
We are now gearing up for a new cohort of eager high students interested in health careers. Meet Nicole, a former LAYC participant, and the program's new coordinator. Nicole hails from Detroit, Michigan and first came to LAYC as an intern with other community health programs. She then applied for and was accepted to LAYC's AmeriCorps program, where she completed one year of volunteer service on the health team teaching middle school students about healthy lifestyles. "I am excited to lead the Teen Health Promoters program and apply the fun and positive teaching methods I learned as an AmeriCorps member at LAYC," Nicole shared. Nicole is pursuing a Bachelor's degree in public health at the University of the District of Columbia.
With your support over the summer, Nicole began recruitment for the program in mid-August for an early October start date. Your contributions will help us purchase stethoscopes for the group, but we still need to purchase scrubs, blood pressure cuffs, and raise funds for CPR certifications and TB testing for the clinical internships. Will you help us inspire another group of young minds to pursue health careers? Please consider making an additional donation to our project and asking friends to do the same.
Thanks again for your generosity and continued support! We'll introduce you to the class of 2015 later in the fall.
It has been an exciting and busy few months for LAYC's Safe Housing program! In June, the Safe Housing participants and staff joined a group from the National Coalition for the Homeless and the Ali Forney Center to a rally in New York City to launch the National Campaign for Youth Shelter. This is a collaboration that will build a grassroots campaign to demand a national response to youth homelessness. During the rally, LAYC youth and staff listened to short speeches by leaders in the LGBT movement and the movement to end youth homelessness. The youth also had the opportunity to be interviewed for Lost in America, a documentary that gives homeless youth a platform to talk about their experiences.
One of these youth is Joni, 21. Joni has been an LAYC participant for six years. At 15, her mother put her out on the street when she learned Joni was gay. Joni took the train from South Carolina to DC with her girlfriend. Soon after arriving in the city, Joni fainted (she did not know she had high blood pressure) and checked herself into an emergency room. The hospital contacted the local authorities, and that is how Joni became a participant in LAYC's Safe Housing program. In the last six years, Joni has taken advantage of every opportunity to learn and experience new things, including participating in community service, GED classes, and job training. Today, Joni lives in LAYC's LGBT transitional housing program and is weeks from sitting for GED and customer service certification exams. She plans to go to college and major in business administration.
LGBT youth are disproportionately over-represented in the homeless youth population, with as many as 40% of the nation's homeless youth being LGBT, while only 5% of the overall youth population is LGBT.
With your support, LAYC is able to help youth like Joni get the services they need to make a successful transition to young adulthood. Please consider making a generous donation to our project, and tell your friends. Together, we can make a difference in the lives of homeless and runaway LGBT youth and all youth who need our services.
WARNING: Javascript is currently disabled or is not available in your browser. GlobalGiving makes extensive use of Javascript and will not function properly with Javascript disabled.
Please enable Javascript
and refresh this page.