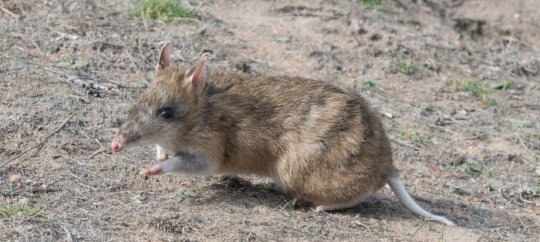 As the dry hot summer has now pushed into autumn, rainfall events have been very few and far between. This is having a detrimental effect on our grasslands at Woodlands Historical Park. Even though this is nature and out of our control, we're hoping to receive some soon. Naturally we go through drought periods and the bandicoots do adapt. But with grazing pressure also happening within the reserve this has become a combined effort and reduced our grass habitat cover.
During our recent monitoring, we were expecting fewer bandicoots to be caught as the animals adjust their breeding based on the conditions available, which were not favourable given the lack of rain. There is still plenty of natural food available just not the adequate grass habitat to commence large breeding rates. Conservation Volunteers Australia's Project Officer Travis Scicchitano reports: "Our aim for this round of monitoring was to see the health of the bandicoots, not so much the numbers. We were please to find 45 animals that were captured and released - 28 male and 17 female. Over half of these were in fact 24 were cleanskins (caught for the first time). This indicates that the bandicoots are still breeding and turning over new stock despite the current conditions. Also, they were caught in all areas of the reserve, which was a positive outcome. Most importantly the animals were in good condition so hopefully they have got through the hardest part of this long summer and look forward to some rain over the cooler months." Check out one of our bandicoot release videos – they are fast!
It was a tough monitoring program in Hamilton this round as the original dates had to be cancelled due to a bushfire. Travis explains, "The bushfire was moving in the direction of the reserve the week before, so no chances were taken and we postponed the monitoring for two weeks once the fire had been put out. Fortunately, at no stage was the reserve under threat due to excellent fire management plans and protection. We appreciate the efforts of all the staff and volunteers who had to reschedule their time under such short notice."
Once monitoring commenced, it was great to see that Hamilton's bandicoots are continuing to grow in numbers and all are passing their health checks. Travis says, "40 bandicoots were caught and processed and all doing very well. We now estimate the population to be around 80 - 100 and hoping this will increase up to 150 by the end of the year. So, bring on the rain to improve breeding conditions and we look forward to providing updates throughout the year."
As always, would like to thank our supporters, volunteers and very generous GlobalGiving donors. Without your support, we wouldn't be able to continue engaging the community in local conservation efforts. Further donations are definitely appreciated, and will help us to continue to make a difference for our endangered native species.
Links:
Over the past few months, we've had our teams out working with the Save the Tasmanian Devil team, improving devil habitat and camera trap monitoring on the Tasman Peninsula, which is a captive bred devil release site. This site is in southern Tasmania and is playing a vital role in providing a safe haven for healthy devils (who are free from the devil facial tumour disease) to be introduced or reintroduced into the wild.
There are 30 sites on the peninsula that have infra-red motion activated cameras set up on them for 2 weeks every year. The photographs captured are then analysed to identify individual devils and help determine if the population is healthy and growing.
When reviewing the photos, we look closely at the devils' white blazes, as they are all unique and assist us in identifying individuals. Each photograph is also reviewed closely to look for any signs of devil facial tumour disease and we are happy to report that all the devils we photographed were tumour free and we even identified some individuals who have never been seen before, meaning the devils are successfully breeding.
The data that we collect as part of this project is crucial to understanding how well captive bred devils are adapting to life in the wild and it allows for early intervention, should devil facial tumour disease take hold on the Tasman Peninsula.
One of the added benefits of using the camera trap survey technique, is that we don't just get photos of devils; we captured pics of all kinds of animals, including snakes, birds, wallabies and bandicoots!
We would like to thank our very generous GlobalGiving donors who have provided much needed resources for our teams to continue this important project. Your ongoing support is making a significant difference to the survival of our devils!
Links:
Our first wombat surveys for 2018 will take place at the end of March. Over the past few months we have been busy honing the survey technique and data collection methods, which will allow us to be ready to hit the ground running on our first day of monitoring.
We've also been liaising with property owners in our priority monitoring sites, to identify additional suitable survey locations to include in our March surveys. Our aim is to ensure that every time we conduct surveys, we grow the project to add more sites and increase our understanding of the impact of mange at these locations.
Volunteers on the first monitoring project will be heading up onto Tasmania's Central Plateau. From previous surveys, we know that there is mange on this property and this project will assist the landholder to understand how much of an impact it has had on the population over the past 6 months, and whether it is moving to other areas of the property. They will then use this information to determine best practice manage management for the wombats on their land.
We have a long road ahead of us, with many hours of monitoring still to come, and we are grateful for the support from our volunteers and donors. We'd like to thank all our wonderful volunteers who show so much passion and dedication for these wombats, as well as our generous GlobalGiving donors who continue to support our success in this project - you really are making a significant difference to the survival of our wombats!
As we move in to our survey season, we look forward to bringing you the results of our monitoring efforts in our next update. Stay tuned!
Links:
WARNING: Javascript is currently disabled or is not available in your browser. GlobalGiving makes extensive use of Javascript and will not function properly with Javascript disabled.
Please enable Javascript
and refresh this page.