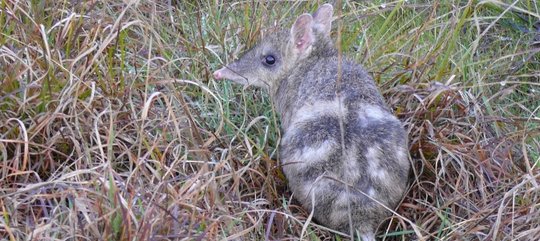 It's been a busy summer at Woodlands Historic Park. The weather has thrown up a few challenges but our amazing volunteers have turned up in droves, even with very high temperatures of 40+ degrees! Thanks to these volunteers, our Eastern Barred Bandicoot program has continued to kick goals and keep the habitat safe for our bandicoots.
Conservation Volunteers Australia's Project Officer, Travis Scicchitano, reports: "Countless fence patrols have stopped any major breaches on the fence. Only recently one of our weekend teams discovered a large branch had fallen down on top of the perimeter fence. They busily cut down the branch and reconstructed the fence back into its position and stopped any foxes getting a chance to make their way in. A fantastic effort and without this continuous dedication, this program couldn't survive."
Since October no new animals have been released. Travis says, "It's time for them to breed on their own for a while - and I can assure you all they have been! Our last monitoring was done in the first week of December. This monitoring week was aimed at trying to catch our first generation of bred and born bandicoots onsite. These are called F1's in science lingo! The great news is that we caught two F1's. Both bandicoots were females and only weighing 170 grams, which is about the size of a small house mouse! Tiny, but successfully out of the pouch and learning to become independent with mum by their side. We also trapped mum and amazingly she had 3 new babies in her pouch about the size of a jelly bean! This is very encouraging as it means the conditions and habitat are perfect for the bandicoots. This year in April is when the next major trapping is planned and we should get a good indication on numbers - fingers crossed until then that they keep on breeding."
Our volunteers have also been busily watering the grassland habitat they planted last year. According to Travis, "These plants are coming along well with all the extra water over a dry Christmas period. These plants should hopefully be at full size within a year and be ready for bandicoots to move in." Other program activities have been continuous weed removal throughout the reserve, giving our native grasses the best chance to flourish.
For the entire calendar year from January to December 2013, volunteers contributed 570 individual days to the project. Travis comments, "This is an amazing effort – volunteers are making a huge difference. Once again, I would like to thank them all for putting in such a great effort and volunteering through all the tough conditions."
Donations are making a significant difference as we can look to broaden our program, but we still have a long way to go. With further donations we hope to put in remote monitoring cameras, which we can use to record the bandicoots' activity and numbers. This would also enable us to stream our fury friends on the website for everyone to see.
Thank you all very much for your support and kind donations - the bandicoots appreciate it and so do we!
*Cover image courtesy of Richard Hill
Links: