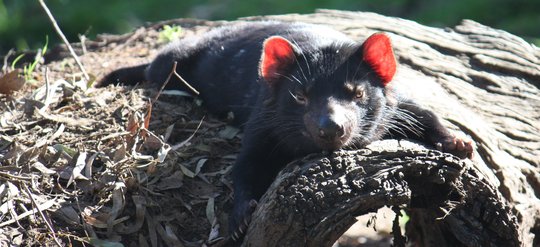 Conservation Volunteers Australia in partnership with Bonorong Wildlife Sanctuary have spent the last 12 months building a large retirement village for the aging Tasmanian devil population. This enclosure will see up to 25 devils, who previously participated in breeding programs, housed for the remainder of their marsupial days! These senior citizens have contributed towards increasing healthy devil populations and in turn securing a future for their species. We thought it was only fair to provide them with a safe and disease free future.
The enclosure itself is now complete and includes natural and native habitat, isolation/segregation areas, common sniffing platforms, digging mounds and sleeping facilities – everything a devil could want! Steve Bailey, the State Manager of Conservation Volunteers Australia in Hobart, said "What an impressive structure this is, built from such a wide range of materials. It is a fine example of what can be achieved through great leadership and teamwork."
Conservation Volunteers Australia and Bonorong Wildlife Sanctuary would like to thank everyone who has been involved in helping this unique species. There have been significant contributions at various levels such as; over 50 people volunteering their time to assist in the construction of the enclosure, financial donations and material donations for the equipment needed and promotion of this worthy project. A local volunteer who has provided a great deal of assistance said "I am very excited to see the enclosure so close to completion and it will be very heart-warming to see the devils released."
The next task is to install water facilities. Irrigation systems and drinking facilities are essential for the devils inhabiting the 'retirement village'. We need your help to implement this utility and see devils on the 'waiting list' released into this terrific enclosure to begin their lives of leisure. Financial contributions, big or small, will help to secure irrigation materials for the enclosure. We will also continue maintaining the enclosure to keep predators away, and we are planning more projects to protect Tasmanian Devils with your support.
Links: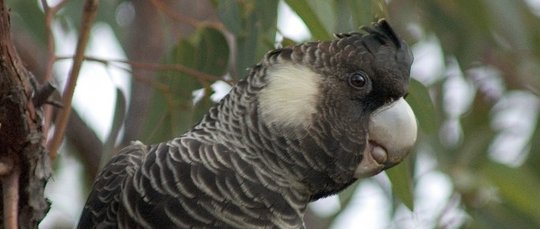 The iconic endangered Carnaby's Black-Cockatoo and the vulnerable Forest Red-tailed Black-Cockatoo face an uncertain future because of urban development and historical land clearing that has dramatically diminished critical habitat. This is compounded by the impacts of climate change and Phytophthora Dieback which is threatening native flora communities. Conservation Volunteers Australia (CVA) has continued to support Kaarakin Black Cockatoo Conservation Centre to rehabilitate degraded land in Beelu National Park this quarter. This national park is adjacent to their centre and is 40 kilometres east of Perth. CVA has been restoring critical habitat by removing all non-native species and planting local native seedlings in their place. This will provide a valuable food source for the endangered Carnaby's Black-Cockatoo and the vulnerable Forest Red-tailed Black-Cockatoo as well as important roosting and nesting locations, and helping with their long-term sustainability.
By restoring critical habitat for the black cockatoos the project will provide an important food source and when the trees mature will provide vital roosting and nesting sites. The Perth Hills region is one of the last remaining urban habitats for the cockatoos and is severely degraded and under pressure so it is vital that this area is protected and enhanced.
Over the last three months CVA has engaged over 100 volunteers from our primary and high school program, adult community volunteering program and indigenous training program. They have cleared over 3,000 square meters of weeds and replaced the area with over 5,000 seedlings.
Rachel, the Acting Environmental Projects Manager at Kaarakin said she was: "really happy with the volunteers hard work and without their efforts we wouldn't have been able to reach a milestone at Kaarakin of 10,000 seedlings planted".
The long-term impact of the project is that it will help develop an important corridor of critical habitat for the endangered Carnaby's Black-Cockatoo and the vulnerable Forest Red-tailed Black-Cockatoo and aid with their recovery. Kaarakin often soft release rehabilitated cockatoos into this area. This work will complement other restoration works that have been done in the region to convert degraded farm land into wildlife corridors. By providing corridors of critical habitat it enables the cockatoos to spread into new regions. The cockatoos have an important role as part of the ecosystem and this project will help create a sustainable future for them.
CVA would like to thank our supporters and volunteers. Without your help, CVA couldn't help out with this important cause. If you are able to donate again we would really appreciate it – every donation will help us to continue achieving these great conservation results and give these beautiful birds a better chance at coming back from the brink of extinction.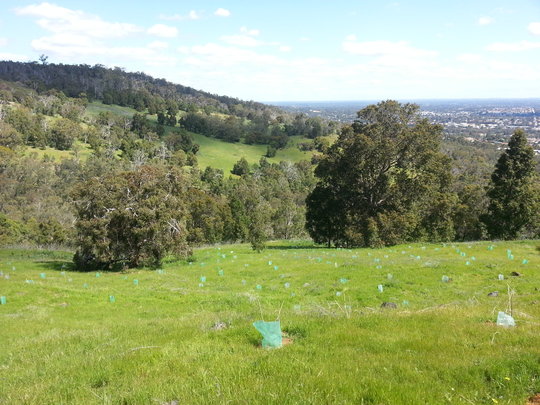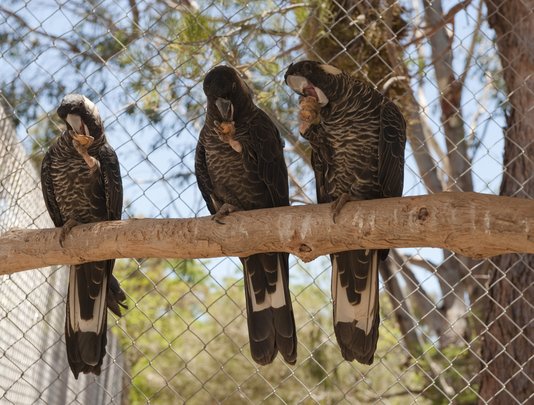 Links: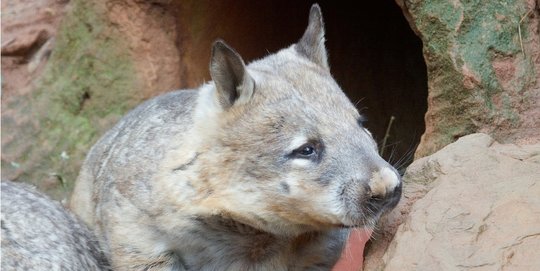 We've had a busy few months at Brookfield Conservation Park with vegetation and wombat condition surveys being the key theme. These survey results are critical in helping us determine how to manage Brookfield Conservation Park and, in turn, the future of the Southern Hairy-nosed Wombat.
More than 20 volunteers have been getting up close and personal with nature by getting down on all fours identifying the weeds and the precious native grasses around the wombat warrens. Volunteers have also assisted with spotlighting at night and collecting data on the condition of this very cryptic animal. Volunteer Peter put it best: "I start to get excited a few days before the wombat projects - you never know what you will discover or even if you will see a wombat! They can be very elusive at times, although last week we saw seven in two days, very exciting".
During the next quarter, we will have collected enough data to start using the results that will not only provide solid evidence in the management of the Southern Hairy-nosed Wombat, but will also enable us to promote these findings to support surrounding landholders. Neighbouring landholders regularly call us for advice on supporting the wombats they find on their properties so it is great to know that every donation goes a very long way helping to protect these wombats.
Of course, the work does not end there- we may be closer to understanding some of the issues relating to the health of the Southern Hairy-nosed Wombat but this is an on-going program that will ensure this unique mammal can survive the threats modern society presents.
A huge thank you to those that have supported our Southern Hairy-nosed Wombat project so far – your contribution will ensure that these important conservation efforts continue and that the Southern Hairy-nosed Wombat will have a Wild Future!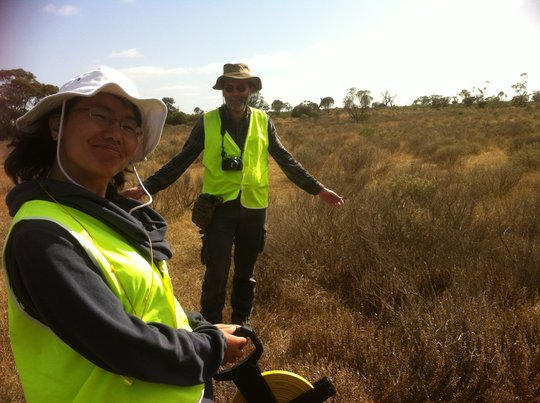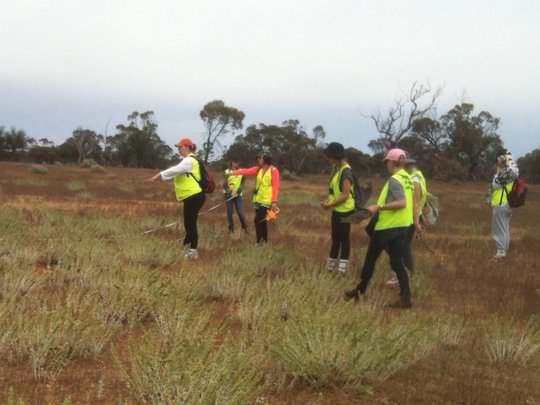 Links:
WARNING: Javascript is currently disabled or is not available in your browser. GlobalGiving makes extensive use of Javascript and will not function properly with Javascript disabled.
Please enable Javascript
and refresh this page.