As spring weather warms Victoria's Little Desert, Little Pygmy-possums and other native animals are becoming more active, making this a perfect time to undertake wildlife monitoring for our Rewilding the Desert initiative. Wildlife monitoring is the most effective way to get a clear picture of the state of the desert ecosystem and the species that live in it.
Using humane catch and release methods and supervised by our experienced ecologists, our volunteer citizen scientists have been counting, measuring, recording and safely releasing mammals, reptiles and invertebrates, and recording data on vegetation, soils and habitat. This year's trapping program has brought us another delight, this Little Pygmy Possum (pictured above) we nicknamed Matilda! Although Matilda is nocturnal and looks like she is asleep, she is actually in torpor; a type of short term hibernation. Matilda uses torpor to conserve energy when it's too cold outside or there is a shortage of food. Weighing in at only 4.5 grams (about the same as a dice), Matilda forages mainly on nectar and pollen from flowering plants - one of her favourites is the big bright banksia flowers like this Desert Banksia pictured below.
In other news, we are still preparing for our trial reintroduction planned for this time next year, but there is still much more work to be done. Before reintroductions begin, we need to make some critical upgrades to our external predator proof fences and improve our captive breeding and wildlife display facilities to have the capacity to acquire, house and breed these rare native animals. To make this happen we need your support to buy rolls of wire, netting, fence pins, posts and screws! Please consider sharing our story with your family and friends to help us achieve our goals and provide a wild future for our much loved native animals, like Matilda.
We'd like to say thank you again to our amazing supporters and donors! Without your support we cannot continue this critical project and help conserve Australia's weird, wonderful and highly threatened native wildlife.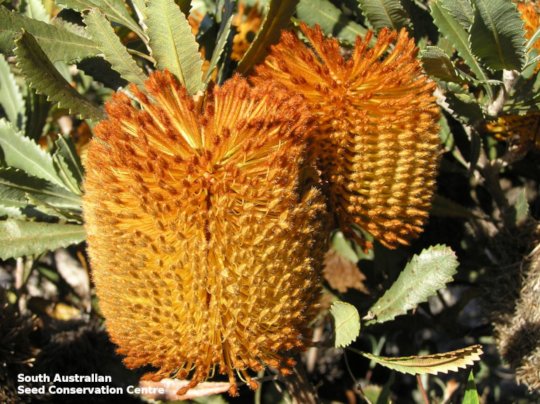 Links: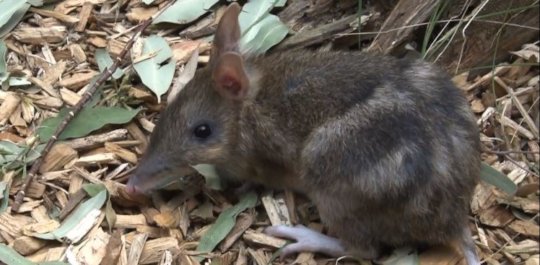 We have just completed our spring monitoring in Hamilton, and once again the site is looking fantastic due to good winter and spring rainfall. Conservation Volunteers Australia's Project Officer, Travis Scicchitano reports: "Our spotlighting produced numbers of more than 30 individuals in only an hour, which is a great indication that our bandicoots are thriving. The local community are invited to these events and it's such a thrill to see them engaged and excited about their local marsupial recovery. All the animals passed their health checks easily and all the females had pouch young, ranging in size from little 'jelly beans' to fully furred critters. If they didn't have babies they all had teats that showed signs of lactation, which means they were rearing babies nearby in the nest. It was an excellent result and no doubt our individual count has gone up significantly."
Woodlands Historical Park monitoring took place in mid-October. Woodlands received under average rainfall this season that reduced the quality of the grassland habitat. Travis explains: "The Eastern Barred Bandicoot breeds to the conditions available so it has the ability to very quickly increase or decrease its breeding, making for a healthier population. Fortunately, we only witnessed a small drop in numbers during this round of monitoring. We also had veterinarians set up for this event to assist in health checks and a few blood tests (yes even bandicoots get blood tests!). The vets gave all the animals a clear bill of health – great news for the species!"
We are also very excited to announce that we now have a brand-new home for bandicoots at Phillip Island! Phillip Island is located 140 km (87 mi) south-southeast of Melbourne, Victoria, with an area of about 100 km2 (40 sq mi). This site is managed by Phillip Island Nature Parks who are part of the Eastern Barred Bandicoot recovery team. The Island is now fox free and has become the first island to assist in threatened species recovery. Check out the video from our friends at Zoos Victoria, documenting the largest release of Eastern Barred Bandicoots ever!
Even though it is not on the mainland of Australia, Phillip Island will provide invaluable numbers to assist in the overall recovery of the bandicoots. Woodlands played a pivotal role in this first release of bandicoots. There were 44 bandicoots released in total into the new site – 10 from Woodlands (5 male and 5 female), 11 from Zoos Victoria and 23 from Chrurchill Island, which is an offshoot to Phillip Island. Travis says, "we hope they all enjoy their new home and start breeding to increase the population. This event is also a significant showcase in how agencies can all come together to achieve an amazing result. Well done and thank you to the entire Easter Barred Bandicoot Recovery team."
We'd like to say thank you to our very generous GlobalGiving donors again for your ongoing support. It has been an incredibly successful year, with significant steps made towards securing a future for the Eastern Barred Bandicoot. We look forward to updating you on our progress in 2018.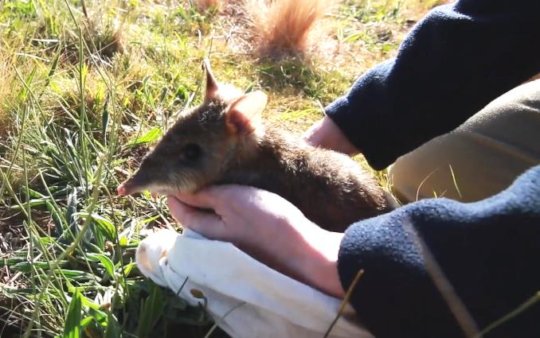 Links:
As we moved into spring this quarter, we thought there might be some reprise from the rain. But it was not to be as the last couple of months have been quite wet in Perth. This has been great news for our wetland and river sites where we have still been able to plant native seedlings to provide habitat and improve water quality. Over the last three months, we have planted more than 1,500 native seedlings and removed over 4 hectares of invasive weeds! A truly fantastic effort by all our teams.
Our volunteers had the opportunity to visit a couple of new sites over spring and were rewarded with some wonderful wildflower displays. Wildflower Reserve and Clementi Reserve in the City of Kwinana, have been particularly spectacular and have provided our volunteers with a beautiful backdrop to the day's activities. Likewise, Baigup Wetlands and Maylands Samphires within the City of Bayswater, offered some great animal sightings. It's the season where our reptiles start to wake up and we have seen dugites and bob tails sunning themselves on warm pathways. Waterbirds have also been in abundant display along the river. Seeing so many different species tells us that these sites are in healthy condition, which is great news for the Carnabys.
Recently, our team leader captured a great time-lapse video at one of our regular sites, Birdwood Parade Reserve, where our volunteers removed a whole box trailer full of weeds! Birdwood Parade Reserve in the City of Nedlands is adjacent to the Swan River and is part of the green corridor from Bold Park to Kings Park. Carnabys and other birds use the reserves between these two super roosts to forage for food, rest in trees and source drinking water. At this time of year, weeds can become a little overwhelming, so it's important to remove the weeds early and provide the native plants room to breathe and grow again.
We would like to give our heartfelt thanks to our generous GlobalGiving donors and dedicated volunteers. Without your support, we wouldn't be able to make a difference to this important cause. If you can donate again, or share our story with family and friends, we would really appreciate it – every effort helps us to continue achieving these great conservation results and give these beautiful birds a better chance at a Wild Future.
Links:
WARNING: Javascript is currently disabled or is not available in your browser. GlobalGiving makes extensive use of Javascript and will not function properly with Javascript disabled.
Please enable Javascript
and refresh this page.