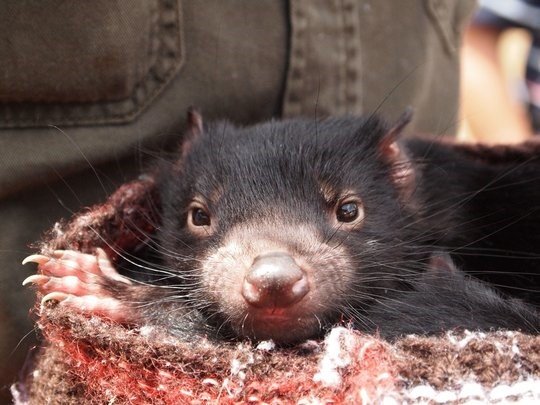 Thank You for Supporting the Help Save the Tasmanian Devil Projects
As the Help Save the Tasmanian Devil projects come to a close, Conservation Volunteers Australia would like to thank all those involved and share some of our achievements with you.
From the beginning of the project, it was Conservation Volunteers Australia's aim to ensure there is a healthy future for Tasmanian Devils by constructing safe, comfortable dens and protective breeding enclosures at Bonorong Wildlife Sanctuary. A number of crucial structures within the enclosures, including digging mounds and sniffing platforms provide Devils with the essentials to utilise their natural behavioural characteristics and communicate effectively with each other.
A particularly satisfying part of the project was being able to involve the local community to join in and help maximise the generous support of our Global Giving donors through applied, everyday action. This was demonstrated by enthusiastic volunteers completing enclosures as part of the 'Nurturing the Tasmanian Devil' project, providing Tasmanian Devils involved in the breeding program more space and shelter. Really a great effort!
With the ongoing help of all our wonderful volunteers, Conservation Volunteers Australia has been able to install 25 Devil dens, providing a safe and comfortable habitat for the retired Devil. The construction of a large 'Retirement Village' to humanely house older disease-free Tasmanian Devils that are no longer required for breeding purposes, ensures a safe place for them to live out their lives. Much focus was also placed on improvement to the surrounding landscapes and ecosystems which assists other local native wildlife to flourish.
With a large proportion of the wild population of Tasmanian Devils at risk from the deadly Devil Facial Tumour Disease (DFTD), it was vital that an 'insurance population' of healthy Devils be carefully managed through captive breeding to ensure the species' survival.
This required providing a healthy and safe environment for quarantined Tasmanian Devils on the Australian mainland. Conservation Volunteers Australia assisted in habitat maintenance for a population of disease-free Devils being housed in New South Wales to further boost population numbers of healthy Tasmanian Devil individuals. This type of program is vital for the future of the Tasmanian Devil.
Our very special thanks also goes to our Global Giving donors, who have become such an important part of the Help Save the Tasmanian Devil projects. With your help we have been able to achieve our goals and provide the Tasmanian Devil with much needed support and hope for the future.
There is still much to do, as the prognosis for wild Devils is sadly not so rosy. Scientists are estimating a possible wild population extinction within the next decade. Creating and managing these types of programs for 'captive breeding' and 'insurance populations' of Tasmanian Devils is paramount to the species survival, should the wild population completely succumb to the deadly DFTD, and disappear from the forests of Tasmania altogether.
It has been a real pleasure working with the Bonorong Wildlife Sanctuary and the Tasmanian government over the past 6 years and we look forward to collaborating with them on many other projects in the future.
So as we close the Help Save the Tasmanian Devil project, all our thanks from everyone here at Conservation Volunteers Australia and Bonorong Wildlife Sanctuary. Your help and generous donations have provided the Tasmanian Devil population with vital research, monitoring and breeding programs, all of which have made a real difference.
We look forward to your ongoing support of our future projects. Thank you again.
Renae Riviere - State Manager