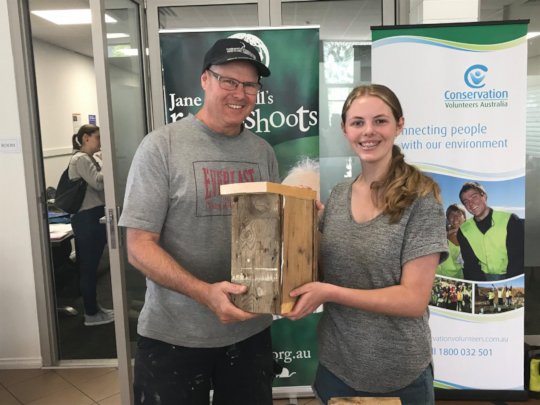 Greetings from Conservation Volunteers Australia's Kangaroo Island Bushfire Recovery Team – WOW what a year it's been so far, first the bushfires that ravaged through some of Australia's beautiful landscapes including Kangaroo Island and then COVID-19 that has affected the world in so many ways.

Like much of Australia, Kangaroo Island is regularly impacted by bushfires during summer. Whilst most bush fires are generally localised, the summer of 2019-20 saw an unprecedented bushfire event that seriously impacted the Island. The fires started on the North Coast of the island on 20th December, caused by lightning strikes. More lightning strikes hit the island on 30th December and conditions deteriorated and evacuations began. On 21st January 2020 the fire was declared contained, and on the 6th February 2020 declared safe. Of Kangaroo Island's 440,500 hectares, approximately 211,000 hectares was affected by this fire.

We want to acknowledge the incredible work of Australia's fire-fighting and emergency response services (and teams from overseas who have joined the effort), which is so reliant on volunteers. They have gone above and beyond to save lives, homes, as well as protecting wildlife and important habitat where possible.

Conservation Volunteers commenced our contributions to bushfire recovery with hundreds of volunteers constructing nesting boxes for fire-affected areas around Australia, including Kangaroo Island. Although installation of these nesting boxes has been slowed by the restricted work opportunities caused by the pandemic, we are continuing to send them to areas of greatest need, where they create important habitat elements while the forests recover from the fires.

We have been working with partners on Kangaroo Island and are in the early phases of establishing a new native plant nursery to assist the existing nursery on the island. A large number of additional plants will be needed to re-establish critical habitat for endangered species such as Black Glossy Cockatoo, the short-beaked Echidna, the Southern Brown Bandicoot and the Kangaroo Island Dunnart.

The onset of the COVID-19 pandemic forced us to suspend our regular in-person volunteering activities across the country for the foreseeable future.
"Our top priority is the well-being of our volunteers, staff, and the wider communities in which we live and operate. We're implementing this change to enable social distancing, based on the latest advice from health authorities around the country." – Phil Harrison, CEO, Conservation Volunteers Australia.

As we all know too well, a month is a long time during a pandemic, and whilst the potential for a second wave of infections is possible, we remain hopeful that we will soon be able to turn our attention to the land once more and resume the crucial work of environmental recovery from the 2019/2020 fires.
Although the bushfires are now far from front page news, the work that's needed to support the recovery has not gone away. We want to assure you that we are working hard to forge a path towards resuming on ground activities.

Most importantly the continued financial commitment from our donors through GlobalGiving continues to be essential in allowing us to move forward with the recovery process for Kangaroo Island.

THANK YOU, we appreciate and value your help so much and we look forward to your ongoing support into the future.

Until next time,
Stay safe.
Brett
Conservation Volunteers Australia
Kangaroo Island Bushfire Recovery Team