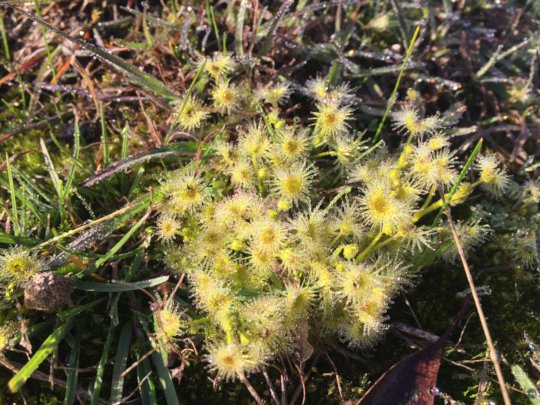 Mid summer updates for Eastern Barred Bandicoots at Woodlands Historic Park.
We have had two extremes in weather since our last spring report. Both have provided positive and negative outcomes. Mother Nature has the power to do this in the environmental field and sometimes you just have to adapt.
On a positive note woodlands continued to receive average winter and spring rainfall. And with the weather warming up in spring the grasslands exploded with growth. This is what we were hoping for but it's never guaranteed of course. The invertebrate insects returned as well as a great number of our seasonal grasshoppers to provide plenty of surface food for the bandicoots once the ground hardens up and digging for food becomes less common. Also there was a better response then expected to some wildflower species coming back after three years of non growth. Chocolate, flax, yellow and bulbine lillies popped up. The early Nancy, which gets its name from being one of the first seasonally to arrive bloomed in dense numbers. Milk maids also decided to show there heads once again. It's only the start but it's fantastic as there was less diversity lost during that extreme dry period.
Helping this come along has been our pest grazing program. This has been focusing on reducing the number of rabbits which are a introduced noxious pest animal to Australia. They eat grass and do so extremely aggressively. At least half the parks major rabbit warren systems have been destroyed and work is continuing on this front over the next six months.
There will be no official bandicoot monitoring until April this year. The end of spring this year became to hot and unpredictable in weather and we don't take any risk in running these events if animal welfare is compromised. So spotlighting will get us through until then. So far we are seeing regular bandicoots scattered in all areas of the reserve.
Sadly on the negative front as many of you will be aware the last few months has seen unprecedented amounts of bushfires burning across nearly all parts of Australia. Summer so far has been difficult and rainfall has disappeared again. At woodlands only 5mm of rain fell compared to an average of 55mm. There were two fires close by, one only around 10km away in a straight line. This is very close for us. But thanks to the amazing work of our emergency services these were extinguished. Parks Victoria fire fighters have done a brilliant job in not only fighting these fires but creating extensive plans to mitigate any chance of fire arriving at the reserve. Creating fire breaks, continuously patrolling the park and having staff ready to deploy if needed.
We would like to thank them for what they are currently battling and more so thanking them into the future as there is no sight in end for these fires at the moment.
Once again great work everyone involved from Conservation Volunteers Australia, Parks Victoria, volunteers and all members of the Eastern Barred Bandicoot Recovery Team who have assisted with making this possible.