Empowering Girls through Skill Development Training

Disadvantage youths including female with focus on dalit, and ultra poor household are the project target group. Concentration has been made on disadvantage youths belonging to dalit, and poor families, as they have very less land holding. Education of the target group is minimum 10th class, lacking technical expertise and hence they are unable to get even clerical jobs. Induction of more sophisticated and modern technology has bounded the recruitment of manpower. It compels youth to engage themselves in labour work (i.e. in agriculture, brick factory, house construction etc.) but it doesn't give them long time employment and are also exploited by landlord. Youth with 10th and 12th class pass are illiterate to computer education, where there is great opportunity of employment at anywhere.

Unemployment causes acute frustration among youth. Unemployment is a major human problem of the area as the employment is the only solution of the poverty. It affects schedule caste/dalit, backward caste and poor family. In this line when we consider unemployment of youth it is heart-breaking. No of unemployed youth especially in deprived family is gradually increasing.

Community will identify the disadvantage youth by participatory approach & organisation survey .

Objectives:
Employable Skill training and capacity building of youths.
To minimize gender inequality at the society.
To converge rural poor with govt. schemes and programs.
To develop entrepreneurship skill among youth and women through training and facilitate for their sustainable livelihood .
To aware and educate the community for initiating convergence with govt. skill program.
Success Story
Kumari Geeta (Name Changed), Resident of Mozafra, Islampur, belongs to a BPL (Below Poverty Line ) family. She is 21 years old .Her father and Mother are daily wages workers. Parent fulfil hardly two square meal of family by labour work . Kumari Geeta is studying in Batchelor of Arts (BA) and manage education fees hardly.

Sugam Jagriti has selected Kumari Geeta for computer Training & Language skills. In the initial days and during discussion Geeta was very worry about her future as She continuing her education in problems and mother is not able to shoulder the responsibility of their education. She is worry by thinking She might left her education any time.

Organization selected her for computer training and also provided opportunity for Soft Skill and Communication Skill. It has developed confidence in Kumari Geeta and completed computer Training and Soft & Communication Skills.

During computer Training the Organization has also developed moral and confidence. Now Kumari Geeta is doing Job as a Faculty in Skill Development Training Centre-Islampur run by Bihar Skill Development Mission. Now Kumari Geeta is earning money and contributing family expenses. Kumari Geeta and her parents expressed gratitude to Sugam Jagriti, Donor, GlobalGiving for such support.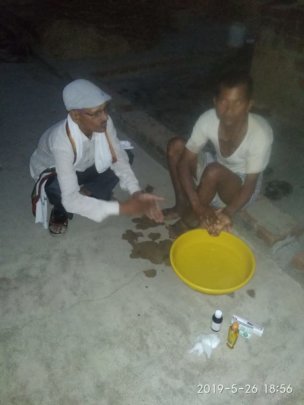 Self Care Training to Leprosy Affected Persons

About the Organisation: Sugam Jagriti is a registered Social humanitarian organisation working with the aim "To establish a self reliant and equal society with the value of peace, equity, Justice and homogeneity''. Sugam Jagriti work for the betterment of poor people regardless of religion, caste, race, ethnicity or gender.

Sugam Jagriti is Registered Under Societies Registration Act 21/1860, Foreign Contribution Regulation Act (FCRA) by Ministry of Home Affairs, Income Tax Exemption u/s 12A & 80G.

The organization focus on developing resource pool from the same community through developing their skills and capability in various community issues, so that they can be a resource for the community. Communities co-invest with them and donors by for the programmes, deciding and implementing them. They involve Community Based Organizations (CBOs), PRI, corporates and individuals throughout the world as partners and supporters of integrated development in Bihar.

We are actively working for increase self confidence, betterment & Dignity to Leprosy affected persons through Self Care Training, Awareness Generation, Health Checkup.

Self Care Training, Treatment & Health checkup to Leprosy affected Person

A success Story

Mr. Kamta (Name Changed) age 52 Years, belongs from village - Gukzarbag, block of Islampur, Nalanda district , Bihar. He belongs to a poorest of the poor household and family bread depends on the daily wage of parents . He is a leprosy patient and live a very miserable life due to lack of family motivation and support . He has also not get any support from community due to deep rooted myths and misconception concerning leprosy at the community and treated as a secondary person due to social myths . At community it is believed as touchable and incurable disease due to lack of community sensitization and awareness . During field visit at the village the organization staffs observed him as help less , than further decided for support. With the support of Organization he has been provided Self Care Training and health Checkup and also trained on life style as life skill. In the mean time for proper and permanent cure organization staffs brought him to the Primary Health Centre and provided complete proper treatment . After that he is being provided continuous health check up and treatment. After continuous health check up and proper medicine he is able to lead a proper life with improved confidence and status. In the same time Organization staffs did community mobilization on leprosy disease which has minimized the myths and misconception in the community. Now the community has respect for leprosy patient and prefer proper treatment rather than discrimination . They have believe that after proper treatment leprosy disease can be control. After health treatment & Self Care Training health status of Mr. Kamta Ram has also improved .Now family members are also providing support and confidence . Now he is living a respected life.

Self Care Training is a very important tools for Leprosy affected person. We are regular orgnising self care Training program among Leprosy affected Person. Leprosy Affected persons benefited by Self Care Training.

The beneficiary, family and community extended thanks to the Donor, Sugam jagriti and GlobalGiving Foundation for Health checkup , Treatment & Self Care Training support .
Educational support to a Disable Child
About Organization

SUGAM JAGRITI is a Non Government Organization registered under Society Registration Act XXI, 1860 Govt. of Bihar, Foreign Contribution Regulation Act (FCRA) 1976, and Income Tax Exemption section 12A & 80 G . A socially devoted group of activists led the foundation of the Organization, to address the issues of poorest of the poor and ultra poor at rural as well as urban area. The Organization aims "To establish a self reliant and equal society with the value of peace, equity, Justice and homogeneity''. The Organization has prime focus on bringing social change through bringing challenged group i.e. disabled in the mainstream of society through converging them with govt. social security and entitlement schemes, since inception. The Organization is also working on moral boosting of disabled and developing their self confidence. In the working area the Organization identify and find out the disabled particularly children. Further we do mobilization and counseling to challenged group, family as well as community , mainstream them with education ,provide vocational training , so that their livelihood may be ensured. The Organization also emphasizes on convergence of challenged group i.e. disability, with govt. social security and entitlement schemes.

Case Study

Seema (Name Changed) daughter of Mr Hari Ravidas (name changed) is a disabled children with age 10 years ,belongs to Gulzarbag Village , Islampur Block, Nalanda district. She belongs from Below Poverty Line family and has three brother and sister also. Her parents are engaged in labour works and fulfill two square meal of the family. Her parents were taking care of all children accept him due to disability case. Parents were not serious of their health care and education was even not a dream for her. She was careless and just passing the time for the sake of life. SUGAM JAGRITI team members identified her while doing village visit .Initially Organization staffs mobilized her and also counseled the parents on importance of education for bright future. The Organization provided her school dress , copy, pen , book and stationary from support of GlobalGiving foundation and regularly counseled her as well as family. Further, Organization staffs contact nearest school and enrolled her at the school. Organization staffs did continuous follow up and now she is continuously going to school. Now there is no difference between her and other children concerning education. Now organization is continuously making effort for her disability certificate and convergence with govt. social security and entitlement schemes i.e. disability pension.
WARNING: Javascript is currently disabled or is not available in your browser. GlobalGiving makes extensive use of Javascript and will not function properly with Javascript disabled.
Please enable Javascript
and refresh this page.