Health Care & Nutrition Support to a Needy Senior Citizen

The organization has strong focus on health issues particularly for Senior Citizen, women and children since inception and work with the objective of improving the health status of Needy Senior Citizen, women and children through organising Health Camp, community sensitization and developing community based resource pool . We make emphasis on behavior change and do convergence with govt. heath programs or non govt. agency for the support required.

Success Study of a Needy senior citizen

Name: Kamta Ram (Name Changed)

Age: 62 years

Sri Kamta Ram belongs to poorest of the poor family and live in Vill- Barai, Block- Islampur, Nalanda district, Bihar, India. He was suffering from cough for a long time. Due to long time his health condition detroited and was living in very miserable condition. During field work, SUGAM JAGRITI field staffs they interacted with him. During their visit to village they found that a most needy Senior Citizen Kamta Ram is suffering from Cough badly and no family members as well as community people were taking notice of him health condition. Organisation Staffs find the situation grim and soon arranged for him medical treatment, Medicine and Nutrition. His medical treatment and medicine support to Kamta Ram is possible by support of GlobalGiving support. Further the team members also meet the family members and counselled them . Proper treatment and care made Kamta Ram is healthy and now in the condition to contribute in small work of family. Now he is much thankful to Donor, GlobalGiving & Sugam Jagriti for providing a prosperous life.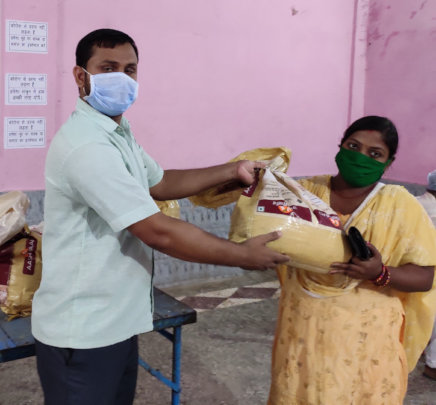 Support Dry Grocery for Most Needy

SUGAM JAGRITI has provided relief to the most vulnerable and poorest of the poor families i.e. labour workers, small vendors etc. during COVID-19 situation at Bihar (India) . The target families were living hand to mouth life and due to no work they were living in starvation . Further they were not in the position to pay the rent to landlord . In such circumstances they are living under pressure and fear . Health and sanitation status of old age persons, women and children was further degraded .They were provided food grains (rise , wheat, pulse)) oil , soap, sanitizer and family emergency items . They were also sensitized on safety measures during COVID -19 i.e. social distancing, use of mask , hand washing etc.

Case Study

Kavita Devi (Name Changed) age 49 Yrs, resident of Patna, Bihar was working as daily wages workers and fulfilling the family emergency need through daily earning. Due to Covid-19 effect, She lost her work and family seriously went on starvation situation. She was even not able to fulfil the fooding requirement of children and medicine requirements. She was also living in fear as She was not able to pay the house rent. In such circumstances SUGAM JAGRITI provided her food grains (rise , wheat, pulse)) oil , soap, sanitizer as relief. It saved the life of the family. Many other also needy get emergency support.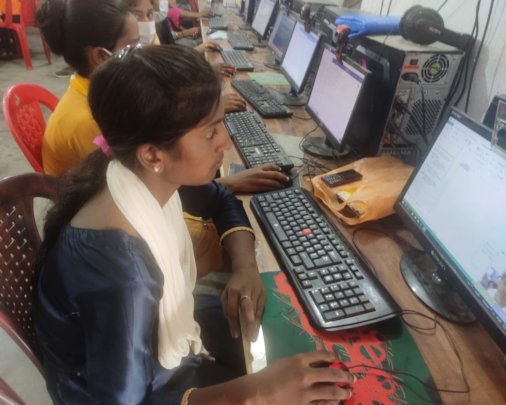 Empowering Girls through Skill Development Training

The focus project beneficiaries are youths including female with focus on dalit, and ultra poor. Dalit and poor have very less or minimal land holding , in this line project made major emphasis on youth belonging to this group . The target beneficiaries lacking technical know how as they are literate maximum upto 10th class , it resist them to get employment at minimum level. Induction of more sophisticated and modern technology has bounded the recruitment of manpower. Hence the target youth have no option for employment and hence involved in labour work (i.e. in agriculture, brick factory, house construction etc.) . But it is very short term engagement and they don't get legal remuneration Youth even with 10th and 12th class pass are illiterate to computer education, where there is great opportunity of employment at anywhere.

It hampers the confidence of youth and create frustration among youth. Unemployment is the major concern for the unemployed youth as without employment they are unable to think of own growth and support to families. It affects schedule caste/dalit, backward caste and poor family. We are working in this area for a long time and experienced unemployment is a major challenged for youth and it is heart-breaking. In the meanwhile no. of unemployed youth especially in deprived family is gradually increasing due to lack of employment .

Community will identify the disadvantage youth by participatory approach & organisation survey .

Objectives:
Employable Skill training youths on computer literacy.
Gender sensitization at the society.
Convergence of youth with govt. schemes and programs.
To develop entrepreneurship skill among youth and women through training and facilitate for their sustainable livelihood .
Community sensitization and facilitation for initiating convergence with govt. skill program.


Success Story
Ms. Kiran Kumari (Name Changed), resident of Amnawan, Islampur, Nalanda belongs to a BPL (Below Poverty Line ) family. She is 19 years old. Her father and Mother are unable to fulfil the family emergency needs as they are jus daily wages workers and maximum time they stay without employment. Parent fulfil hardly two square meal of family by labour work . Ms. Kiran Kumari is a student and studying in College, but the family hardly manage the education fees as the family is poorest of the poor .

Sugam Jagriti has selected him for computer Training & Language skills. During interaction with her felt that she is very much worry about her future as she has syudied in tough situation in early days and now her confidence is damaged . She was nervous as parents is not able to shoulder the responsibility of their education. She is worry by thinking that poverty may snatch opportunity of education at any time.

In such circumstances Organization selected her for computer training and also provided opportunity for Soft Skill and Communication Skill. It has somehow developed confidence and completed computer Training and Soft & Communication Skills.

Along computer literacy the organization continuously developed her confidence and always kept her moral very high. It has provided moral boost up to her and involved in computer literacy program with high confidence. Now Ms.Kiran Kumari is doing Job as a Faculty in Common Service Centre-Islampur. Now Ms. Kirna Kumari is earning money and also supporting parents in fulfilling family emergency needs and contributing family expenses. Ms.Kiran Kumari and her parents expressed gratitude to Sugam Jagriti, Donor, GlobalGiving for such support.
WARNING: Javascript is currently disabled or is not available in your browser. GlobalGiving makes extensive use of Javascript and will not function properly with Javascript disabled.
Please enable Javascript
and refresh this page.