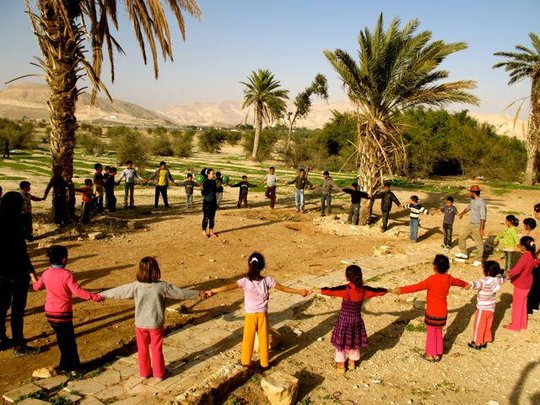 Have the holidays completely taken you by surprise just like every year? Trying to figure out unique gifts that will make an impact? Presence instead of presents is the new black - for gifts that are unique, and look, feel as well as sound great you are in the right place!
Let us help you out and give you this remarkable opportunity to impress your colleagues, friends and loved ones with a truly special gift. A gift that keeps giving.
Actors, activists, bloggers, musicians, scholars, writers, photographers, community members – volunteers from all over the world have come onboard the famous Freedom Bus to support communities at risk.
Last year, the project organized two Freedom Rides through Occupied Palestine that included improvised theatre performances, drama workshops, live music events, Hakawati (traditional storytelling), protective presence activity and building work. Side by side, armed with mud-bricks and solidarity, houses and people were built up again, stories were shared and lasting alliances were built that know no human-made border.
Next year, we want to get on the road again. The 2014 March Freedom Ride will join residents of the Jordan Valley and South Hebron Hills who are at risk of forced expulsion from their ancestral homelands. The March Freedom Ride will include building and reconstruction work, guided walks, interactive workshops, political actions and cultural events. Through Playback Theatre, residents of the Jordan Valley and South Hebron Hills will also share personal accounts about the realities of life and struggle under Israeli occupation and oppression.
By supporting this one-of-a-kind project of The Freedom Theatre, you are not wrapping presents this year – but indeed presence. And how often don't we wish for a chance to do so? Make your mark in this world and donate, confident in the knowledge that you have truly made a difference to somebody's life.
Your contribution will help secure that the work of the Freedom Bus will continue and reach thousands of children, youth and adults - fostering community health through sharing of stories and building solidarity worldwide. Through this project and its various activities YOU will directly contribute to the promotion of human rights and fight against discrimination and oppression. Regular updates, pictures and stories will ensure you know exactly just how far your contribution is going.
Giving looks good on you!
Happy giving,
The Freedom Bus team