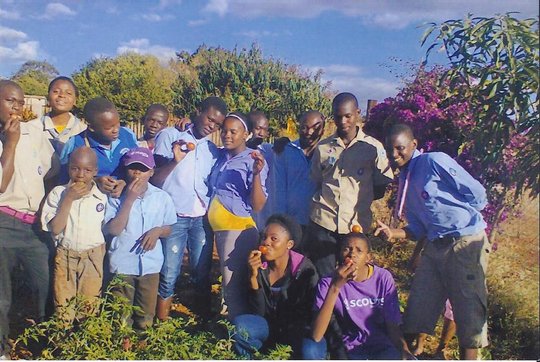 Dear Friends and Partners of Keep The Dream196,
Well its September and its been a whirl wind year for us and our kids but first I want to sharel the impact that we have had over the last 10yrs. YES! We have been going unofficially for 10yrs. We started in November 2003 with 13 girls in our first group. By May 2004 we had 60 children. We trained 50 new leaders in May 2004 and dramatically climbed to over 1,000 children. My collegue and co-founder Elizabeth Mabuza and I were totally ill prepared for the explosion of kids and needs that we both decided in August 2007 to quit our formal jobs as nurse and teacher to start Keep The Dream196 at the beginning of the Global Financial Crisis.
The Global Financial Crisis is not only gripping individuals and multi conglomerates but nations, it was a gamble which has proved well worth it. I want to take this opportunity to thank you all for your commitment and I trust that you will continue to support the work that we are doing and the lives we are changing by partnering with us in Building Tomorrow Today.
As for impact:
1) Limpopo Province has a teenage pregnancy rate of 13% we have reduced that rate to 0.07% for 10yrs. We should be seeing approximately 170 pregnancies a year. We have had less than one pregnancy per year over the 10yrs.
2) Limpopo also has a HIV rate of 21.5% with the worst affected being females aged between 15-25yrs. With this pregnancy rate the youth are either abstaining (which they assure us they are) or are protecting themselves from unwanted pregnancies and HIV in the process
3) Limpopo Province is one of the worst for matriculation rates ie 47%- 55%.In 2008, 100% of matriculants in our program passed their matric. In 2009, 100% passed. In 2010, 100% passed. In 2011 89% passed and those who didnt returned to school to try again. In 2012, 54% passed but all have continued on to technical colleges, tertiary education or returned to improve their marks in secondary school. The decline in our pass rate is accredited to the general decline in the South African Education system and the very poor primary school preparation experienced by the children and change to Outcome Based Education system implemented yearsa go.
4) 70% of rural university students drop out in their first year. 10% only graduate their 4yr degree. Our first group of graduates graduated in 2012, all are employed in the private or goverment sector. Limpopo has a youth unemployment rate of 48.8%.
5) 10% of all natural deaths for children aged between 0-18yrs is suicide related. We have had no suicides in 10yrs
6) Non of our children, once they have joined the program, have been involved with crime of the police
7) Non of our children, once they have joned the program, use alchohol or drugs
8) We are currently working with 2,496 Children aged between 5-18yrs
9) We have now trained over 30 young adults who grew up in the process who have now decided to return as young adult leaders to be a role model and mentor other children.
10) We work into 91 different sites around Greater Tzaneen Municipality
11) Every child under the age of 18yrs has a birth certificate or Identity Document. This allows them to access free goverment services ie schooling, health services and also enables them to gain employment for the future.
We work with the parents of the children to create positive relationships within the families to promote cohesion:
"Before my child joined KTD196 he was always out late at night and being a bully. I always thought he was going to turn out like most youngsters who have given up on their dreams and are wasting their lives away. Since joining KTD196 he no longer drinks and his behaviour has also changed. I 've also learned to communicate with my child and not yell at him," explains one parent, Maite Mametja. (except taken from http://www.ngopulse.org/article/limpopo-based-npo-develops-winning-formula-youth-empowerment
Through your support we are literally changing children's lives, families and whole communities. We use the Scout Program particularly the Food For Life project as an entry point to do so much more. We are a staff of 3 full time and 6 part time people. Your support enables us to do so much. THANK YOU is so minimalistic in what want I want to convey but it is the only word I have. Louise
Voice of the Child:
I have made a lot of bad choices and decisions after leaving Scouts at aged 17. I did things that I wouldn't have done if I was still a scout. I decided to stop going to scouts early last year and since then life became hard for me in some ways. Scouts helped me get where I am today, if it weren't for 1st Shiluvane Scouts I wouldn't be in varsity. Scouts disciplined me, gave me focus and enabled me to have dreams. I then decided to enroll myself with the university that best offers law (LLB) University of Limpopo.
After quitting Scouts I lost focus, my mind was all over the place, I neglected my studies and I would stay in my room whenever I didn't feel like going to class. I didn't know why I was studying, I lost interest and just wanted to have fun. At least I managed to pass 8 out of 10 courses, it was not bad at all but I know I can do a lot better than that. I just needed to focus and I know that at Scouts that's where I'm going to get motivated, that's why I decided to go back.
Scouts is the best campus one can ever have. My mother is never around, her life is in Johannesburg, I have been growing up alone, I had no one to guide me but Scouts gave me all the guidance I needed. Scouts helped me make wiser decisions about my life. I even started drinking which was the most stupid move I have ever made, I would drink to get intoxicated because that was my way of having fun.
Intoxication lowers thinking and reasoning capacity, so I did crazy and stupid things due to intoxication and some of those things nearly cost me my life. I reached a point where I felt that life was just not worth living. I then decided to commit suicide by taking an overdose of pills. Fortunately I was hospitalized in time and decided to keep this a secret from my family.
Life was just hell for me last year but I brought this on myself. After all this I sat down and did some introspection. I realized that I got lost the moment I left Scouts and stopped living like a Scout. I finally decided to go back to Scouts and joined 1st Shiluvane Rover Crew. I'm doing much better than last year and this year, with the determination that I have, I'm going to bring out the best in me and I know that with the Scouts and Rovers in my life I will achieve anything I want to achieve. Scouts is definitely the way to go! Once a Scout always a Scout.
Nosiswe - A returned Rover
Links: