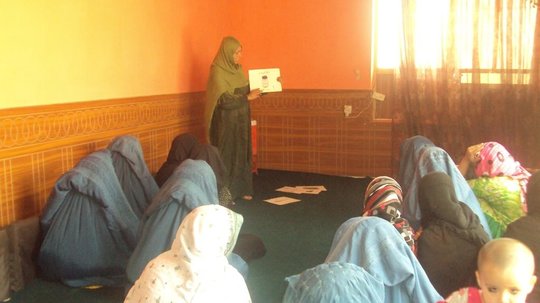 We have great news! With generous support from GlobalGiving donors and the Conservation, Food & Health Foundation, between June 1st, 2012 and May 30th, 2013, we were able to reach more women with this growing program!
Ten religious leaders' wives have been trained as Health Education Champions (HEC), providing comprehensive sexual and reproductive health education and counseling services to 1,496 women in Afghanistan. This group of 1,496 training attendees included 707 women in Balkh province, and 789 women in Herat province. Specifically, from March 1, 2013-May 30th, 2013, the Health Education Champions provided services to 1,009 women. Due to the implementation of this cost-effective model and the initial scale-up of the project, Marie Stopes International Afghanistan (MSIA) drastically exceeded expectations and successfully increased the number of clients reached during this reporting period. MSIA is grateful for the dedication of the Health Education Champions and the generous support of donors, including all of you, which has enabled us to secure additional funding for Phase II of the project.
Through this project, the majority of the women reached are younger than 25 years of age and many have between 3-4 children. MSIA referral reports have shown that "word of mouth" recommendations influenced some women's decisions to visit MSIA clinics.
MSIA monitored and evaluated the project and determined that 27 women who received sexual and reproductive health education did not visit a MSIA clinic for one of the following reasons: 1) due to their husbands' disapproval/lack of acceptance, 2) a lack of interest in receiving voluntary family planning services, and/or 3) a desire to delay the adoption of family planning methods. In addition, research indicates that many clients' husbands are not comfortable with permitting their wives to remain outside the clinic for lengthy periods of time. Accordingly, to address this barrier and to honor a recommendation made by the sexual and reproductive health champions during the previous project reporting period, MSIA has implemented a method of timely and fast track service delivery for clients referred to clinics by the champions. Through this fast track service delivery, MSIA has implemented additional outreach efforts, whereby religious leaders' wives communicate with clients' husbands, in order to encourage them to permit their wives to visit MSIA clinics accompanied by a religious leader's wife. Furthermore, MSI is in the process of securing female religious schools (Madrassas) within certain remote neighborhoods to serve as temporary hubs, which can provide sexual and reproductive health services and counteract burdensome travel costs and time constraints which often prevent women from seeking these services. Moreover, to address barriers pertaining to prohibitive travel expenses and clinic inaccessibility, MSIA now provides clients with 150 AFN (approximately US$3) to cover the cost of a rickshaw trip to the hospital. By mitigating these barriers to access, MSIA has enabled a greater number of clients to access sexual and reproductive health services and to exercise their sexual and reproductive health rights.
To further measure the success of this sexual and reproductive health project and to track the activities implemented by the sexual and reproductive health champions, MSIA designed a questionnaire to gain a more comprehensive understanding of beneficiaries' Knowledge, Attitude and Practice (KAP) of family planning after receiving sexual and reproductive health education. They then interviewed 10% of the beneficiaries, totaling 165 clients. Following the sexual and reproductive health education session(s), the results indicated that 94% of participants interviewed could name all family planning methods and understood the benefits and side effects of different methods. 97% believed that family planning is important for their health and the prosperity of their family, and 89% of interviewees had already attended one MSIA clinic, following the education session, and had received family planning services in either Balkh or Herat province. These research results demonstrate the comprehensive nature of the health education conducted by the Health Education Champions, and highlight the Health Education Champions' success in encouraging women to seek family planning services.
Thank you for your generous support of Marie Stopes International's project, which trains Afghan Women to Champion Reproductive Health; we couldn't do this important work without you! We will continue to update you on the Health Education Champions' efforts to reach additional women living in remote communities, and to increase the accessibility of sexual and reproductive health education and service delivery in the Balkh and Herat provinces.