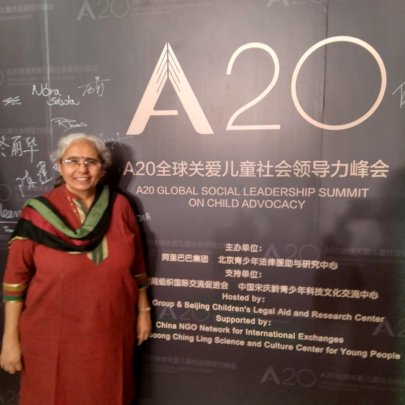 From March 17th through the 26th, Parulben attended the Global Social Leadership Summit on Child Advocacy in Beijing, China. Sponsored by the Alibaba group, this invitation only event brought together leaders in child rights from 20 countries to exchange ideas and recognize their achievements. Parulben gave a well recieved presentation on Shaishav's child participatory methods, its programs, and what our Child Rights Training and Resource Center offers.
The event was organized by Beijing Children's Legal Aid and Research Center. The Center was established in 1999 and received special consultative status with the UN Economic and Social Council in 2011. It is the most influential child protection organization in China. Only one person from each country was selected for this summit and Parulben was India's representative at this prestigious event. Congratulations to Shaishav and Parulben on this great achievement!
Vacation camp is underway from May 8th through the 20th and this year's focus is environmental preservation and life skills. Plastic bottle were recycled into banks, wall hangings, and various containers to use in the kitchen. Other activities involved using origami to build paper houses, greeting cards, and various paper animals and objects. The children especially enjoyed using their creativity to build complex origami houses. Some even created two story homes with stairs, pools and backyards! A Hindi version of the famous Pixar film "Rio", the children really enjoyed it and took home the film's message on letting animals be free. Finally, the children also toured the Bhavnagar auditorium next door. The staff was kind enough to provide a tour of the stage, sound system and galleries in the building.
In other very special news ,Shaishav celebrated its 25th anniversary with cake and Balsena children on April 27th! Instead of blowing out candles on a cake, the children and staff chose to light a diya to signify their neverending hope that all children have a safe and happy childhood.
Here is what Parul, Shaishav's co-founder had to say about the special occasion:
"Happy to inform all of you that today we completed 25 years of Yatra in Search of Childhood through Shaishav! Yes, Shaishav completed 25 years today! Such a transforming, fulfilling, satisfactory, joyful time with most beautiful energy of the world called Children! I pray and wish to continue to work for rest of life and in future lives if there is. Only one pain is that while we see lots of changes at personal level, at the societal level, the children's situation is becoming worst then ever! Promises to keep and miles to go before we sleep!"
Upcoming in the end of the month will be the annual board meeting at which Shaishav is excited to share this year's acheivements, challenges and future plans.