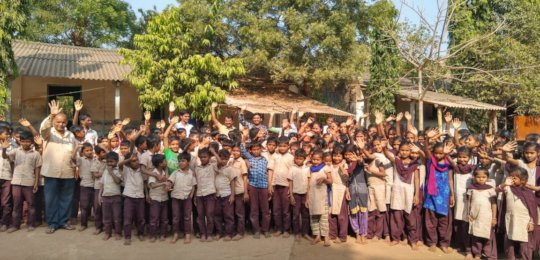 MONTHS: OCTOBER TO DECEMBER
During this quarter we mainly focused on team training, networking and building relationships with children.
Life Beyond Development: One of the important value for Aaranyak is environmental sustainability. We had a 3 days workshop with Shaishav team members on this topic in the month of October. We explored stories behind development phenomenon, and how it impacts our environment, people and health. We learnt about stories of water, mobile, t-shirt, waste, etc. We used different mediums like movies, games, discussions, field visit to create the understanding. We had a participation of 11 members from our team.
IDEC: International Democratic Education Conference was held at Bangalore on 15th-21st November. Democratic schools from all over the world came, and gave presentation about their space. One member from Aaranyak team also participated in this conference. Different people shared about how to connect nature in education through activities and stories, importance of free play in education, connecting local issues and people in education. The belief that children can learn by themselves and only need a space and exposure became more firm.
Meeting with Sewa Rural: Sewa Rural is an organization which is actively working with tribal communities of Bharuch and Narmada district from last 37 years, and their focus is on health, development and livelihood. Sewa Rural is also our potential partner organization for Aaranyak. We had several meetings with the team of the organization to get a better understanding about the local communities and challenges of the local area. They also supported us in choosing the base in Pomlapada village of the Daidiapada block. They also helped us to connect with some local leaders, youth and former local staff of SEWA Rural who may provide us the information, situations and need of the local area.
Inauguration and Balmela: On 13th December, 2018 we formally inaugurated our new initiative, Aaranyak in Pomlapada village, in the presence of village children and leaders, and school principals. We also had trustees and members of Sewa Rural on the Inaugural day. The land owner Mr. Sam Sheth was also present and he expressed his happiness that this place is being useful for such good activities. On 13th and 14th December, we organized 2 Balmelas in schools nearby. In Samarpada school which is a Kendravarti Shala (Pay Centre School), we did Balmela on topics like Human body and various systems of the body, cooperative games, making scientific toys, paper craft, etc. with a participation of 145 children. The second Balmela was held in Samarpada Ashramshala with 150 children on the same topics. We got a very good response from children during the Balmelas. We observed children showing keen interest to understand the concepts behind the activities and also shown increased enthusiasm during the outdoor activities.