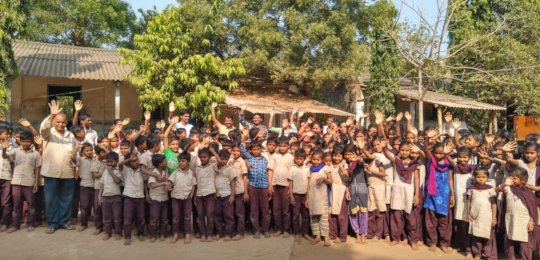 Dear Global Giving Team and Donors
Greetings from Shaishav
Thank you so much for donating to our Project "Children-The Change Maker" 23112 on Global Giving. With your support we were able to reach out to more than 3000 children directly and many more children indirectly.
We are currently closing this project in Global Giving platform since we received a grant that would support this project. All the weekly sessions at the area and school focused on child rights and life skills will be continued as before with the support from the grant.
Here is the brief summary of the activities conducted since January 2016 through this project
We worked in 35 community areas and 15 schools reaching out directly to 3000 children during this period. These children in turn shared their learning with many more children and adults.
We conducted weekly sessions at the door steps of children, where Shaishav's facilitator visit the point and conducted activities related to Child Rights and Life skills. Child Rights come under 4 major categories Right to Survival, Protection, Participation and Development. Creating awareness among children about child rights and making them do child right audit were some of the major activities done in this period. Child safety audit focuses on the children's "right to protection". It starts with the Child Safety walk where children identify spaces in their community that are dangerous to them. This is followed by making mapping the spaces, analyzing them as a group and followed by making an action plan. Children will finally implement the action plan and document the whole process. The process puts children in test and improves skills like problem solving and critical thinking at the same time improving their self-confidence and self-esteem.
Life skills include Self Awareness, Interpersonal relations, Communication, Problem solving, Creativity, Critical thinking, Decision making, Empathy, Coping with stress, and Coping with emotions. Different cooperative games followed by reflections were used to harness these skills. One such cooperative game is "silent counting" where children count successive numbers let's say 1 to 20 but no two children should say the number at the same time. Also, each child is supposed to tell only one number. This is a team game, where everyone in the group need to be involved and teaches many values like patience, listening to each other and cooperation in the process. In many of the weekly sessions, children become active participants by leading the activities and discussions. Children led sessions like swayampak, where children decide what they want to eat together, decide how much money need to be raised, who will procure the ingredients, and who will cooking and cleaning were done which would bring team work into action. Swayampak will in turn teach a lot of values especially gender sensitivity. Because, in the communities where Shaishav works, only girls are asked to do house hold chores. During Swayampak, both boys and girls work together leaving out any form of inhibitions. Swayampak also breaks the caste and religion barriers which are prevalent in our communities when they share the food and eat together. Children also imbibe leadership and management skills in the process.
On 27th April, 2018 Shaishav has achieved a new milestone of 25 year of journey alongside children. This gave an opportunity for Shaishav core team to pause and reflect on the 25 years of journey and future plans of Shaishav. Discussions on future plans led to taking the final decision on initiating an ambitious project Aaranyak in the tribal areas of South Gujarat.
Brief summary of our new project:
Aaranyak (means people living in forest) is an open learning space for children and youth inaugurated on 23rd December, 2018 in Dediapada block, Narmada district, Gujarat. Narmada district is identified as one of the two most "Backward" or "Aspirational" districts of Gujarat as per the reports by The National Institution for Transforming India (Niti Aayog). Tribal comprises majority of population in this district.
With more than 25 years of working alongside children, on child rights and education, Shaishav gained tremendous experience in understanding children and how they learn.
Considering the need of the region and education being the tool to change, Shaishav started this ambitious project Aaranyak, which is an open learning space where children decide what they want to learn, how they want to learn, who will guide them etc.
Some key programs include
Lokshala: Community Education Center where children from multiple grades study together on the principles of multi-level, multi-grade learning.
One day Trainings: These trainings focus on Child Rights and Life skills.
Adolescent program: This program focuses on making adolescent boys and girls aware on the physical, mental and emotional changes happening within them and also to build their capacity in all these fronts.
Wenlido: A Personal safety age appropriate training to girls/women focused on feministic perspective.
Leadership camps: Committee leaders from each Children Collective/Group will receive training that enhances their leadership skills to lead sessions and meetings with their peers.
Balmelas: Balmelas (children fair) will be organized to make children understand multiple concepts through innovative teaching in participatory manner.
Computer and English Training: Provide Computer and English training to children and youth of the area with special focus on girls which can improve their employability capacities and also boost their self-confidence.
Since this is a new project, we didn't receive any grant so far that would support this project. As each one of you made contribution to our previous project and made it a successful one, we request all of you to support us similarly to make these marginalized tribal children educate and take charge of their lives.
You can read more about the project here
https://www.globalgiving.org/projects/an-alternative-learning-space-for-rural-children/
Warm Regards
Shaishav