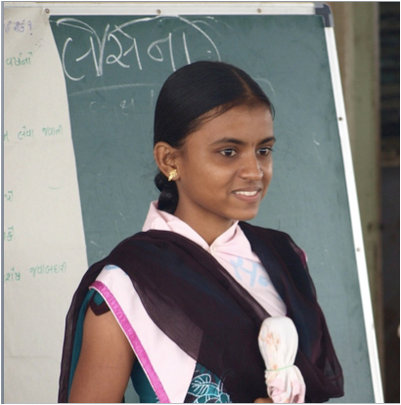 Meet Drashti, Balsena's President
Drashti is Balsena's outgoing president and one of the direct beneficiaries of your support. She is typical of many Balsena children in the way she has overcome a tough home life to persevere in achieving her goals.
'I enjoy all Balsena activities. Unfortunately, we don't have much time for picnics in my family, but Balsena gives me the opportunity to do these types of fun things with my friends. I am always happy when I am part of Balsena activities. Most of my friends are also in Balsena.
'At school, I like science the most. In science we are always exploring new things and learning how people have come up with solutions to challenges. This mirrors my life – developing new problem-solving skills every day!
'I faced discrimination as a girl, both in my family and in society. For example, if I want to go outside and play in the playground, my parents forbid me from playing with boys and make me stay inside to play instead.
'When I first joined Balsena I did not know about my rights at all. As I understood more about my rights and how to access them, I have been able to make lots of positive changes in my own life and work towards solving my own problems. I know that education and equality with men is my right, but rather than fighting my parents on these points, I am able to convince them slowly but surely by rational discussions and showing positive examples. This kind of change takes a long time, but I am convinced of the benefits through what I have learnt at Balsena.
'Balsena activities are mostly practical, so it's easy to understand and properly learn new things by actually doing them. At school we only learn theories from textbooks so it's not as interesting or as useful.
'I enjoy the family atmosphere of all Balsena activities. Participating fully in all planning and activities is great – I am not consulted about any decisions at home or at college, but within Balsena we all get to share our opinions and plans and get the best solution for everyone. This is very different from the rest of my life.
'I would love all children in my community to join Balsena. The environment is not clean in my area, so I would love to see it cleaned up and kept clean. We could solve this problem through collective strength if only everyone agreed to work together. People also fight quite a bit, which could also be solved if we agreed to work together and accept our differences.
'I want to be a social worker. Free, full education for all would help me achieve my goals, and would help all other children too. Through my role as Balsena president I already get to do lots of social work activities, so I am proud that I am already achieving some aspects of my goal. I don't feel the need to do a degree to follow my goal – my practical experiences are already helping me achieve this, and I am grateful to Balsena for that.'
Comic Relief Project Underway
It may not be the right time of year for Comic Relief's biennial feast of philanthropic fun, but it feels like we are wearing red noses every day here at Shaishav. April 2013 saw the official start of our new Comic Relief-funded project, after three years of formulating a project proposal.
After Lenny Henry and friends have announced the fundraising total, away from the bright lights of a London studio, Comic Relief relies on partners such as us to implement the poverty-solving ideas funded by the British public.
This is our largest every grant, from one of the world's largest funding agencies. It will allow us to expand our programmes and advocacy to help an even greater number of children. It also represents recognition of the impact we have made so far.
The project lasts until March 2016, by the end of which we hope to have empowered children to be their own change makers and shown key duty bearers that the failure to grant every child their rights is not a laughing matter.
2013 Baseline Survey Completed
Dodging monsoons and withstanding the humidity of the season, our communities team spent June and July visiting every house in Bhavnagar's slums to make a comprehensive study of the status of slum children in the city.
Collecting the data is a phenomenal feat. We have to draw and update maps of the areas to ensure every household is covered. We then conduct a thirty-question interview with every family, a painstaking process that involves marking each house with a painted number to ensure there are no missed households and making several repeat visits to those families who are out.
The prodigious collection of data then has to be computerised and analysed in the office. It is used to identify problems faced by children in the city and measure our impact.
Analysing the thousands of questionnaires we completed is ongoing, and we hope to give you the synopsis of the results in our next update.
New Advocacy Groups Launched
To advocate more effectively for child rights in Bhavnagar and Gujarat, we have launched the Bhavnagar Child Rights Network at a city level and, through the Child Rights Collective Gujarat, a state chapter of the Right to Education (RTE) Forum at state level.
The first is a group made up of child rights NGOs in Bhavnagar and has already met with the new local government collector, who is ultimately responsible for all services that affect children in the city. The group discussed real problems children face, problems that can be solved easily, such as dangerous overcrowding on the auto-rickshaws that transport children to school in the slums.
Talks were constructive and the next meeting, scheduled for October, will develop a strategic action plan to prioritise which issues are most important and how to resolve them.
The second group is concerned with the effective implementation of India's Right to Education Act. Passed in 2009, the act made free and compulsory education a universal right for all children, but there have been tremendous difficulties implementing it.
The Gujarat state chapter will see Shaishav work with education networks, teachers' unions and other NGOs to improve the delivery of every aspect of the RTE Act. Effective implementation of the act will boost the prospects of all children in Gujarat and transform the country for generations; Shaishav is proud to work towards what could be a seminal point in India's history.
£200 Push
We are continuously grateful for your support and hope that this report has given you an idea of how your money is helping to deal children a better hand in life.
Today sees the launch of our 200 Pound Push specifically for all our supporters based in the United Kingdom. By raising only £200 on the UK GlobalGiving site, we will be able to launch Shaishav on its sister site in the United States. This is because we must have raised the equivalent of US$5,000 in the UK before our project can be accepted on the US site. Helping us with this will spread the work of Shaishav to a far greater audience and provide our American supporters with a way to donate in dollars, avoiding expensive currency conversions.
As well as helping us expand our reach in the United States, your donation will go directly towards improving the lives of children in Gujarat. With £200, we could fully educate 150 girls in topics sorely lacking in schools: equal rights, child marriage, wenlido self-defence and issues affecting pubescent girls. Together, we can build a more equal and tolerant society.
Of course, the money does not just have to come from you. You could set up a fundraiser profile with GlobalGiving UK and link it to Shaishav. Fundraising does not have to be a chore or require running a marathon; let us suggest holding a Gujarati-themed charity meal for your friends and family!
Thank you for your generous help. Please let us know of any other ways in which you would like to hear from us.