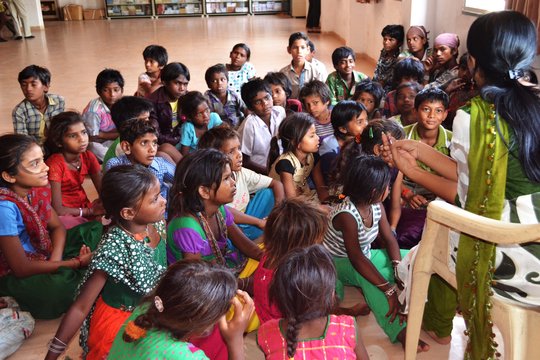 Shaishav spent the last three months organizing trainings on human rights and life skills for Bhavnagar's children and youth. Here we are sharing some of our memorable moments with you.
Vacation camp
May and June is the most exciting time for children in India – summer vacation! I am sure you all remember this joyful time, when after months of studying you could finally forget about your books and homework… it's the time to play with your friends and to enjoy life… every child deserves times like these! However, for children living in slums such as the ones where Shaishav operates, the realities of summer vacation differs. Summer vacation becomes time when these children take on financial responsibilities, engaging in child labor to support their family. Frequently, after the family and child sees the short term financial benefits of this added income, children do not return to school. Child labor deprives children from their basic rights to education and play (as found in the UN Convention on the Rights of the Child), and limits prospects of social and economic mobility.
Since 1995, aiming to reduce the number of children engaging in labor over summer vacation, Shaishav organizes "vacation camp" for children to engage them in fun development and life skills activities. These camps target "at risk" children, and are complimented by enrolment drives to enroll children back into school. This year, from May 11th to June 9th, about 300 children participate in vacation camp. Children engaged in various educational and leisure activities: outdoors sports, yoga, cooking classes, playing music, etc. They went to park and beach, participated in various life skills activities and listened to lectures on children rights. On the last day of the camp, children organized a closing ceremony, full of music, dance and laughter!
Celebrating International workers day
To celebrate International workers day and to motivate child laborers to leave child labor and to continue education, on May 1st, Shaishav organized a children's camp specifically for child laborers. 53 children gathered in Shaishav's training center, beginning the day with 'Play for Peace' activities and ending it with stories about the importance of education and shortcomings of child labor. All the children enjoyed the camp and showed improved understanding about the importance of education. Shaishav hopes to make laborer camp an annual activity attracting more child laborers and reducing child labor.

How does a camp for child laborers reduces child labor? By pulling child laborers out of their jobs for an extended period of time, families adjust to the lack of daily help from their child (often in a situation of manual labor), as well as the lack of daily income (which is often miniscule in relation to their family's overall income). Shaishav's social workers are able to intervene and explain the importance of education to parents. Typically, Shaishav's social workers are able to convince families to send their children back to school by explaining the long term harm child labor does to the body and the opportunities school will provide, in combination with some financial planning.

Tarunsena Human rights Camp
Shaishav continuously works with youth through our youth collective 'Tarunsena'. Young people periodically refresh their understanding of human rights in various trainings organized by Shaishav, but the human rights camp organized on 20-23 May was the first in-depth human rights training for Tarunsena youth. 22 members participated in a 4 -day training, which aimed to increase knowledge about human rights, the Indian constitution and democracy. Young people told Shaishav staff that the training provided insightful knowledge about the complexity of human rights, and allowed them to critically define their goals in life in relation to human rights, and plan the steps to reach these goals. At Shaishav we believe that young people, with their extensive knowledge and well developed life skills, can drastically contribute to themselves children and community development.
'Youth for Change'
Shaishav is in the process of launching a new program, 'Youth For Change'. This program will provide youth credible vocational training in combination with extensive life skills and human rights training to enable economic prosperity and social mobility. More information about this project will follow soon.
Last year we successfully enrolled 584 children, preventing them from entering child labor, we have motivated 25 child laborer to continue education and 21 child labor to do vocational training. Through various trainings and activities, children developed interpersonal skills and critical thinking, allowing them to take charge of their lives. This all would not be possible without your continued support. A sincere thank you from Shaishav's children, youth and staff!
Thank you!!!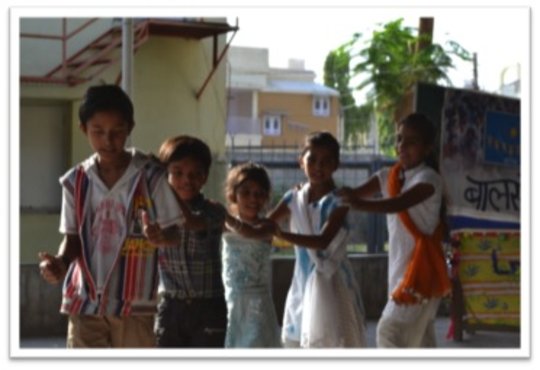 Links: