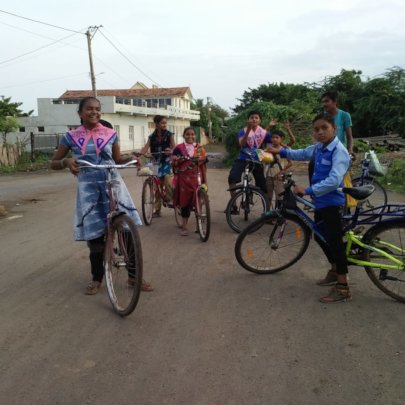 Balsena:
Balsena Council and active member's Meetings:
Balsena Council is decision making body of Balsena. Since July they gave met 4 times. First 2 meetings occurred in July to discuss upcoming Balsena Presidential Elections. Council and active members discussed criteria for president and vice president and listed out eligible candidates. These two meetings had total of 86 members present.
During monthly council meetings of 4th August and 1st September, children discussed on monthly planning, one day trainings, festival celebration. They also discussed that they would like to handle the entire council and active member's meeting by themselves and only one facilitator should be present to take minutes of the meeting. On 4th August 49 members and on 1st September 79 members of council and active team were present.
Balsena Elections:
Each year Balsena elections are held democratically and in an open non secretive manner. Children choose their leaders by creating criteria and discussing how each candidate performs in each criteria. In month of June Balsena children elected a new council. Council is the main decision body of Balsena. The election was done in 30 teams and each team elected 4 leaders (Captain, Vice-Captain, Core group member 1, Core group member 2) for Council. Balsena believes in equal representation, hence 50% reservation for both gender has been in practice since its inception.

Two meetings of council and active members were held to discuss about Presidential electionds. They discussed about criteria for President and Vice President. They also discussed about potential candidate for the same.

On July 19th and 20th Presidential election was hosted through a residential camp. During this camp 101 children of council and active members were present. Children played a "Win-Win" game to understand different political systems like Autocracy, Monarchy, Direct and Indirect Democracy. Through an activity and a story children also understood the importance of being active citizens in Democracy and importance of asking questions and holding their leaders accountable. Presidential elections were held in same open manner. Khushal was named as president, and Nihar and Komal were elected as Co-Vice Presidents. Mr. Nanak Bhatt from Shishuvihar graced us with his presence during the announcement and also inspired children to become active citizens. Shishuvihar is a leading organization in Bhavnagar which has done much noted work with children especially their right to play.
One day trainings:
This year in one day training we have taken a slightly different approach. We have selected few children from each team who are leaders and may be interested in facilitating further with other children. The selected children come to one day trainings and facilitate the point activities in their point.
From July to 15th September we have had 6 One day trainings on themes like nature connect, water, scientific toys, sports, water and waterborne diseases. We have also been doing one day training on Article 15 of UNCRC which is right to participate and form a collective. During each trainings average 60 children have taken part. This has led to better confidence and more leadership skills in children. Their presentation skills have also improved and they love teaching all this to younger children and their friends.
Adolescent Groups T.O.T.s:
Few older active children are selected to run the adolescence girls and boys group in their area and school. They meet once a month and learn our bodies, difference between male and female anatomy and understanding emotions. 90 boys and 94 girls participated in these 3 trainings. Post the training, they lead the sessions in their field area and run their groups.
Balmelas:
4 Balmelas on theme of scientific toys were planned. It taught children simple scientific principle and its application in real life. These toys are made of simple day to day use materials. 113 children participated in these Balmelas. Many children reported that they really enjoyed making them and even taught to their sibilings and friends.
Sports:
Sports is important part of life for our life skills and character building. Children learn the importance of cooperation and unity. Throughout one week children played different sports activities in their areas. Through sports they learnt quick thinking, leadership, increasing focus. Children also went cycling to a farm house where they leant about farming.
Saving bank:
Saving Bank Annual Day was celebrated on 20th July. Saving Banks program has been running since 2004 in Balsena. This year Rs. 79,815 were saved by children. Kharo community has saved the most: 11,153INR, while Fulsar community was one with least withdrawal of 300INR in the last year. Kuhshal from Chitra Ramdevnagar was awarded for doing most regular savings and very less withdrawal. Saving Bank program help children in understanding importance if savings, money management and understanding one's needs.
Parents Meet:
We held 2 parents meetings in our areas to discuss what children are learning through Balsena and how it is important for life to learn about life skills and character building. Some of the children also shared what they learnt in Balsena. Few parents also shared about the difference they see in their children after them joining Balsena. Priyanshi's mother said, "Each day Priyanshi takes a long time in waking up and getting ready. I have to keep telling her, but on the day of Balsena point I don't even have to wake her up, and she gets ready on her own." Few parents shared what they learnt from their children like child rigths, cooperative games etc.
Wenlido:
Wenlido is personal safety tool for women and girls to empower them against all kinds of abuse especially sexual abuse. In past 3 months we facilitated 7 trainings with 127 girls of areas and schools where Balsena is working.
Child Rights Training and Resource Centre:
Balmelas at Dediapada:
We are planning to expand our work in Dediapada block of Narmada district in Gujarat. It is predominantly a tribal district. It is announced as 'Aspirational District' by Niti Aayog of India. In past three months we have conducted 3 Balmelas in the schools and Aashramshalas of Dediapada. The theme of the Balmelas were paper craft, cooperative games, drawing and understanding about human body. 232 children participated in these Balmelas.
Wenlido:
Other schools and organizations also call us to provide Wenlido training to their girls. In past 3 months we facilitated 14 trainings with 332 girls from different schools and organization.
Aataapi Sewa Foundation:
Aataapi Sewa Foundation is also working with children in Gajera, Gujarat. The children of the organization have also started their own collective. Shaishav has been helping in facilitating this process. 2 trainings were facilitated in Aataapi with theme of activities for the collective and election process. They also conducted elections to elect president and vice president of their collective. We are happy to report that they elected a girl as their first ever president. 99 children and 7 facilitators participated in these 2 processes.
Khadki:
Shaishav team regularly visit Khadki to help teachers and children to make academics more fun and easier to understand. The activities include team building and leadership activities as well activities to increase focus, creativity and problem solving through games, scientific experiments and projects.
Life Beyond Development:
We are facing climate crisis. It is important to make children aware about this issue and understand about how it is affecting our environment, people and their health. Life Beyond Development is a 3 days workshop to understand this. 3 workshops were conducted. 1 was with 48 Balsena children and 2 with 59 children of Bachpan Sena : children's collective in Gantar organization. The workshop is conducted through various activities, play, games, movies and discussions.
In the feedback sessions most children vowed to make a difference in their life by not using single use plastic, not wasting water and using natural personal care products to name a few. They said that they will also tell other people about it. Many also spoke about doing these activities as a collective. It was heart-warming to see a seed was sown in their hearts.