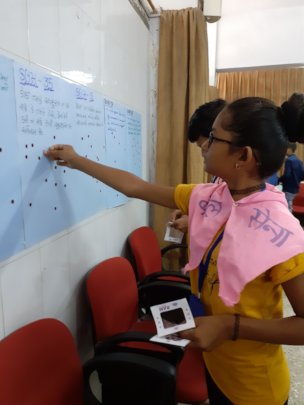 Child Right Training and Resource Centre:
Child Right Training and Resource Centre (CRTRC) is a program to share our learning and knowledge with other organizations and also learn from them.
Wenlido:
Wenlido is a feministic self-defence form for personal safety. It is taught to only girls and women.
On 14th and 15th September Shaishav Wenlido trainers participated in Wenlido trainer's Network meeting. Trainers shared about the difficulties they face and also about next year planning to train new trainers.
8 Wenlido trainings with 157 girls were conducted with Balsena girls. 3 Trainings with 61 girls were conducted with Aashramshalas (residential school for tribal children) girls of Dediapada block in Narmada district. The challenges that these tribal girls face are unique. They are taught to not speak or speak very less from very young age in their culture. Girls get married at young age and have children at very young age too, this hampers their growth not just physically but mentally as well as they take on responsibility of their house and children and are unable to study further.
Nine is Mine:
Parulben from Shaishav participated in meeting in of Nine is mine campaign which is run by Pratyek on 16th September. The meeting was to share plan about launch of children's parliament in the country and how we can support each other.
Samagra Shiksha Abhiyan:
Samagra shiksha abhiyan is primary education department of the government. Under SSA Kasturba Gandhi Balika Vidyalaya run as residential school for girls in each block. The responsibility of these K.G.B.Vs is on Gender coordinator in each district.
Parulben gave training to gender coordinator and wardens on protection policy and how to make the same for the girls in K.G.B.Vs.
Gujarat Bal Manch:
Gujarat Bal Manch is collective of children's collectives of Gujarat and it is facilitated by CRC-G (Child rights collective Gujarat) The children celebrated 30 years of UNCRC (United Nation's Convention on Rights of Child) and learnt in detail about their rights, right to participation and participatory elections. Children also learnt about Gandhiji and his values through games. They learnt how to spin Charkha as well. 38 Boys and 25 girls participated from 14 organization in 13 districts of Gujarat.
Dandi yatra (Salt March):
During the independence struggle of India Gandhiji initiated a unique Satyagraha- Salt march in Gujarat. He walked from his Aashram in Ahemdabad to Dandi beach in South Gujarat.
This year to commemorate his 150th birth year CRC-G along with UNICEF did a Dandi yatra to spread awareness about child rights during Child Rights Week- 14th -20th November. It was recently found that Gandhi signed first draft of Convention of child right in 1930 for India. We spread awareness about this too.
Shaishav played a key role in organization and implementation of this Yatra.
On 20th November celebration of International Child Rights Day was held in Ahmedabad along with closure of Dandi March. UNICEF launched a book on the occasion "My Letter to UNICEF." 3 of Balsena children are featured in this book. They have written about what they further demand from UNICEF. 18 Balsena children participated on this day.
Training with VGTK:
VGTK is running a rural vocational training centre for tribal youth. Shaishav has been facilitating with them regularly to teach them life skills. On 16th November Shaishav team facilitated a workshop with them on Team building. 12 adult facilitators and 150 youth participated in the same.
Feminist Leadership Training:
Aanandi Organization which is a leading organization working with women and children launched a Feministic Leadership Course for facilitators. Alpeshbhai and Dakshaben, two of our facilitators who have been working with us for a long time have joined this course. They learnt about how to design tools to teach about participation as well as tools that are participatory in nature.
Consultation on situation of child protection in India:
Parulben participated in a meeting at Delhi on finding out the situation of child protection in the country focusing on child trafficking and child sexual abuse. She further co-facilitated Western region consultation on 23rd and 24th November in Pune. This entire consultation was organized by ICPF (Indian Child Protection Fund).
Film Shooting:
Shaishav is celebrating its completion of 25 years of working in Bhavnagar. We decided to make a film about our work and its impact on children, youth and the society. From 25th November to 2nd December the film was shot and then worked on editing till 8th December. We are excited to see the final outcome.
Computer MS Excel Training:
Sewa Rural organized a training on MS Excel and how to use it to analyse data of research and surveys and how to best present those data. 3 team members from Shaishav participated in the same.
Wisdom Weekend with Kamla Bhasin:
Kamala Bhasin is one of the leading feminist and social activist of the country. Swaraj University organized wisdom weekend from 6th – 8th December. Kamalaji shared her life stories and about gender, patriarchy and how it affects men as well. Isha from Shaishav participated in this event.
Sports Day training:
Sports days were celebrated in Balsena zone wise. CRTRC team developed manuals for 25 new games and trained the staff for the same. 80 volunteers were also trained to provide support during annual program with theme of Sports.
Training on Child Protection Policy:
Shaishav holds the right to protection of children very important. We have a child protection policy in place as well. Annual training on child protection policy was held on 11th October with the entire Shaishav team. The policy was also reviewed as well to improve the policy for more cyber safety.
Balsena:
Exposure Visit:
251 Children from Balsena visited exhibition on life of Gandhiji. The children learnt about life of Gandhiji and about his Satyagraha. The exhibition was set up in form of Gandhi Aashram in Ahmedabad which provided children with an opportunity to see that as well. They learnt about spinning and its importance.
Shaishav visit:
Since the exhibition was near Shaishav office we took this opportunity for children to visit office as well. Many new children had not seen it. They got introduced to office and child line staff and their work.
Navaratri celebration:
Navaratri is a festival of Gujarat which continues for 9 nights, where people gather in night to celebrate by dancing together. Balsena children celebrated Navaratri in their zones. 288 children participated in the same.
Zonal Sports:
Sports days were celebrated in zones with games like bear dance, back to back, magician villain and elf, etc. 290 boys and 299 girls participated in the zones. Children learnt to keep their body balanced, listening carefully, focusing and thinking on their feet.
Leadership camp:
Leadership camp was held on 7th – 9th November with council members and active members. 57 children took part in this camp. The theme of this residential camp was communication, creativity and self-awareness. Children learnt about what is communication, types of communication, realising their dreams, bringing out their creativity etc. For example children were given one scarf and were told to come up with different uses for the same. The children came up with more than 150 uses of a scarf. Children also learnt to do presentation in different manner. They presented what they learnt through different mediums like theatre play, songs, news reading, speaking etc. In communication they also learnt about communicating through body language, talking clearly, asking for clarification listening intently.
When one of the child fell sick during the camp all the children took care of him very nicely. They made sure he ate, didn't feel cold, took medicine and was comfortable. We were touched and felt very happy when we saw this.
Council and active children's meeting:
3 meetings of council and active children were held. 44 children attended these meeting on an average. Children discussed about programs in their point, issues that came up in Child Protection Committee meeting, challenges they face, and about taking actions after bullying research. Children presented problem that some of their parents consume alcohol, and they solved problem by deciding that they would take way of Satyagraha of Gandhiji, and would keep fast if their parents drink.