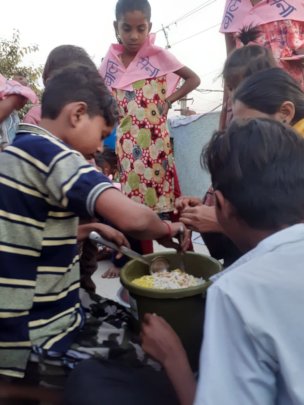 Balsena:
Parents Meetings:
We organized 4 parents meetings to discuss about what their children learn in Balsena, what are the challenges we are facing like less attendance of girls, tuitions, challenges of residential camps etc. 161 parents attended the meetings.
We also encouraged them to speak with their children regularly about what they are learning in the school and Balsena.
Meetings by Children:
Children organized meetings within their teams to discuss about vacation camp and its theme and their challenges. Then, they themselves found ways to solve the problems they are facing.
Active and Council meetings were held with agenda of reporting point activities , making newsletter, organizing vacation camp, and details about saving bank program. They also discussed issues they are facing in their point and how to solve them.
Activities by children:
Balsena children once again organized something they love: Making food themselves and eating together! In their point they held a meeting, decided what to cook, what materials they need, how they would provide for the same, divided responsibilities, etc. They made chat dishes like Bhel, Chana Masala, Bhunglaga Bateta and their other favourite dishes.
Exposure Visit:
Children of some areas visited Shishuvihar, an organization for children advocating children's right to play. They played a lot and also saw some of the scientific experiments.
Other teams visited Victoria park which is natural reserve in the city created before India's independence. They tried to connect with nature and learn about different plants, animals and birds.
Child Right Training and Resource Centre:
Celebration of 25 years of work in Bhavnagar:

Shaishav celebrated 25 years of work in Bhavnagar on 11th and 12 January. Balsena children participated in the event of human library and playing cooperative games with guests. During session of human library Balsena children interacted with the guest about their life stories and how Balsena has impacted their life. Children lead the session of games, they inspired the adults to bring out their inner child and play. Children and adults immensely enjoyed both the session.
Gandhi Mela:
Each year Gandhi Mela is organized by different Sarvodaya organizations (organizations based of Gandhi principles) in India. This year they invited Shaishav to organize this mela for children through games. We trained 60 girls studying to be primary teachers in one of the Sarvodaya organizations. The Gandhi Mela was held for 2 days. 1500 children participated in the Gandhi mela and experienced and understood about Gandhiji's values in the form of games.
Aataapi Foundation:
Our long term partnership with Aataapi continues as on 15th-16th February we facilitated Leadership camp with theme of Life skills with 76 children and 9 facilitators.
Adolescent Protection and Empowerment Training of Trainers:
We have a vast experience with working with adolescent girls and boys on protection as well as physical, mental, emotional changes during puberty and life skills. We organized a Training of trainers to share our knowledge. 13 men and 21 women from 12 organization participated in this training. There will be one more phase of this training.
We started with the building our own understanding of Gender and physical, mental, emotional changes during puberty. They were then trained to do these sessions with children. They had a practice session with children as well.