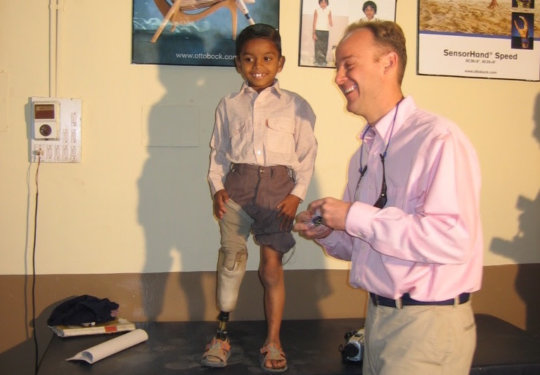 10 years ago, the doctors at A Leg To Stand On's (ALTSO's) first clinic in Ahmedabad, India met 8-year old Bhupendra, who was born without his right leg below the knee. His parents, who earned a combined daily income of $7, had been desperately attempting to save money for a prosthetic, but over several years had been unsuccessful in saving enough for even one device.

Bhupendra's parents soon learned that ALTSO would provide Bhupendra not only his first prosthetic leg, but also every single prosthesis he would need until his 18th birthday. Their gratitude was comparable only to Bhupendra's own joy. The first thing he did upon being fitted was climb atop the doctor's table and jump back to the ground, fascinated by his new found ability to jump and land on two feet.

Because of supporters like you, over the last decade ALTSO has provided Bhupendra with the 15 prostheses he has needed as his body grew. And because of supporters like you, Bhupendra is halfway to graduating college with a bachelor of science in chemistry, and is determined to get his masters to become a professor of chemistry in his home state of Gujarat, India.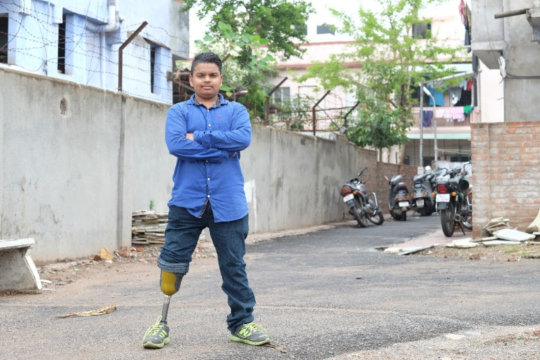 It has been one year since Awatt was brutally injured in a hit and run accident, caused by a drunk driver. With the love and support of his mother, six-year-old Awatt has made it through a number of corrective surgeries. Awatt has been determined to get back on his feet and has enrolled in kindergarten for this fall. His story is beyond heartbreaking and cruel, but his will and determination to keep moving forward is not only beautiful, but inspiring. Through your love and continued support, we plan to see that Awatt has free orthopedic care until his nineteenth birthday.
17 year-old Samnang has been a patient of ALTSO's since 2013, when he sought treatment for the congenital deformity of his right leg.
Samnang is the youngest of two brothers and one sister. His mother owns a small food stall and his father works as a motorbike tax driver. The cost of the prosthetic device, which he now proudly wears, would have been unattainable to his family without your support.
Samnang is very tech-savvy and athletic. In his spare time, he can be found repairing electronics and playing soccer. With his interests in technology, he plans on studying Information Technology in Phnom Penh, and hopes to relocate to either the U.S. or Russia following his studies.
He is currently in the 12th grade and getting ready to graduate, with big thanks to your involvement for giving him the physical capabilities needed to get to school and pursue his dreams!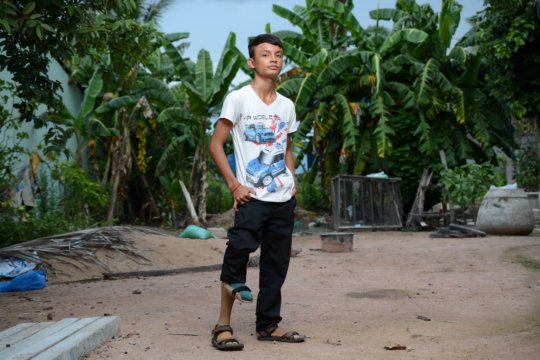 Links:
WARNING: Javascript is currently disabled or is not available in your browser. GlobalGiving makes extensive use of Javascript and will not function properly with Javascript disabled.
Please enable Javascript
and refresh this page.