I want to introduce you to Sreynay, a 9-year-old girl from Cambodia. One of seven children, Sreynay used to be part of a large family living in a rural part of the country. Several years ago though, the children were abandoned by their parents, leaving them to fend for themselves.
Early in 2015 Sreynay was at a lake with her sister when a snake bit her right leg. Her leg became infected almost immediately. Thanks to the intervention of some locals, Sreynay and her sister were taken to a local orphanage for care. It was there that she finally was able to see a doctor for the first time when they determined that the infection was too severe for treatment; the only option was amputation.
Soon after her surgery in April of 2015, where she lost her right leg, ALTSO met Sreynay and knew that we had to begin treatment as soon as possible. Within the month, Sreynay had received her first prosthetic limb and was back on her feet almost immediately.
Like all of ALTSO's patients, we have promised Sreynay to continue providing her treatments until she turns 18 years old. This ensures that as she grows she will continue to receive the devices she needs to stay mobile.
As Sreynay grows she will need up to 3 new devices and adjustments per year. We need to make sure that we can continue to fulfill our promise to keep young Sreynay walking and we can't do it without you!
Pictured below is Sreynay with her sister - the only family she has left. Through some of life's most tragic challenges, she continues to be a smiley and active little girl. She dreams of becoming a chef someday, and despite her accident years ago, she is determined to make her dreams come true - and so are we!
I cannot thank you enough for your dedication to ALTSO's children. It is transformations like those of Sreynay that we see every day that remind us why we do the work that we do. Thank you for being such an important part of our work and Sreynay's life!
Please join us in continuing to treat Sreynay and children like her all over the world who are in need of life-changing treatment but cannot afford it! Your support of $5, $10 or $15 will go toward providing children with limb disabilities in the developing world the opportunity to be mobile, get an education, and achieve their dreams by being independently mobile!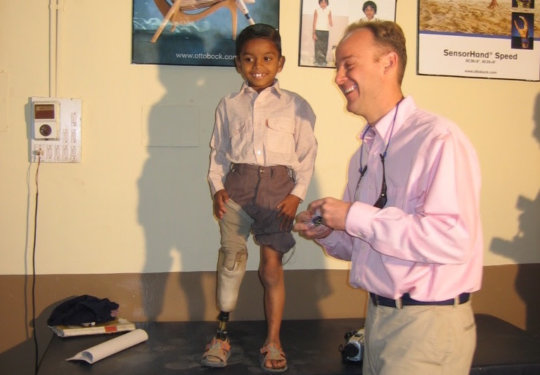 10 years ago, the doctors at A Leg To Stand On's (ALTSO's) first clinic in Ahmedabad, India met 8-year old Bhupendra, who was born without his right leg below the knee. His parents, who earned a combined daily income of $7, had been desperately attempting to save money for a prosthetic, but over several years had been unsuccessful in saving enough for even one device.

Bhupendra's parents soon learned that ALTSO would provide Bhupendra not only his first prosthetic leg, but also every single prosthesis he would need until his 18th birthday. Their gratitude was comparable only to Bhupendra's own joy. The first thing he did upon being fitted was climb atop the doctor's table and jump back to the ground, fascinated by his new found ability to jump and land on two feet.

Because of supporters like you, over the last decade ALTSO has provided Bhupendra with the 15 prostheses he has needed as his body grew. And because of supporters like you, Bhupendra is halfway to graduating college with a bachelor of science in chemistry, and is determined to get his masters to become a professor of chemistry in his home state of Gujarat, India.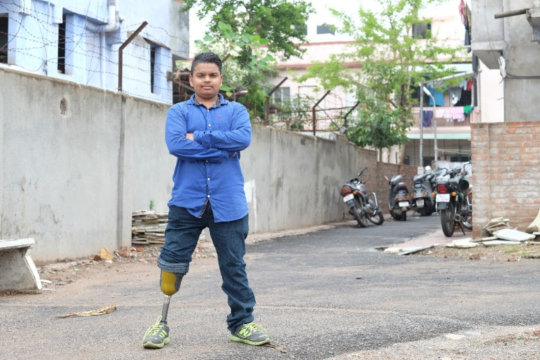 It has been one year since Awatt was brutally injured in a hit and run accident, caused by a drunk driver. With the love and support of his mother, six-year-old Awatt has made it through a number of corrective surgeries. Awatt has been determined to get back on his feet and has enrolled in kindergarten for this fall. His story is beyond heartbreaking and cruel, but his will and determination to keep moving forward is not only beautiful, but inspiring. Through your love and continued support, we plan to see that Awatt has free orthopedic care until his nineteenth birthday.
WARNING: Javascript is currently disabled or is not available in your browser. GlobalGiving makes extensive use of Javascript and will not function properly with Javascript disabled.
Please enable Javascript
and refresh this page.