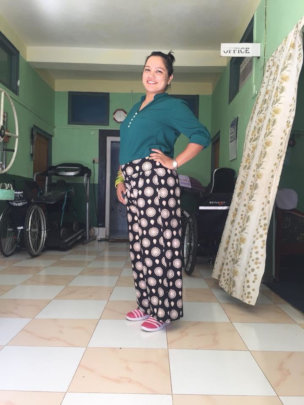 Since launching The Joshi modular prosthetic limb last fall, we have continued to seek partners and products that can offer ALTSO's CoolKids the most effective, innovative and high quality treatments possible. Several months ago we began searching for a new prosthetic foot component as many of our teenage patients noted the excess energy and pressure they had to apply as their bodies grew and applied more weight to the limb.
Ganga is a bilateral amputee who grew up in the rural areas of Nepal and for the last decade has been running ALTSO's current program partner in the region, Hope Disability Center. Through conversations with our Director of Programs, Ganga concurred with the need for a more efficient foot device and offered to test out any possible partners we might work worth.
Fast forward to this summer - Ganga, and a handful of ALTSO's patients, were able to test "The Breeze" - a carbon fiber dynamic prosthetic foot made by College Park Health - and raved about its functionality. Not only is the foot lighter for ease of use, it also moves dynamically which means that it feels more like that of a natural foot and ankle would, needing less energy to take each step, improving the quality of their overall prosthetic and their life.
The Breeze is perfect for ALTSO's growing teenage patients, who require more energy to walk as their bodies grow. The natural gait The Breeze provides is essential for ALTSO's older CoolKids who are now headed for university, vocational training and the workforce.
And don't forget the best part - ALTSO's commitment to treat every patient we see through the age of 21 to ensure that they have the opportunity to live a self-sufficient life.
Thank you for your support and making ALTSO's CoolKid's dream of mobility a reality.
Links: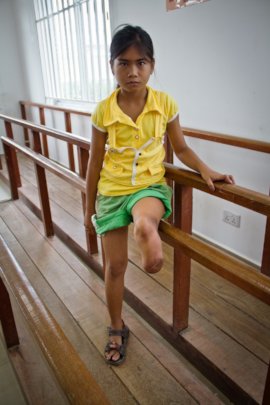 Seyha has been a patient of ALTSO since 2011. Playing in rural Cambodia, Seyah suffered an injury at age 4 that led to serious infection that threatened her life. The only option was to amputate the infection which covered her left leg below the knee. When we met Seyha, she was 9 years old and her parents were still attempting to save the money necessary to buy her first prosthetic limb.
After her accident Seyha was shy and embarrassed of the way she looked - and her family feared she'd never recover physically or emotionally.
Now, having received more than 10 prosthetics through ALTSO's programs, Seyha is confident, and studious. She enjoys history and hopes to one day become a pharmacist.
We know that for a child with an untreated limb disability mobility can change everything. Mobility is empowerment, dignity and hope - it is access to education and future employment, increased self-esteem and inclusion in society. To a patient with an untreated limb disability, mobility is so much more than movement.
Thank you for your committement to transforming lives like those of Seyha.
Links:
We did it!
Thanks to your support, we have reached our goal to give 40 Children in Asia the Ability to Walk! That means we have treated more than 16,700 children since 2003 - and we could not have done it without your help.
But our work is far from done. ALTSO's goal is to provide high-quality continuous care for all our patients until they are 18. One of ALTSO's earliest patients, Bhupendra, was first treated in 2006. Bhupendra received over a dozen free prosthetic limbs as his body grew, and now at 20 years old is studying to become a professor of chemistry at a leading university in his home state of Gujarat.
For our CoolKids, like Bhupendra, mobility is so much more than movement. Mobility is empowerment, hope and the chance to live self-sufficiently.
On behalf of the 16,700+ children we have treated so far, thank you for helping us change the face of disability around the world!
- The ALTSO Team
P.S. Keep an eye out for the launch of a new project in February!
Links:
WARNING: Javascript is currently disabled or is not available in your browser. GlobalGiving makes extensive use of Javascript and will not function properly with Javascript disabled.
Please enable Javascript
and refresh this page.