From detailed reports on every CoolKid treated, to close relationships with our programs on the ground, we're committed to transparency.
We conduct annual site visits to our programs to ensure proper management and efficacy, and to confirm the highest quality care available is being provided on a continual basis to our CoolKids.
In fact, our Director of Programs A.J. is currently on-site in Gujarat, India. Earlier this week he visited our manufacturer to prepare for the new and exciting developments coming to our Joshi modular prosthetic limbs later this year. We can't share too much now (shh!) but improvements include expanding our product line while continuing to refine manufacturing. Your donations will help us to continue to make these improvements and provide more devices to children in need!
Up next while he's in India, A.J. will be heading over to our partner GetBak. It's during these visits that we get to meet our CoolKids!
And the follow up doesn't stop when A.J. is back at ALTSO's HQ in NYC. Our comprehensive electronic reporting allows easy management for requisite follow-up procedures and inventory management.
To get our latest updates from the field, make sure to follow us on our social media channels: Instagram, Facebook, and Twitter.
Can you guess where A.J. is headed next?
Links: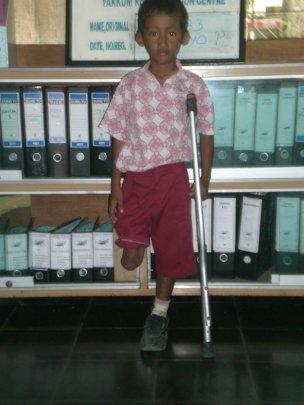 We are thrilled that with your support, we have treated more than 18,000 children in the developing world. These children would have never had the chance to gain independence, earn an education and become self-sufficient, but instead have been able to continue receiving care through the age of 21.
As a supporter of ALTSO, you may recognize early photos of Sulistyo, a patient of ALTSO's who lives in Indonesia. Sulistyo has been "Growing Up ALTSO" for the last 13 years! When you join us, you help to ensure that Sulistyo continues to not just receive the treatment he needs today, but repairs, adjustments and replacements to his prosthesis as his body continues to grow.
You might be asking yourself, what does Growing Up ALTSO mean? For Sulistyo, like so many of ALTSO's patients, Growing Up ALTSO means that as they have grown up, ALTSO has walked side-by-side with them along the way. For every repair, adjustment or new prosthesis that they have needed, ALTSO has been committed to providing them with the treatment that they need. But Growing Up ALTSO goes far beyond just the ability to walk side-by-side with our patients - it's so much more!
When an ALTSO patient is able to consider new possibilities, opportunities and dreams that they never could have before - that's Growing Up ALTSO. When a child who has never had an education not only starts walking to school each day, but also becomes the top student in their class - that's Growing Up ALTSO.
For Sulistyo, Growing Up ALTSO is graduating from primary school in 2017, instead of being homebound because he could not afford treatment.
Growing Up ALTSO is receiving a full scholarship to a technical university, instead of depending on his family to care for him on a daily basis.
Growing Up ALTSO is the plan to become a web developer upon graduation instead of never having the opportunity to earn gainful employment and self-esteem.
On behalf of Sulistyo, the 18,000 children treated under ALTSO's programs thusfar - and for those who still wait - thank you for your ongoing support!
Limb disabilities are not considered life-threatening by most humanitarian aid organizations. This causes vulnerable populations across the developing world to simply be overlooked.
But here at ALTSO we know that mobility is so much more than movement. Without the ability to be independently mobile, a child with an untreated limb disability has no way to physically attend school, become self-sufficient and earn gainful employment later in life.
Knowing the undeniable and life-changing impact that treatment can make in the lives of ALTSO's patients, we strive to find the countries that other organizations are less likely to work in, or have overlooked. Our commitment is to ensure that the needest populations have access to the free, high-quality care they deserve.
We are thrilled to announce three new program partners to help us continue to do just that:
Laos - Cooperative Orthotic and Prosthetic Enterprise (COPE)
India - GetBak
Uganda - Comprehensive Rehabilitation Services in Uganda (CoRSU)
All three of these new patterns have proven track records of providing high-quality care and will be well suited to help identify new children who are in need of care but unable to afford it. ALTSO will begin each partnership by delivering a shipment of Joshi prosthetic limbs in the coming weeks to begin treatments right away!
Links:
WARNING: Javascript is currently disabled or is not available in your browser. GlobalGiving makes extensive use of Javascript and will not function properly with Javascript disabled.
Please enable Javascript
and refresh this page.