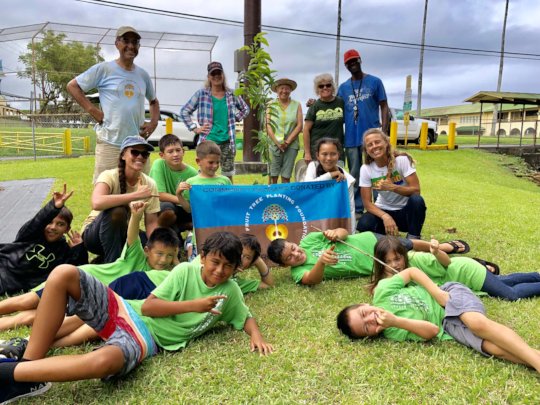 Aloha friends,
This past month the Fruit Tree Planting Foundation planted over 200 fruit trees around Hawai'i island with schools, community centers, and a Native Hawaiian farmers association. These 200 fruit trees will provide 11,000 pounds of fresh locally-grown fruit every single year once the trees mature, feeding and nourishing thousands of students, families, and Native Hawaiians across the island for decades! This is so important for Hawai'i, where food sovereignty is a growing movement and food security a growing concern. Types of trees planted include mango, avocado, white guava, mulberry, cacao, rollinea, pink jackfruit, Suriname cherry, acerola, soursop, white and red mountain apple, jaboticaba, clove, cinnamon, Brazilian plum, starfruit, abiu, Meyer lemon, Calamondin lime, Valencia orange, tangelo, kumquat, tangerine, and navel orange! Below is a list of each orchard that was planted over the past four weeks (click on the link to see photos from the planting events):
Kealakehe Elementary School: 23 trees planted & 8 trees given away to school teachers and staff
Konaweana High School Agricultural Farm: 25 trees
Lapahoehoe Public Charter School: 24 trees
Prince Jonah Kuhio Kalanianaole Elementary & Intermediate School: 7 trees
Maku'u Farmers Market Association: 7 trees
Malamalama Waldorf School: 18 trees
Hawai'i Academy of Arts & Sciences Upper School: 8 trees
Hawai'i Academy of Arts & Sciences Lower School: 7 trees planted & 10 given away to students' families
Kohala Elementary School: 25 trees
Kohala Village HUB/Feed Hawai'i: 24 trees planted & 10 trees given away to community volunteers
Mahalo nui loa to each and every one of you who have supported this project, we truly could not do it without your support and aloha for Hawaiian food freedom!
To a fruitful future for all Hawaiians,
The FTPF Team