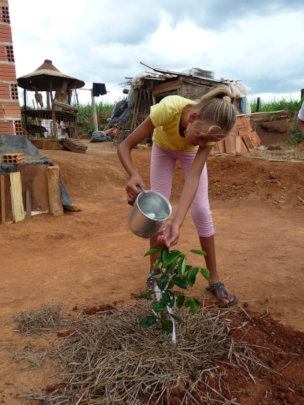 Ola friends,
Thank you for your continued support of the Fruit Tree Planting Foundation and our project in Brazil!
We were unable to reach our fundraising goal for 2019, but we are committed to this project and have rescheduled our trip to Mococa until March 2020. Our partners in Brazil. Grupo Ecológico Ohlo d'Agua, are continuing their work to grow beautiful fruit tree saplings to support the project, and are also working with the community to organize the plantings that will now happen in 2020.
We will continue to keep you updated on this and our other projects throughout the year. We are writing currently from the Saginaw Chippewa Indian Tribe of Michigan, where we are planting four orchards consisting of 140 fruit trees on tribal lands in order to restore food sovereignty and help establish a native-led food system.
But we still have work to do in Brazil! A donation today will make a big difference in helping us reach our fundraising goal to bring thousands of fruit trees to this very vulnerable part of the world.
Muito obrigada (thank you very much),
The FTPF Team