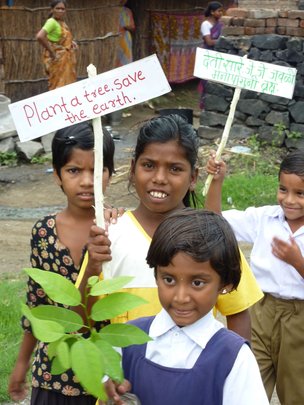 Thank you so much for your support for the Fruit Tree Planting Foundation's Orchards for India project. Your support will allow us to launch a program to plant thousands of fruit trees in Maharashtra, India.
We are hoping to reach our funding goal this summer, so that we can plan to plant 10,000 trees in Maharashtra during the next monsoon season, in 2013. To that end, we are currently organizing efforts with our partners on the ground in India, as they will grow the trees especially for our project.
FTPF launched this groundbreaking initiative in 2006 to provide fruit trees to poverty-stricken families. This included planting large orchards for schools, food distribution programs, hospitals, and villages, as well as going household to household planting trees, providing a source of nutrition for those in need. As the program grows and gains momentum each year, the results are inspiring. From the new tree planting groups that have formed after seeing our work, to the next generation of environmental stewards working in support of tree planting, there have been profound effects. In 2011 alone, we planted more than 15,000 fruit trees for communities near Mumbai!

FTPF is currently seeking matching gifts so that we can increase the value of your donation and reach our goal. If your workplace offers matching donation, we encourage you to explore asking them to match your donation.
We will keep you posted as project planning progresses, including reports and photos from the field once we start planting! We deeply appreciate your support of Orchards for India.
Best Regards,
The Fruit Tree Planting Foundation Team
Links: