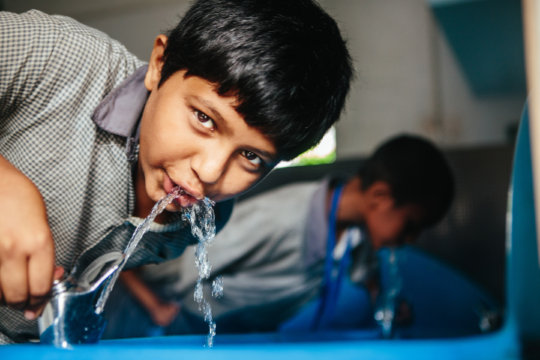 By 2030, India is predicted to have the largest population in the world, and Kolkata – the capital of West Bengal – is India's third largest city. Kolkata is seeing explosive population growth with a growing proportion of urban slum residents. Water is widely available but it is typically contaminated. Unsanitary conditions, crowding and inadequate health and education facilities exacerbate the effects of poverty.
Splash has bold ambitions to reach all 2,000 public schools in Kolkata with WASH programs by 2021, benefitting 420,000 of the city's poorest kids. In 2016, Splash India implemented WASH programs at 24 new schools, bringing our total coverage in Kolkata to 90 sites. We also unveiled a new hygiene manual for teachers, in partnership with the Kolkata Department of Education.
Splash's goal is to create a gold standard for WASH-in-Schools in Kolkata, that can be replicated across India's major cities and beyond. In 2017, our plans are to implement our WASH implementation at more than 100 schools, refine our sanitation program, and initiate government advocacy at the national level.
It has been a pleasure to share our exciting progress in Kolkata with you in 2016. Your donation to Splash has helped to make all this work possible. I hope you will continue to support Splash as we race towards our ambitious goal in 2017.
On behalf of the kids we serve and everyone here at Team Splash,
Happy new year and thank you for being part of the change!
Links: