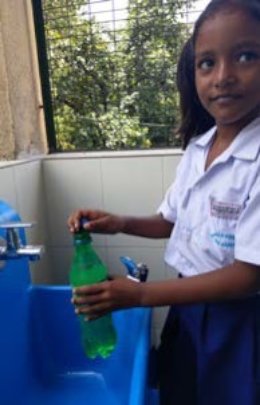 School profile for work completed at Shastriji Harijan Vidya Mandir School in Kolkata, India.
Scope of Work: Water, sanitation, & hygiene
Site Demographic: Co-education
Girls Served Daily: 99
Boys Served Daily: 106
Location Shastriji Harijan Vidya Mandir is located in east Kolkata in the Tangra neighborhood. Over the past few decades, Kolkata's "Chinatown" has developed in Tangra, making the area diverse in culture. The school campus sits near many banks, the local library, and post-office.
Student and School Description Shastriji Harijan Vidya Mandir share the same school campus. They use the same school building and water, sanitation, and hygiene (WASH) infrastructure.
The school is predominantly attended by first generation learners from disadvantaged backgrounds. Tangra is largely populated with people who migrated from poverty-ridden and caste-ridden villages, in Bihar and Uttar Pradesh. They found work in the tanneries and factories, and also engaged in manual labor.
Pre-Splash Conditions Before Splash's intervention, the students' knowledge and practice of hygiene was very poor. As a government school, a mid-day meal was served, yet there was no system of enforcing compulsory handwashing beforeeatingorafterusingthetoilet.The school had an old water filter to help decrease the amount of bacteria found in Kolkata's municipal water lines, however, it badly needed to be replaced.
The toilet conditions were also in need of drastic improvements. The toilets were in bad shape and the stall doors did not provide privacy.The restrooms were described as being dark, dingy, and very unhygienic.
Activities Performed To Date:
Water:
Splash installed:
One AquaSphere 1000 ultra-filtration system
One drinking station (two taps) to facilitate access to drinking water
Two handwashing stations (four taps) have also been installed to encourage clean hands and proper hygiene
Water quality tests have been conducted to ensure clean water stays flowing
Behavior Change:
Hygiene knowledge has significantly increased at theschool as a result of:
Student-led Hygiene Club formed with 35 members who help ensure their peers stay excited about hygiene
Hygiene trainings with all teachers,staff,and members of the Hygiene Club
A soap drive event where 31 bars of soap were collected
Sanitation:
Sanitation facilities were made more child and girl-friendly by:
Renovating the shared toilets and ensuring that global standards are met for safety, privacy, cleanliness, ventilation, and accessibility
Providing continuous access to water for flushing and installing waste binsfor better menstrual hygiene management