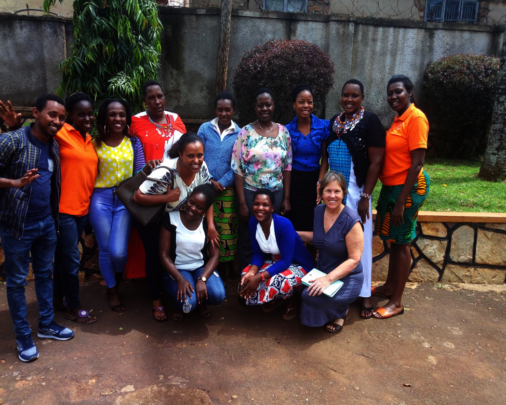 Splash, Days for Girls (DfG), and Whiz Kids Workshop, with funding from the Sall Family Foundation, is piloting an innovative program to improve general hygiene and menstrual hygiene management (MHM) for youth in Addis Ababa, Ethiopia. This program leverages the expertise of each organization to implement an enhanced water, sanitation, and hygiene program at five schools in Addis Ababa, while building a scalable model with the potential to benefit hundreds of thousands of children in the years to come.
Why is this important? Women and girls in Ethiopia continue to face a broad set of challenges that negatively influence their health, empowerment, and well-being. Significant barriers to MHM persist. Girls do not consistently have access to education on puberty and menstrual health, with 67% of girls across Ethiopia receiving no education on menstruation at school. In addition, for women and girls in both rural and urban settings, just over a quarter of population has access to improved sanitation. Millions of women and girls go without access to hygiene solutions every month and must resort to using unhygienic materials, stay home, or resort to other means to manage their menstruation.
In April 2018, Splash staff from Ethiopia attended a training with DfG with the main objective being for DfG staff to train members of Splash Ethiopia's team on menstrual hygiene management, DfG hygiene kit utilization, and general knowledge sharing of DfG's organizational experience.
WHO: Splash and Days for Girls - a global organization dedicated to empowering local communities to support girls and women with sustainable feminine hygiene products, education, and restore dignity
WHEN: April 16th, 2018
WHERE: Kampala, Uganda
WHAT: Splash (2 staff members), DfG (5 staff members), as well participants from Mali (2), Kenya (4) and Uganda (2), met to exchange knowledge and receive training from DfG to support the teaching of MHM in schools
WHY: To increase the capacity of female students to manage menstruation by enhancing their knowledge, awareness, and practice of MHM
TRAINING CONTENT
Reproductive anatomy – Participants reviewed female and male reproductive systems Puberty, Menstruation, and Menopause – The topics covered included: what is puberty; what is menstruation; how hormones affect emotional and physical feelings; and what is menopause
Hygiene Kits – The training demonstrated how the kits are made and how they should be used
Soap Making – After briefly introducing the materials and chemicals used in soap making, the trainers demonstrated the soap making process and all participants made their own soap
SPLASH STAFF EXPERIENCE
"We had a fantastic experience in Kampala. We got a chance to see the city, appreciate the materials used for the kit production, and had a great discussions with the participants from Kenya and Mali. We plan to teach the Ethiopia office how to make soap too!"
"Regarding the training contents of MHM, it is very similar to our hygiene training. We learned a lot about the advantage of reusable sanitary pads over disposable and gathered some ideas on how we can enrich our focal teacher hygiene training. In general, this training will bring great added value to Splash Ethiopia's BC program!"