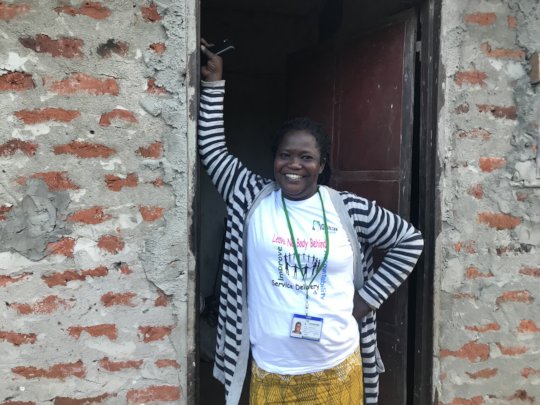 We were treated with joy when we visited the home of Prisca. She has worked with VacNet and benefited from our microloan program, she said " because of you I sleep in a decent shelter ", One of my goals in life was to construct my own house which is permanent, enough for my family and decent to sleep in and you helped me achieve this I feel exteemely proud and confident for the future"
Prisca is a widow with 4 children who she ably take care of them making sure they attain the best education she joined the progrom in 2010, recieved trainind and a $150 micro loans to start a retail business Soon she was chosen to chair the peer Counsellor' s group of strong community women leaders, she represents the voice of women at Pece division, and is the overall community mobilizer for her political party in her area. , Prisca stoped in primary 7 and supported her self to go back to school using her profits to pay her shool fees together with her children until she completed senior 4 at old age.
We celebrate her success as she welcomes us in her newly constructed home by herself she says all women have potentials if they are given space and opportunity they can amaze everyone.
Together with you we continue to impact women's lives directly through our micro loan program that you support. We believe you will continues to support us to continue this wonderful journey of supporting women to walk their way by themselves your generous donation makes this possible.
Links: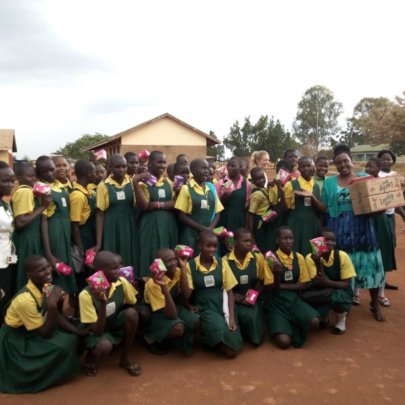 Akello school girl got her first period at school and had to use toilet paper to pad her self when she went back she asked her mother for sanitary pads. Her mother suggested she find herself a husband to pay for them. Akello was just 13. Many girls in Northern Uganda drop out of education when they begin menstruating because their schools lack proper washrooms or because they cannot afford costly sanitary pads mostly all imported from China. Many girls end forced into child marriages by parents too poor to buy sanitary pads.
"Most of my friends dropped out of school because they did not have basic things they needed like sanitary pads, just like me," I had to endure monthly embarrassment, I had to miss classes for days fearing boys to laugh at me during my periods because I could not afford to have proper sanitary pads. My parents kept on encouraging me to get married but I refused because I wanted to stay in school so that I can achieve my dream of becoming a nurse." ...Akello said...
"When girls are out of school because they cannot manage their periods it's hard for them to avoid marriage."
We continue to address this gap by locally producing and supplying affordable sanitary pads to school girls and refugees. JUST in the last 3 months we have distributed 3,780 packs of sanitary pads for free, we have conducted menstrual health education in school, and conducted community dialogues to create awareness among parents to prioritize buying sanitary pads for their daughters to enable them to stay in school and concentrate to their education which is a very powerful tool in the prevention of child marriage.
With your support, we have expanded our production unit to produce more pads that will reach out to more girls saving them from the embarrassment they undergo every month. We want to continue reaching to more girls with education, and supplies of affordable sanitary products. We are hopeful you will continue to support this noble cause with your generous donation.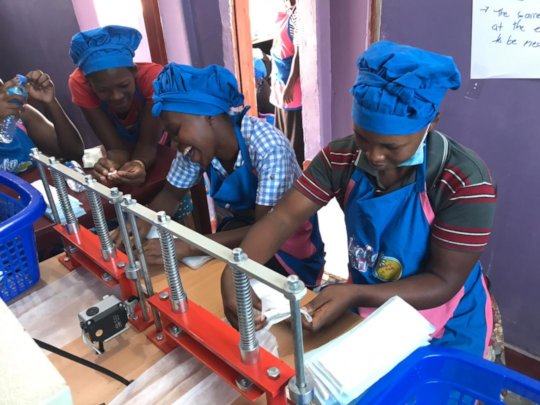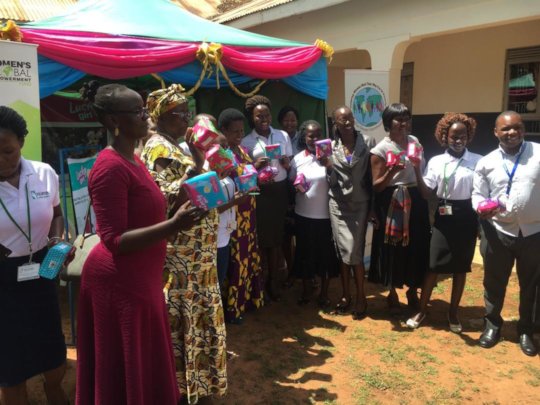 Links: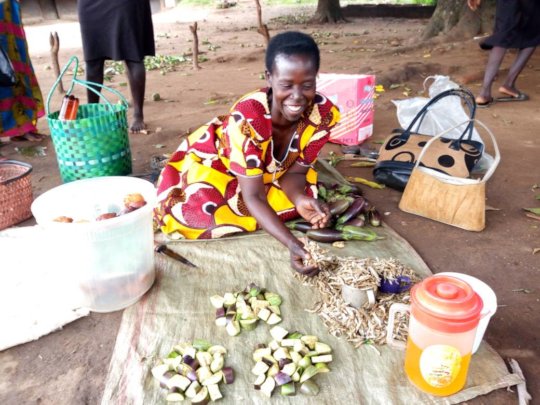 With your support women like Pamela from Pancwala Village age 62 years, married with four children. who joined the microcredit program with a very small business that was home-based. It was challenging for Pamela to take care of her family and educate her children since her husband is an alcohol addict she says. Pamela's life changed right from the time she attended the Business and Leadership skills training, above all making a decision to join the program
Through her determination to live a better life, Pamela put all the skills she learned from training into practice. Today Pamela testifies of her business increasing of which she owns a stall of vegetables in Gulu main market. "The microloan has enabled me to educate my children, one already at a vocational institution and another in senior five, also I bought iron sheets and plans to build a permanent building house for her family
Our clients receive small loans, typically between $50 and $150, which they invest in livestock, agricultural projects, and other small business ventures. This past quarter we disbursed 882 micro loans to women. empowering them to walk their way out of poverty with dignity.
The leadership program and skills training that Pamela attained, spark up her interest in leadership and she began by leading her subgroup members as a secretary, later the center entrusted her and she was elected as the overall chairperson for the group. Pamela is not scared to campaign for the position but rather see it as yet another golden opportunity to climb the ladder higher in leadership. She is the elected woman council leader for the area of Panwala today representing women's voice in the village council.
We hope that you are curious and interested to walk this journey together. Understanding that we cannot continue this work without your support, our desire is that you will be inspired by the women that we support and our achievements and you will continue to support our efforts with your gits and donation.
Links:
WARNING: Javascript is currently disabled or is not available in your browser. GlobalGiving makes extensive use of Javascript and will not function properly with Javascript disabled.
Please enable Javascript
and refresh this page.